Canopy Growth Corp. (NYSE:CGC)(TSX:WEED) has been the cannabis industry's largest company by market capitalization so far, but its advantage might start to decline as other companies continue to grab more market share. While its position in Canada may be safe, U.S. companies are starting to turn investor's heads as they grow rapidly in states where the drug is legal — and in markets that are currently out of reach for Canopy.
While the Ontario-based cannabis giant is expanding its operations around the world and is set to enter the burgeoning U.S. hemp market, it could be a drop in the bucket compared to total U.S. cannabis sales it will miss out on for the time being, which are projected to make up the lion's share of the global pot market.
Of course, under Canopy's unique deal to buy Acreage Holdings Inc. (CSE:ACRG.U), which has recently been approved, it will become a game changer for the company to expand deeper into the U.S. But the deal won't happen until cannabis becomes legal at the federal level, and industry analysts expect that won't happen any time before 2021.
In the meantime, here's a look at the sales numbers of some of North America's top cannabis companies over their last four quarters (in Canadian dollars):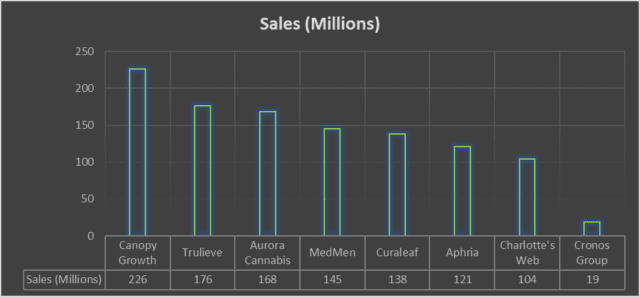 While Canopy Growth has an edge in sales, the chart shows U.S. cannabis firms are catching up fast.
Meanwhile, Edmonton-based Aurora Cannabis (NYSE:ACB)(TSX:ACB), the second largest cannabis company by market cap, also looks to be losing its place in the industry. With no big partner outside the cannabis industry to help its growth, Aurora which was once the wheeler and dealer of the industry, has looked to have fallen behind.
But both Aurora and Canopy still have opportunities to grow their sales, although with the Canadian market being heavily regulated, and the only option for U.S. expansion being hemp at the moment, it's going to be a battle.
Many Canadian companies eyeing the U.S. hemp market will have to compete with existing U.S. companies like Charlotte's Web Holdings, Inc. (TSX:CWEB), which has already created a significant presence in the hemp-based CBD market. Companies like Canopy and Aurora won't enjoy their first mover advantages they experienced in Canada and will face steeper competition while running the risk of adding large costs to fund expansion.
Valuations are heavily skewed
The sales figures also illuminate how valuations do not indicate how well a company is doing in the nascent cannabis industry. Canopy leads the way with a market cap of nearly $20 billion, while U.S.-based companies on the Canadian Securities Exchange come in at a fraction of that. Even on the Toronto Stock Exchange, Cronos Group Inc. (NASDAQ:CRON)(TSX:CRON) is valued at a hefty $7 billion market cap, yet its sales are lower than some of its competition.
There are many factors that go into market valuations, but so far there is great inconsistency between firms within the emerging cannabis industry. However, as the marketplace continues to evolve rapidly, and some of these notable U.S. companies expand even faster, investors expect to see adjustments in future quarters.
A year from now, the hierarchy in the cannabis industry could look notably different now that 11 U.S. states have legalized adult use, adding growth opportunities for U.S.-based firms.