Cannabis-infused drinks are coming to pot shops across Canada in only three months, and with big league partnerships and sky high market forecasts, there's been a massive buildup for the promising segment. But so far only Sproutly Canada, Inc. (CSE:SPR)(OTCQB:SRUTF) has revealed its strategy on how to tackle issues related to infused beverages like poor taste, texture, and meeting tight regulations around THC dosages.
The Vancouver-based company said Tuesday, with the help of its subsidiary Infusion Biosciences, it has developed a way to detect and precisely measure cannabinoids like THC from its patent pending APP Technology that produces water soluble oil preparations called Infuz2O. Not only will that help Sproutly comply with Health Canada's strict rules for infused beverages, but it said it will help it deliver a consistent high-quality product.
"[We've] finally come up with a method that's robust, reliable, and reproducible to be able to both find and measure exactly how much cannabinoids there is in each teaspoon, or millilitre, or any measurement with our Infuz2O technology," said Dr. Arup Sen, chief science officer and director of Sproutly, in a phone interview with Mugglehead.
"Without that, we won't be able to tell a consumer how much he or she is consuming."
For edibles and beverages, Health Canada will allow a margin of error of 15 per cent for products over 5 milligrams of THC or CBD, according to a Globe and Mail report.
Dr. Sen explained because oil and water do not mix, cannabis companies infusing drinks using emulsification techniques, "a salad dressing approach," the THC oil is never truly water soluble. Therefore, there's an industry-wide challenge to able detect and measure the cannabis oil in the beverage products on a consistent basis, he said.
"People that have been taking oil and either emulsifying or encapsulating it for water-based beverages they have had trouble getting reliable measurements of cannabinoids in those infused beverages," said Dr. Sen.
Major cannabis players are teaming up with beverage giants and investing millions into developing sophisticated pot-infused beverage products. Canopy Growth (TSX:WEED)(NYSE:CGC) excited the industry when it teamed up with Constellation Brands (NYSE: STZ), while Hexo Corp. (TSX:HEXO) and Molson Coors (TSX:TPX.B) also inked a deal, to name a couple.
But Dr. Sen said even those at the top of the industry won't have the technology to create a reliable, quality product.
"When other companies say they have water-soluble cannabinoids they are using methods like emulsification or encapsulation, but the naked eye can't see the iddy, biddy, nano-sized droplets of oil in the water than it's not truly water soluble," Dr Sen said.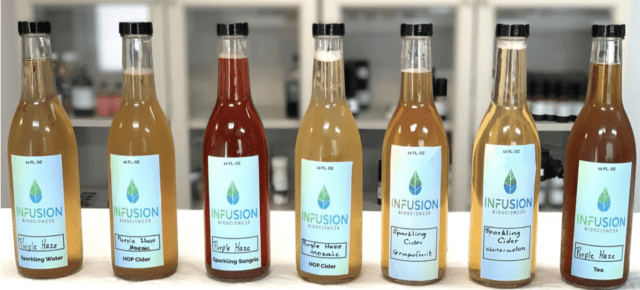 Sproutly combines forces with Moosehead
In April, Sproutly partnered with Moosehead Breweries, an independent brewer that is one day younger than the country of Canada, which was formed in 1867.
Dr. Sen said with its proprietary infusing technology, and Moosehead's deep knowledge of the Canadian beverage market, the combination will be a force when weed-infused products become legal and available for sale in mid-December.
"Who in Canada knows and has successfully launched beverage products nationally? It ain't Constellation Brands, it ain't Molson Coors, it ain't AB InBev, it's Moosehead," said Dr. Sen.
Market projects for cannabis-infused beverages vary, but the CEO of Molson Coors expects the segment will be worth up to $3 billion in Canada alone.
Sproutly says water soluble technology puts it ahead of pack
The 35-year biotechnology veteran is a Princeton University graduate and a few years ago he got interested in applying his knowledge to the cannabis space.
Dr. Sen said in the last year his team working with Sproutly discovered a new way to extract the active ingredients from cannabis to produce a beverage product that is unique in the space.
"We discovered that, yes in fact, there are naturally water soluble forms of cannabinoids and terpenes that can be directly recovered in a water base," he said. "So you don't have to extract the oil and put it back in water, you simply take out the highly concentrated water syrup, if you will, from the dried cannabis."
For Dr. Sen the company's APP Technology and Infuz2O oil preparations differentiates it among competitors in taste, texture and dosing. In established legal markets like Colorado and California, critics have blasted the taste of pot-laced drinks from companies that are taking the extracted cannabis oil and infusing it inside the liquid.
"That's why many of these products look disgusting, and they taste horrible, and quite often are masked with high amounts of sugar and some other undefined chemical material that are used to encapsulate the THC oil," he said.
Dr. Sen explains his research team developed the water-soluble technology by taking a close look at Mother Nature and blood cholesterol research. The lipids, or oils, that naturally occur in cholesterol and plant molecules are naturally water soluble.
In their research, they discovered how to extract those same molecules that are found in the cannabis plant to then be used to infuse in the beverages just like if you were to add sugar into water to create a solution where the molecules join together opposed to emulsifying like oil and water in salad dressing.
Because the method is completely different, Sproutly will be able to offer precise THC dosing with a rapid onset time of five minutes and and offset time (when the buzz wears out) of 90 minutes.
"So we empower people with our technology to be able to control how much THC they are getting," said Dr. Sen. "We are offering people that use cannabis the ability to decide if they want to get completely stone-faced, or if they just want to feel a little high where they're floating around but not impaired."
There's plenty of horror stories with edibles, where individuals who don't feel the effects of the THC right away and keep consuming more, but then end up in a state of total disrepair when the dose fully kick in.
But Dr. Sen said consumers will be attracted to Sproutly's products and likens them to more like drinking a glass of wine.
"If you go get a glass of wine, you know exactly what that is going to do to you, and if you drink three, you know what that is going to do to you, and you can choose that for yourself," the scientist said.
Entire cannabis experience
Besides the precise dosing and the desirable flavour and texture profile, Dr. Sen said the technology allows the consumer to experience every part of each unique strain because the entire molecule mixture of the cannabis plant is extracted in the process.
"Let's not forget it's a plant, it comes from the soil so in a plant there are vitamins, minerals, antioxidants, you name it and all of those will be in a water solution inside of the plant," he said.
This will be especially important for consumers looking for the differing medicinal and psychoactive effects from the numerous sativa, indica and hybrid strains.
"So in our water solutions we end up delivering the entire plant's worth of experience, whereas THC is THC, so there's no difference between the THC in Girl Scout Cookies versus Blueberry strain, it's the same molecule of THC that gets you stoned," said Dr. Sen.
"But when you smoke the Blueberry versus Girl Scout Cookies, the effect is totally, totally different; one calms you down, and one gets you all hyper and excited."
Pot-infused beverages safer than vaping: Dr. Sen
Dr. Sen said once the first wave of new consumers try Sproutly's infused beverage products and tell people that the experience is reliable, controlled, pleasant, the news will travel.
Cannabis 2.0 products are expected to bring in three million additional consumers in Canada when they become legal. And safety is paramount in the legal cannabis industry, and Dr. Sen expects non-cannabis consumers will be attracted to the infused drinks from the company because of the predictability and safety they offer. Also, the company is working on several edible products.
"Again in the edibles space, we are going to be the only one to produce products with an exact dosing onset," he said.
Cannabis concentrates and vape products are hugely popular in mature U.S. markets like California, where they have surpassed the demand of dried flower. But with the ongoing investigation into vaping-related lung illness in the U.S. — where as many as five people have been reported dead — sales of vape products in Canada are expected to take a hit in the fast growing category.
"I think vape pens are one of the most dangerous products in the world," said Dr. Sen.
Dr. Sen said it may take up to a decade for the science to catch up and to have a complete understanding of how vapes affect the human body. But in the meantime, the cannabis industry needs to demonstrate responsibility.
"It will come back to bite you in the ass if you don't do good science in good conscience.We all need to have good consciences and not just say things to make money," he said.