Cannabidiol, better known as CBD, has become so popular in 2019 that two separate surveys show the wellness compound gets more online searches than Beyoncé, and one-in-seven Americans are now using CBD-based products.
According to CannabisMD's Knowledge Navigator — a tool that tracks online consumer data and trends — online interest in CBD has surged exponentially over the past two years, surpassing previous top subjects of interest including Beyoncé, Kim Kardashian, veganism and kale.
The navigator tool pulled data from a massive pool of online searches from over 12,000 URLs and social media platforms like Instagram and Twitter. CannabisMD found online searches for CBD have climbed ahead of the four popular subjects in the latter half of 2018 and the data shows the interest hasn't even peaked yet.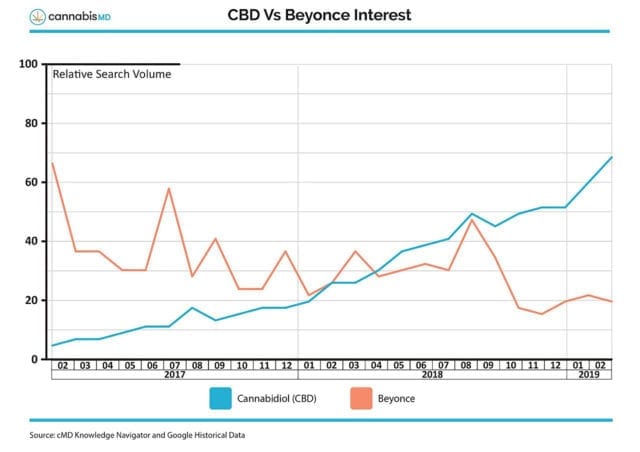 The timing of the soaring intrigue for CBD falls in line with the U.S. Congress passing the 2018 Farm Bill, making hemp legal. The chemical compound can be derived from both cannabis and hemp, and unlike THC, it doesn't produce a high.
The growing interest in CBD is partly fueled by the lack of concrete evidence what it can and can't do. Proponents claim the cannabinoid can treat a variety of ailments including chronic pain, anxiety, insomnia and arthritis. Meanwhile, medical professionals remain unconvinced until more clinical trials are completed.
Michael Klein, CEO of CannabisMD, told Benzinga intrigue around CBD has also climbed because it remains unregulated and many illegal products actually contain little or no CBD at all.
"Consumer interest in CBD continues to increase at double the pace year of year. And more products are flooding the marketplace – causing enormous clutter and confusion with varying results depending on quality of a specific product," Klein said.
The Food and Drug Administration has called on Americans to use caution when considering to use CBD products, and has issued warnings to CBD sellers that make unsubstantiated claims for their products, including major U.S. cannabidiol company Curaleaf (CSE:CURA) last month.
The FDA has said it is speeding up the process to formulate rules for CBD in food and supplements, and it expects to provide the public with an update by late summer or early fall.
One-in-seven Americans use CBD: Gallup
Despite the unregulated market for CBD, one-in-seven Americans report using the vaunted extract, primarily for therapeutic reasons, according to a Gallup survey released on Wednesday.
The poll contacted over 2,500 adults between June 19 and July 12 and it found 14 per cent of respondents — equating to roughly 33-million Americans — use CBD on a regular basis, further illustrating how the compound has rocketed in popularity.
Twenty per cent of people 30 and younger said they used CBD, while  8 per cent of those aged 65 or older say they use it.
Geographically, Americans in western states use cannabidiol the most at 21 per cent, compared to 13 per cent in the south, and 11 per cent in the east and Midwest.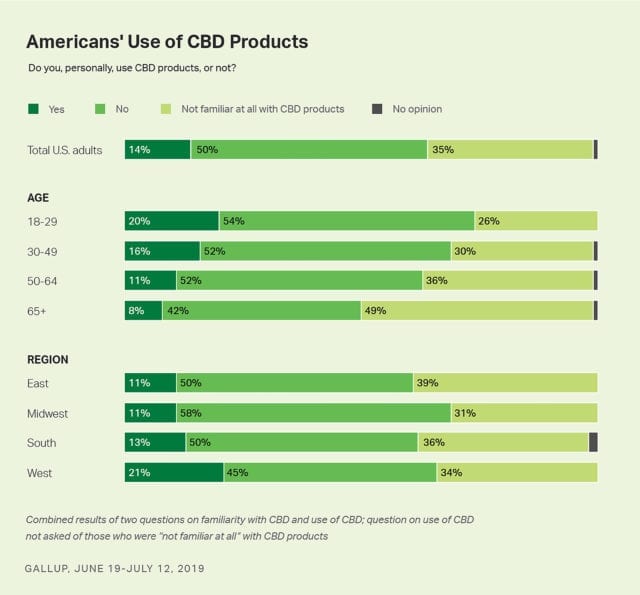 The poll also asked why CBD users take the cannabinoid and the vast majority said it was for medical reasons. Forty per cent said they use it for pain, 20 per cent for anxiety, 11 per cent for insomnia, and eight per cent for arthritis.
Even though the FDA does not permit CBD in food or as a health supplement, the substance can be bought in gas stations, major retail stores, online and in health food shops across the country. Marketers continue to make claims that CBD has a wide variety of health benefits, but the science is still has a way to catch up.
Despite the lack of concrete proof it has therapeutic benefits, millions of Americans are using CBD. The market for the compound in the country is expected to reach almost US$24 billion by 2023, according to research firm Brightfield Group. But that lofty estimate is based on the FDA approving it to enter the food supply and in dietary supplements.
Last month, Former FDA Commissioner Scott Gottlieb wrote in The Washington Post calling on the federal agency to speed up the delivery of its CBD regulations.
One in seven Americans say they personally use CBD-based products, including 20% of young adults and 21% of those living in the Western U.S. https://t.co/jGsVDjX87O pic.twitter.com/FWVv60eOP7

— GallupNews (@GallupNews) August 7, 2019