Calibre Mining (TSX: CXB) (OTCQX: CXBMF) announced results from its step-out drilling along the Panteon North/VTEM geophysical corridor in the Limon Mine Complex in Nicaragua.
The intercepts were from the drilling campaign originally designed as a test for the multiple kilometre long structure identified in the company's geophysical survey using Versatile Time Domain Electromagnetic (VTEM) technology in the Limon Mine Complex. Today's results discovered numerous bonanza grade gold intercepts approximately 2.5 kilometres north of Panteon North.
"Our 2022 drilling campaign has been very successful, with the discovery of the high-grade Panteon North gold shoot which hosts numerous bonanza grade gold intercepts over hundreds of metres of strike length," said Darren Hall, president and CEO of Calibre.  "First pass, wide spaced drilling approximately 2.5 kilometres north of Panteon North along the VTEM geophysical corridor has now discovered another new high-grade gold zone which stretches over an initial 1.5-kilometre trend."
Read more: Calibre Mining brings high grade gold drill results home from Nicaragua
Read more: The Mugglehead precious metals roundup: gold
Drilling results indicate strong potential
Initial drilling results along the Panteon/VTEM corridor include: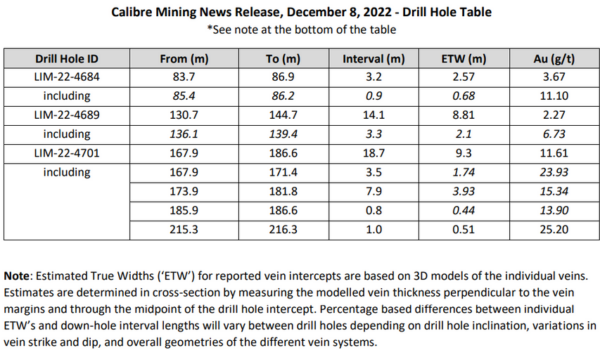 Calibre's results identify gold mineralization across a 1.5 kilometre trend. The company believes strongly that this signals potential for further expansion along the Panteon and Santa Pancha vein trends. These results are wide spaced, but support long term potential for development in the resource corridor.
As part of its 2022 drilling program, Calibre also intends to complete 85,000 metres of exploration drilling across operating assets looking to grow its resources and extend its mining life. At present, Calibre has 4.4 years of reserve life based on 2021 reserves and 2022 production.
VTEM survey results
The VTEM survey has proven to be a proficient tool for targeting zones of high grade gold mineralization. This is especially true along multiple kilometres of strike from Panteon North. Now the company has commenced discovery drilling using four diamond drills along the corridor.
Calibre Mining is a growing mid-tier gold producer with a development pipeline and exploration opportunities in Nevada, Washington, and Nicaragua. It carries a strong balance sheet with a strong cash position, an experienced management team, and development projects and district-scale exploration opportunities that will unlock significant value.
Canaccord and Haywood Securites give BUY rating
Investment banking and financial services company, Canaccord Genuity, has issued a BUY rating with a specific target price of CAD$1.50. The target is based on a 50/50 blend of 0.7x multiple applied to its operating net asset value per share (NAVPS) estimate, less debt and other adjustments. It also includes a 4x multiple added to its earnings before interest taxes depreciation and amortization (EBITDA) over the next twelve months.
Haywood Securities also issued a BUY rating with a $2.70/sh target. It anticipates Calibre shares to gather interest as the company converts its near-term drilling plans into near and mid-term production successes. Additionally, Haywood bases its target price on a 3.3x enterprise value to free cash flow (EV/CF).
The EV/CF compares the total valuation of the company with its ability to generate cashflow. The lower the ratio, the faster a company can pay back its acquisition or generate cash to reinvest. Calibre trades at an EV/CF 23 of 0.8x and a price-to-book ratio of 0.28x.
At $0.91 today, Calibre's price may have dipped a few pennies, but the overall trendline is positive. It's looking to retest the price ceiling at $0.975 where it sat before the dip in October.
Follow Joseph Morton on Twitter
joseph@mugglehead.com