It's a drizzly grey November day and the whoop of sirens sound every 10 minutes as first responders push their way through the traffic of Vancouver's Downtown Eastside. 
Cannabis activist Neil Magnuson pokes his head out of a parked RV to check where the sirens are coming from. When he sees they aren't coming for him he relaxes and calls out a greeting to a local shuffling down the street. 
The "Doobie Van" is the new headquarters of the The Serious Hope Society, Healing Wave and Cannabis Substitution Project after the initiative was evicted from its storefront at the end of October. 
Read more: Canadian cannabis laws kick Vancouver harm-reduction project to the curb
The retro motorhome is beige, squat and requires anyone inside to hunch. It's also a lifeline for people living in the neighbourhood hardest hit by the ongoing overdose crisis. 
The society offers low-barrier cannabis to help people reduce their use of, or substitute for, more dangerous drugs. It's an initiative that has the support of city councillors Rebecca Bligh and Jean Swanson, the B.C. Centre on Substance Use, University of British Columbia researcher M-J Milloy, UBC professor Zachary Walsh and numerous organizations in the neighbourhood. 
"We would like to have the city work with us, we would like to have governments work with us. We'd like to have the city find us a storefront," Magnuson says.
The problem is that the society works with unregulated cannabis. This allows them to offer product at a fraction of the cost of regulated weed, but is also illegal under the Cannabis Act. 
And that has made for stormy seas.
On Nov. 18 the Vancouver Police Department raided the RV and seized around 5,700 grams of cannabis and weed products, according to police spokesperson Const. Tania Visintin. 
All cannabis must be licensed by the provincial government to "ensure the safety of the product, and ultimately, the consumer," Visintin explains in an email. 
The VPD raided the campervan because the sale of unlicensed cannabis is illegal, and because it was illegally parked, according to Visintin. 
Magnuson has been trying to work with the law. In September he applied for a federal exemption under the Cannabis Act, but has yet to hear back. The application asks for the society to be allowed to possess, sell and donate licit and illicit cannabis; for society members to carry licit and illicit cannabis up to 30 grams; and for protection for the society's suppliers. 
Read more: Illicit 'life-saving' Vancouver dispensary at risk of shutdown
"Just give us the damn licence," Magnuson says. "If that's what it takes — a piece of paper with a signature — then god dammit, some public servant sign a piece of paper for us. Whatever it takes. They should be bending over backwards and jumping through hoops as quick as they can to help us." 
The City of Vancouver is chewing over a number of different ideas to help battle the overdose crisis that has killed over 1,500 Vancouverites since April 2016.
City staff published a report in October on how low-barrier access to cannabis is important during the overdose crisis, but that the city's hands are tied to provide it. On Wednesday, Vancouver Mayor Kennedy Stewart said he would push to decriminalize simple possession of drugs to help people access harm-reduction services.
With over 1,500 overdose deaths in Vancouver since April '16, it's time for a new approach.

Drugs use isn't a criminal issue, it's a health issue. My plan would see Vancouver become Canada's first jurisdiction to decriminalize simple possession.https://t.co/Cuk7Q8BMC6 #vanpoli

— Kennedy Stewart (@kennedystewart) November 18, 2020
Members of the Cannabis Substitution Project say the city should help expand the already successful program. 
Members get 420 milligrams of cannabis or weed products every four days — for free. 
One man, who asked to remain anonymous, has been accessing the CSP for over two years. The gummies and caps help him with pain, sleep, anxiety and appetite, he says. 
"It stops me from thinking about other stuff. It's better to be high on weed, at least then you still know what you're doing," he adds. 
Without the program he says he'd be up the creek without a paddle. 
Cannabis takes 20 seconds to kick in while other pain medication can take 20 minutes, explains Juliette, who has also been a member for over two years. 
Juliette has multiple sclerosis, and gets gummies from the CSP to help with her pain and anxiety. She smiles when she says she hasn't had to visit a doctor in two months because she can use cannabis instead of prescription meds. MS medications work for some people, but Juliette says she prefers cannabis because it doesn't have any side effects.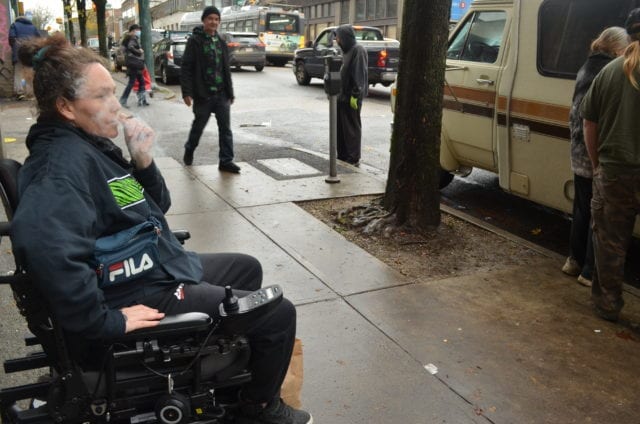 Cannabis can benefit people with disabilities, anxiety and drug dependence so the City of Vancouver should stop acting like a bully and help expand the project, she says. 
Moving to the cramped RV has been hard for members, volunteers and customers, explains volunteer Jennifer Nelson.
One older woman said she had a panic attack when she saw the store sign had been painted over, another man said his fists were clenched and shaking when he thought the society had been shut down. 
Losing a storefront means the society has had to cancel its waitlist for the Cannabis Substitution Project. Nelson shrugs her shoulders. Once the list got to be over 300 people there wasn't much point in signing anyone else up, she says. 
The RV has limited power, so the society hands out infused cold sandwiches instead of piping hot ladles of curry or stew — which would have been welcome in the icy rain.
Magnuson hunches his shoulders against the cold. The motorhome is a temporary solution, he says, rolling knots out of his shoulders. The society is looking for a new storefront and refuses to give up even though times are tough.
"Maybe one day we'll look back at this time and laugh about when we were stuck in the Doobie Van," Magnuson says.
There's more sirens in the background. He watches the firetruck blare its horn while pushing through a nearby intersection.
So many fire trucks and barely any fires, he notes sadly.
Top image of Serious Hope Society founder Neil Magnuson and volunteer Jennifer Nelson. All photos by Michelle Gamage.
michelle@mugglehead.com
@missmishelle