Cannabis retail has rapidly emerged as one of the most important components of the marijuana value chain. Not only do retail gatekeepers control one of the most intimate parts of the cannabis purchasing experience, but they do so at a premium—making cannabis retail a likely determinant of any marijuana company's staying power.
In this article, we explore some of the leading cannabis retail brands in Canada.
Aurora Cannabis
Aurora Cannabis Inc. (NYSE: ACB) (TSX: ACB), one of the world's largest and leading cannabis companies, recently provided an update on its strategic investment in Choom Holdings Inc. (CSE: CHOO)—an emerging consumer cannabis company that has secured one of the largest retail networks in Canada.
Since Aurora's $27 million investments in Choom (which included a private placement in June 2018 and a convertible debenture offering in November 2018), Choom has secured 22 additional cannabis retail opportunities in Alberta and British Columbia. And with the acquisition of Clarity Cannabis Retail Stores, Choom has gained another 30 potential retail locations across Alberta—3 of which have already been licensed by the Alberta Gaming, Liquor & Cannabis Commission (AGLC).
To date, Choom has completed the buildouts of 17 retail locations in Western Canada with 8 other retail locations currently under construction. Despite Choom's vast potential retail reach, Aurora notes that all of Choom's current retail opportunities are subject to provincial regulatory approvals.
Cronos Group
Cronos Group Inc. (NASDAQ: CRON) (TSX: CRON) is a globally diversified and vertically integrated cannabis company with a presence across five continents.
Though lauded for attracting a C$2.4 billion equity investment from Altria Group, Inc. (NYSE: MO), Cronos recently reported a net loss of $11.6 million during the three months ended December 31, 2018, a figure that pales in comparison to 2017's profit of $2.1 million.
Disappointing year-end financials aside, we expect that Altria's investment will help Cronos Group accelerate the launch of its Medmen Canada retail brand—a missing link in Cronos Group's vertically integrated value chain. Medmen Canada, a 50/50 joint venture between Cronos Group and Medmen, is still in the process of reviewing Canada's regulatory retail landscape.
Westleaf
Westleaf Inc. (TSX-V: WL) (OTCQB: WSLFF) is a vertically integrated Canadian cannabis company focused on innovative retail experiences and engaging cannabis brands as well as cultivation, production and extraction of cannabis products.
Most recently, Westleaf announced that it expects two new Saskatchewan Prairie Records retail stores to be open by mid-April 2019. The company's first Saskatchewan Prairie Records location opened in Warman just last February.
Prairie Records, Westleaf's flagship retail concept, intends to create an unparalleled cannabis purchasing experience through tactile in-store features and product offerings that celebrate the inherent relationship between music and cannabis. 
With plans to launch 50 retail stores across Western Canada by the end of 2020, Westleaf is rapidly becoming one of Western Canada's largest premium cannabis retailers.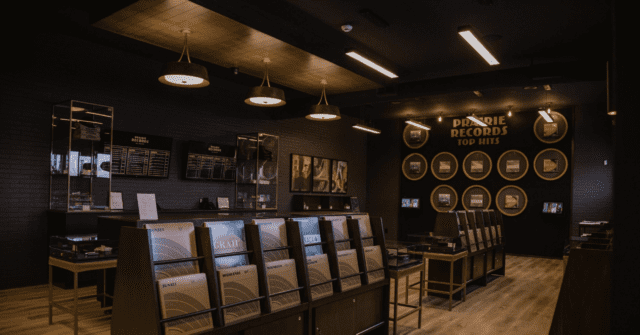 Prairie Records features a more "tactile" in-store purchasing experience through the use of record sleeves. These sleeves help to guide the customer journey through a variety of informational visual cues.
But as a vertically integrated Canadian cannabis company, Westleaf offers more than just a distinctive premium retail brand. The company recently tapped Xabis—a world leader in the design, construction, and management of cannabis extraction and manufacturing facilities—for the construction of its recently rebranded The Plant by Westleaf Labs extraction facility. 
Located in Calgary, Alberta, The Plant provides Westleaf with 60,000 sq. ft. of space for extraction, R&D, and order fulfillment. With Phase 1A of the facility's construction well underway, Westleaf plans to have an initial processing capability of 7,812 kg of cannabis per year. The company expects The Plant to be completed by Summer 2019.
Canopy Growth
Canopy Growth Corp. (NYSE: CGC) (TSX: WEED), a world leading diversified cannabis and hemp company, operates two retail brands throughout Canada, Tokyo Smoke and Tweed.
Canopy Growth currently has 4 Tokyo Smoke stores open in Manitoba, 1 Tweed store in Saskatchewan, and 6 Tweed stores in Newfoundland. Though Canopy currently has a limited retail presence in Western Canada, they do have plans to open Tokyo Smoke and Tweed locations in Alberta.
In recent news, Canopy Growth partnered with Seth Rogen and Evan Goldberg's Canadian cannabis brand, Houseplant. Under the terms of the agreement, Canopy both acquired 25 percent of Houseplant and contributed working capital. Houseplant's first product, a Sativa strain, is expected to hit B.C. retail shelves sometime in April 2019.
Tilray
Tilray Inc. (NASDAQ: TLRY) is a global pioneer in the research, cultivation, production and distribution of cannabis and cannabinoids.
Though one of the biggest cannabis companies in the world, Tilray has yet to incubate or acquire their own retail cannabis brand. Instead, the company seems to prefer building out individual cannabis brands (ie. High Park Holdings), which they can then distribute through already established retailers.
Although this strategy has certainly worked for Tilray in the past (they are, after all, a leader in the Canadian medical marijuana market), it may pose challenges for Tilray's long-term growth prospects, seeing as how retail margins will likely become increasingly valuable as the marijuana market matures.
Cannabis Retail Brands Maintain Value
Though licensed producers face their fair share of regulatory hurdles when attempting to integrate cannabis retailing into their operations, cannabis companies cannot realize the full potential of the marijuana value chain without at least some presence in retail. As such, marijuana companies that have yet to invest in establishing their own in-house retail brands will likely be pressured to acquire marijuana retailers further down the road. Considering the potential for retail consolidation in the marijuana sector's later years, premium retailers like Westleaf are likely to maintain significant exposure even as Canada's cannabis narrative matures.
Disclosure: Directors of Mugglehead own shares of Westleaf Inc. and other marijuana stocks not mentioned in this release and we have been compensated by Westleaf for news coverage.