This article is over a year old. Some of the information in it may no longer be current.
According to a recent Forbes article, North America is expected to become the single largest legal cannabis market in the world, growing to approximately $47.3 billion by 2027. To serve this billion dollar market, a number of North American marijuana companies are building out innovative, premium cannabis retail brands across the continent.  In this report, we examine some of the fastest growing North American cannabis retailers preparing to dominate the Canadian and U.S. legal marijuana markets.
Westleaf
Westleaf Inc. (TSX-V: WL) (OTCQB:WSLFF), a vertically integrated Canadian cannabis company focused on innovative retail experiences and engaging cannabis brands as well as cultivation, production and extraction of cannabis products, is quickly becoming one of Canada's largest premium cannabis retailers.
With a flurry of M&A and retail expansion last month, Westleaf continues to cement its position as a leader in the Canadian cannabis market. Not only did the company recently close two of its acquisitions—Canndara Canada Inc. (a cannabis retail company with over 50 prospective retail locations across Canada) and Delta 9's 50% interest in the Delta West extraction facility (a large scale, world class cannabis laboratory currently in development)—but it also opened its first Prairie Records retail store in Warman, Saskatchewan.
The pace of Westleaf's retail expansion doesn't seem to be slowing down either. The company was recently chosen as 1 of only 5 town-approved cannabis retail stores in Banff, a scenic Albertan resort town that attracts millions of visitors each year. Located conveniently next to Eddie Burger + Bar—one of Banff's most popular eateries—Westleaf's Banff Prairie Records store is expected to open sometime in summer 2019, subject to regulatory approval.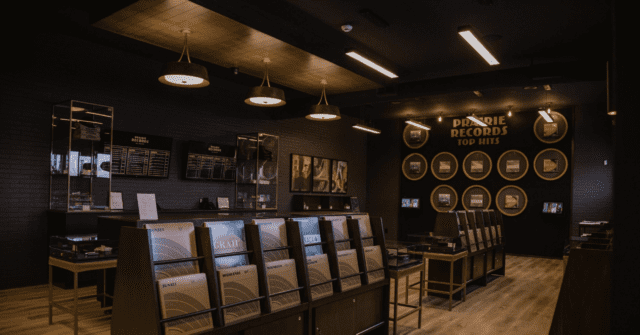 Prairie Records, Westleaf's flagship retail concept, intends to create an unparalleled cannabis purchasing experience through tactile in-store features and product offerings that celebrate the inherent relationship between music and cannabis. With additional stores planned for British Columbia, Alberta, Saskatchewan and potentially Ontario, Westleaf plans to rollout upwards of 50 Prairie Records retail locations through 2020 in markets across Western Canada.
Curaleaf
Curaleaf Holdings, Inc. (CSE: CURA) (OTCQX: CURLF) is a vertically integrated U.S. cannabis company with the largest footprint of single-branded cannabis retail stores in the country.
As it stands today, Curaleaf serves 70% of the U.S. cannabis market through 41 retail locations across 11 U.S. states. The company expects to have 71 stores operational by the end of 2020.
To fuel its ambitious retail expansion targets, Curaleaf recently signed a definitive agreement to acquire California-based Eureka Investment Partners, LLC. Eureka currently operates a 110,000 sq. ft.  cultivation facility in Salinas Valley and is developing 3 premium dispensaries across California.
Valued at $30.5 million (of which $10 million is to be paid in cash, with the remaining $20.5 million in Curaleaf stock and a potential additional consideration to be paid if certain financial targets are exceeded), this transaction provides Curaleaf with an ideal entry point into the highly-coveted Californian cannabis market.
Green Thumb Industries
Green Thumb Industries Inc. (GTI) (CSE: GTII) (OTCQX: GTBIF), a national cannabis consumer packaged goods company and owner-operator of the high growth national cannabis retail chain RISE™, is rapidly becoming one of the United States' largest cannabis retailers.
GTI currently operates 17 cannabis retail stores across 11 states through the combination of its RISE™ and Essence retail brands. In total, the company holds 83 U.S. cannabis retail licenses.
Aside from its two expanding cannabis retail brands, GTI has recently acquired Connecticut-based Advanced Grow Labs (AGL)—1 of only 4 companies in Connecticut licensed to grow and process cannabis. Moreover, AGL's ownership stake in a Westport dispensary makes AGL one of the only vertically licensed companies in the State of Connecticut.
But GTI's February acquisitions don't stop there. GTI also announced that it had signed a definitive agreement to acquire For Success Holding Company, the owner of the Beboe luxury cannabis brand. Best known for its iconic rose gold vape pens and edible pastilles, Beboe is currently available in more than 125 retail locations in California and Colorado.
With a growing portfolio of marijuana retail locations and cannabis brands, Green Thumb Industries is well-positioned to become one of the United States' premiere cannabis retailers.
Acreage Holdings 
Headquartered in New York City, Acreage Holdings, Inc. (CSE: ACRG.U) (OTCQX: ACRGF) is the largest vertically integrated, multi-state owner of cannabis licenses and assets in U.S. States with respect to the number of states with operating licenses.
Acreage Holdings currently has retail operations in 14 states through 22 dispensaries branded under the company's retail concept "The Botanist" (according to the company's November 2018 corporate presentation). At the time of this writing, Acreage Holdings holds a total of 78 retail dispensary licenses.
In addition to the company's The Botanist retail brand, Acreage Holdings is focused on building out a portfolio of premium cannabis brands. These marijuana brands include Superflux (lifestyle), Prime (medicinal), Kind Bill Concentrates (artisan distillate), and The Hague Cannabis Co.—a company named after the Acreage Holding's Head of Cultivation, Phillip Hague.
To ensure that the aforementioned retail and product brand concepts resonate with today's consumers, Acreage Holdings has announced two new additions to the company's marketing team—Stacey Kawahata, Vice President of Consumer Insights and Brand Strategy, and Joen Choe, Vice President of Marketing.
By combining world-class marketing expertise with a premium cannabis retail brand, Acreage Holdings is emerging as a forerunner in U.S. cannabis retail.
Trulieve Cannabis Corp.
Trulieve Cannabis Corp. (OTC: TCNNF) (CNSX: TRUL) is a vertically integrated "seed to sale" company and the first and largest fully licensed cannabis company in the State of Florida.
Truelieve's retail presence in Florida is indeed massive—the company operates a network of 25 brick and mortar cannabis retail locations across the Sunshine State, which it plans to expand to 30 during Q1 2019. With a firm foothold in Florida, the company is now beginning to set its sights elswhere. Most recently, Truelieve has entered the Californian market through its acquisition of Leef Industries, a licensed medical and adult-use cannabis dispensary located in Palm Springs.
To further enhance its retail strategy, Trulieve has appointed Timothy Morey as the company's Director of Retail. Mr. Morey provides Truelieve with 15 years of retail sector experience, having served as Senior Director of Store Operations for Finish Line in which he oversaw more than 900 stores and 45 district sales managers.
Despite a limited retail presence nationwide, Truelieve's dominance of the Florida cannabis market has earned it a spot amongst some of the United States' largest cannabis retailers.
North American Cannabis Retail Is Undersaturated
Both the Canadian and U.S. markets show significant room for cannabis retail growth. However, regulatory hurdles and supply shortages in Canada—combined with the fact that marijuana is still federally illegal in the United States—has stifled retail expansion. As supply issues and regulatory gridlocks subside, expect today's fastest growing cannabis retailers to become tomorrow's cannabis retail leaders.