The world's most valuable cannabis firm Canopy Growth Corp. (NYSE:CGC)(TSX:WEED) saw its share price fall below $50 on the Toronto Stock Exchange this week for the first time since January. The company's stock has dropped close to 30 per cent since Feb. 1, and the support it had at the $60 mark per share has vanished. Now staying above $50 may prove challenging for the cannabis giant.
January was a strong month not just for pot stocks, but the markets in general, which recovered from a bad quarter to end 2018. But since then the bears have reared their heads, particularly as investors start to lose patience with cannabis companies' lack of profitability.
Although Canopy Growth has high hopes with its Acreage Holdings (CSE:ACRG.U) deal, the pot producer didn't generate the same hype it enjoyed last August when beverage giant Constellation Brands (NYSE:STZ) invested $5 billion into the cannabis heavyweight. Then in June, the Ontario-based company posted major losses in its latest quarterly report, causing investors to question its industry-leading status.
Cannabis industry battling negative headlines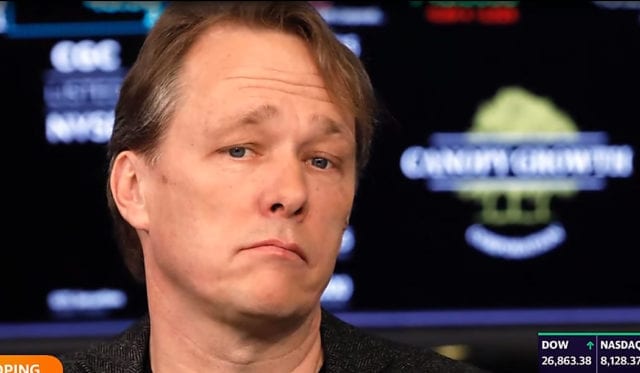 Canopy's dismal quarter led to the firing of its CEO Bruce Linton earlier this month — the de facto face of the industry. The news surprised many and sent ripples through the cannabis space. Reports surfaced that Constellation, who had elected four out of seven members of Canopy's board, grew impatient with Linton's maverick leadership and wanted a more structured management style that focuses on fiscal responsibility.
Constellation was having problems with its cannabis investment, which meant Linton's demise, but also major companies started to realize the industry needs to grow up if it wants to be considered legitimate. Although the share price didn't suffer a big fall after the Linton ouster, it continued its steady decline the days following.
Then came the CannTrust (TSX:TRST)(NYSE:CTST) bombshell.
The Canadian licensed producer has been embroiled in controversy after it revealed Monday that Health Canada caught the company growing cannabis illegally at its Pelham, Ont. greenhouse. Canntrust shares have been cut nearly in half since markets opened this week — wiping out nearly $440 million of its market value — as the company faces federal investigation.
Investors have already been skeptical on some pot stocks, but Canntrust's regulatory fiasco is pouring gas on the fire.
Weak sales numbers already were hurting the perception of the industry, but the latest negative headlines are testing its resolve. Investors might have already started questioning whether hype for industry growth was being overplayed. Even cannabis research firm BDS Analytics downgraded its estimates for the Canadian market recently.
Investor trust in the cannabis industry may be starting to crumble. If Canntrust's compliance issues prove to be more widespread and show up in other companies as well, it could result in a larger sell-off in the cannabis industry. Some investors have paid a premium for pot stocks on the promise of future growth despite cannabis companies producing hardly any tangible results. However, that honeymoon period appears to be over.
Other pot stocks struggling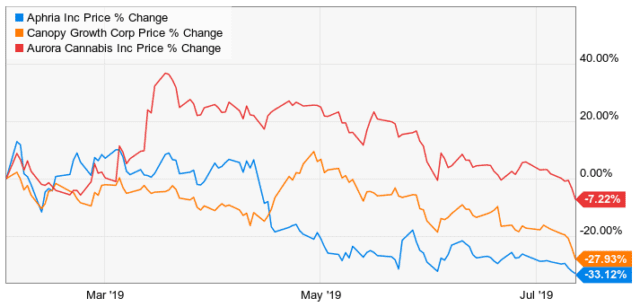 While Canopy Growth's stock has declined, Aphria Inc. (NYSE:APHA)(TSX:APHA) shares have been falling even harder since February. And although rival Aurora Cannabis Inc. (NYSE:ACB)(TSX:ACB) has fared better, the company's stock has also been slumping.
It appears a new era has been reached for investors in the industry where it's going to take more consistent strong growth numbers to result in stronger stock prices. The days of Canopy Growth being a $20 billion company by market share are long gone, and unless we see a significant improvement in its financials, they may not be seen again.