While cleaner electricity means cannabis grown in Canada is often greener than America's legal harvests, northern producers and regulators hardly track the industry's carbon footprint, nor has there been much discussion on strategies to lower emissions.
Some policy experts say the plant should be grown outdoors to mitigate the environmental impact created by energy-hogging indoor facilities. But demand for farm-grown pot is tepid compared to higher quality indoor supply.
Since the federal government doesn't regulate emissions for the weed industry, some Canadian producers are taking the issue into their own hands with more efficient lights, heating equipment and aquaponic fish fertilization.
As demand for legal cannabis surges worldwide, the magnitude of the booming industry's environmental impact is only beginning to be brought to light.
A study published in Nature Sustainability last month provides the most detailed accounting to date of the industry's carbon footprint in the United States.
Researchers from Colorado State University weren't surprised to discover that indoor cannabis operations are a significant source of greenhouse gas emissions.
They found that location is the biggest determining factor of emission levels, contributed to by variables including local climate and carbon intensity of the electricity grid. The energy required to yield one kilogram of dried cannabis flower was calculated at 2.3–5.2 tonnes of carbon dioxide across the U.S.
The team's ultimate goal is to expand their research to help the industry and policymakers tackle environmental concerns, while regulated weed is still emerging in the states.
"We would like to try and improve environmental impacts before they have become built into the way of doing business," said Evan Sproul, co-author and CSU mechanical engineering research scientist.
Canadian regulators mum on tackling cannabis emissions
North of the border, Health Canada told Mugglehead that federal licence holders must comply with its good production practices, a series of requirements designed to ensure cannabis meets quality, safety and environmental standards.
However, the document only includes environmental protections for issues like waste and water management, and doesn't offer any guidance on reducing carbon emissions.
The department noted that producers must also comply with federal, provincial and municipal laws intended to protect the environment.
When adult-use legalization first launched in 2018, Environment and Climate Change Canada indicated they wouldn't issue environmental regulation for the new industry.
The federal government's hands-off approach has left provinces mainly in charge of tackling, or not tackling, the issue.
Growing indoor in Canada has a lower carbon footprint than in the U.S. because 82 per cent of electricity production is from non-carbon emitting sources like hydro, wind and nuclear.
British Columbia and Quebec generate electricity almost entirely from hydro and other renewable energy. Around one third of the roughly 300 licensed growers are in those provinces.
B.C. is the first province in Canada to set greenhouse gas emission reduction targets for major sectors, and tracks emissions for operators that produce 10,000 tonnes of carbon or more.
But the B.C. government tells Mugglehead that under its current reporting rules emissions are tracked by facility, not product, which means emissions data specific to cannabis crops is unavailable.
The problem with outdoor production
Ernest Small, a research scientist with Agriculture and Agri-Food Canada in Ottawa, wants to see cannabis grown outdoors as nature intended.
"This indoor growth phenomenon has limited viability," he said in an email.
He pointed to a study he authored in 2018 that showed the energy needed in North America to produce a single joint could power a 100-Watt light bulb for 25 hours.
Small argues that when stored properly, dried cannabis flower that's grown outdoors can retain its potency for years. And outdoor biomass can be extracted into concentrates that supply increased demand in edibles, topicals and beverages markets.
But there are many factors to consider when switching to outdoor operations, including the need for significant more land than indoor to produce the same amount.
There was over 6.19 million square meters of licensed outdoor growing area in the country as of last November — three times more than licensed indoor canopy. But weak demand for mid-tier outdoor bud has already led to one larger producer — 48North Cannabis (TSX-V: NRTH) — permanently shutting down its outdoor farm.
Read more: 48North cuts outdoor production, 20% of staff
Some Canadian producers keen on going green
Because consumers demand more high-potency weed grown indoors, Mugglehead asked 10 producers of varying size if and how they're reducing emissions at their production sites.
Only three responded.
Pure Sunfarms, owned by vegetable grower Village Farms International (TSX: VFF) (Nasdaq: VFF), says its greenhouses use power from the sun 40 per cent of the year.
The Delta, B.C.-based grower uses renewable hydro electricity, recycles rainwater it collects from its facility's roof and uses blackout and energy screens to reduce heating requirements.
Edmonton-headquartered Aurora Cannabis (TSX: ACB) (NYSE: ACB) says it's begun the journey of understanding its carbon footprint and looks forward to tracking and reporting related information in the future.
Aurora built its 800,000 square foot Aurora Sky greenhouse with sustainability in mind, according to the firm. The mammoth facility uses cutting-edge glass roof technology to maximize sunlight, partial LED lighting as well as a fully-enclosed air system that lowers energy needs for heating and cooling.
Habitat Craft Cannabis, a micro-cultivator based in the B.C. interior town of Chase, says its aquaponic operation serves as a model for the industry from both sustainability and economic standpoints.
The small company employs a circular farming technique that uses salmon excrement as fertilizer, passing it through a hydroponic system that breaks the waste down into nutrients that are absorbed by cannabis plants. Over 99.7 per cent of the plant-filtered water recirculates back to the fish.
The salmon tanks produce a lot of heat and CO2, Habitat founder Rudi Schiebel explains, which cuts down energy costs and the need to pump in extra CO2 to aid plant growth.
Read more: Cannabis-grown salmon is on the menu
Using LED lights and not needing to ship in fertilizers also cuts his company's carbon footprint, he adds.
Schiebel would like to see Health Canada change burdensome packaging requirements that force producers to use large plastic containers that aren't eco-friendly.
Provincial wholesalers should open more distribution centres to cut down on carbon footprint related to excessive transportation, he says.
Like most provinces, B.C. has a lone distribution centre. Because it's in Richmond, a processor on Vancouver Island has to ship product to the Lower Mainland before it's re-shipped back for retail sale.
Due to strict federal and provincial rules, as well as massive regulatory fees, Schiebel says most producers are just trying to keep their business alive at this point.
"In order for the industry to start seeking sustainable parameters, the government needs to help make the industry viable, so everyone's not worried about survival. Then they can worry about community and environment," he said.
Insatiable demand for cannabis in US has created a giant carbon footprint

Down in Colorado, the CSU study estimated 2.36 million tonnes of carbon are emitted from indoor operations each year. That's the equivalent of total annual emissions from 520,000 vehicles, or 1.3 per cent of the state's total annual emissions.
Since recreational legalization was pioneered by Colorado in 2012, the U.S. cannabis industry has grown to US$17.5 billion in annual sales last year. Colorado sells more than 530 tonnes of legal product every year.
And demand for legal cannabis is only growing as 17 states have legalized adult-use weed.
The new study quantified and analyzed carbon emissions and energy data from indoor production in several legal states.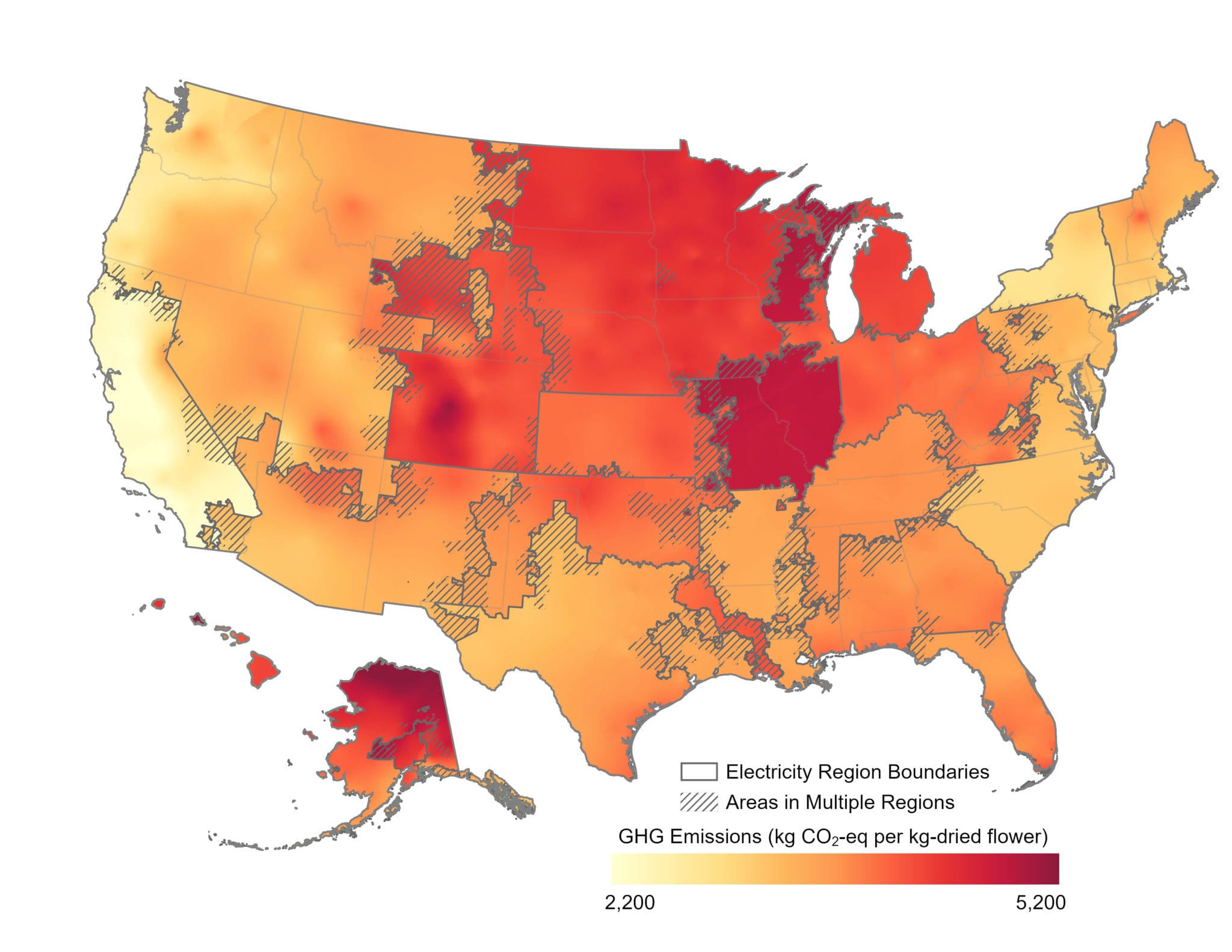 The life cycle greenhouse gas emissions from indoor cannabis cultivation, modeled across the U.S. in the 2021 from researchers at Colorado State University.
That data was then used to calculate the required energy and emissions produced for hypothetical grow facilities in all 50 states.

A grow site in a cold, dry Midwest climate with coal-generated electricity means a larger carbon footprint. But emissions produced in eastern Hawaii were the highest due to the region's extreme humidity and electricity generated from burning oil. Cannabis grown in Southern California recorded the lowest emissions.
"We knew the emissions were going to be large, but because they hadn't been fully quantified previously, we identified this as a big research opportunity space," said co-author Hailey Summers, a CSU mechanical engineering and sustainability researcher.
Powerful sodium-based growing lights were one of the biggest energy hogs. But the researchers were surprised to discover that the heating, ventilation, and air conditioning (HVAC) systems generally required the most amount of power.
Ventilation rates are far higher in indoor grow sites than in homes — up to 60 air exchanges per hour compared to 0.35 in a home.
Outdoor production 96% greener than indoor
The researchers didn't investigate carbon emissions from cannabis grown in greenhouses or outdoors.
A New Frontier Data energy report in 2018 suggested that switching to greenhouse and outdoor cultivation practices could reduce carbon emissions by 42 and 96 per cent, respectively.

While those figures only consider electricity and the CSU study estimates are more comprehensive, the researchers say the comparison still highlights the enormously larger footprint of indoor grow operations.
In a recent survey of producers in North America, 42 per cent of respondents indicated their grow operations are solely indoors.
The high energy consumption of cannabis is in part due to how the product is regulated, the research team says.
In Colorado, cultivation sites have to be close to pot shops, which creates an explosion of energy-hungry indoor warehouses in urban areas like Denver.
The researchers pointed to several engineering and policy solutions to reduce the environmental burden of indoor cultivation. They hope the study will inform state policymakers where weed's already legal, and for states developing regulations.

In California, lawmakers changed cannabis regulations last year to require all indoor cultivation to switch to LED lights by 2023.

Illinois legislature recently passed a bill that limits lighting intensities, and makes producers commit to using high-efficiency HVAC equipment.
"Best management guides should include practices to specifically reduce [greenhouse gas] emissions from HVAC operations, high-intensity grow lights and supplemental CO2 as these are the largest contributors in the majority of U.S. locations," the study read.
Top image via Organigram
jared@mugglehead.com