Edmonton-based Aurora Cannabis Inc. (NYSE:ACB)(TSX:ACB) has partnered with the UFC to conduct a unique research project that will evaluate the use of hemp-derived CBD to treat the aches and pains of the league's mixed martial arts athletes.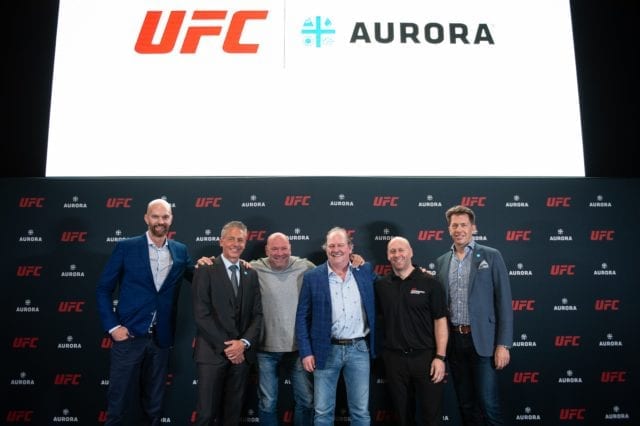 Aurora and the UFC plan to conduct clinical trials to study how cannabidiol, commonly known as CBD, can help the elite athletes improve their health and recovery from injury. The results will be used to develop a new line of hemp-derived topical products under the banner ROAR Sports. The new brand is expected to become the "official CBD product of UFC."
Officials from Aurora and the UFC said they hope the research will help develop specific formulations of the CBD compound to effectively treat pain, inflammation, wound-healing, and recovery on MMA athletes.
We are going to work together to change the way people think, to change the industry, and to launch the first hemp-derived CBD products that are backed by scientific research. The brand-building and product development are all part of our move into the U.S., and in collaboration with UFC, and we intend to play a major role in that market.
Credible research critical for industry growth

CBD has been touted to treat anything from acne to cancer, but to date there is little credible scientific research to back those claims. While the compound has been found to be effective in treating some ailments such as heroin addiction, most studies so far are not definitive and many medical professionals remain skeptical on the effectiveness of CBD.
The Food and Drug Administration recently issued a warning letter to American cannabis company Curaleaf Holdings Inc. (CSE:CURA) for making "unsubstantiated claims" for its CBD products. So if large sports organizations want to let their athletes use CBD, they are going to need more clinical research to get federal approval as well.
The clinical trials set up by Aurora and the UFC will be the first of their kind to look at how cannabis or CBD can help elite athletes, according to Dr. Jeff Chen, director of UCLA's Cannabis Research Initiative. And because of the growing interest on the subject, the research could pave the way for to advance cannabis research for athletes.
The multi-phase clinical study will be held at the UFC's Las Vegas training facility and led by Dr. Jason Dyck, chair of Aurora's Global Scientific Oversight Committee. Active UFC athletes will volunteer to partake in the study, which will be peer reviewed and go through an independent ethics board. The study will also be submitted for review and published in major scientific journals.
"We know anecdotally that professional athletes across sports disciplines are turning to hemp-derived CBD treatments to assist with physical recovery, with varying degrees of success," Dyck said in the release. 
Research could open doors for other sports leagues
UFC president Dana White told reporters he thinks the research will be a catalyst for other major sports leagues looking to allow their athletes to use cannabis and CBD for pain and recovery.
"It's what we're doing first, but I believe all sports are going to be involved in this too. And it's massive," White said.
A new effective treatment to improve recovery times will have significant value in professional sports. An injury could put a multi-million dollar player on the sidelines for weeks or even months. But the data and research gained from the UFC and Aurora partnership could be a game changer in finding a better solution in treating pain and aiding recovery than using opioids or sleeping pills, White said.
Former NFL Player Ricky Williams is a big believer in cannabis and has his own line of CBD products. Earlier this year, the NHL Alumni Association announced it would be partnering with Canopy Growth Corp. (NYSE:CGC)(TSX:WEED) to study the impact of CBD on retired players to see if it could help manage brain injuries and mental health issues.
With many injuries suffered in sports and a large number of retired athletes suffering from long-term pain as a result of their playing days, there could be a big market for premium CBD products. However, the key will be in expanding the research. Before athletes and teams trust CBD, they'll need some assurances that it will work.