Aphria Inc. (TSX:APHA)(NYSE:APHA) said it posted a profit in its latest quarter making it the first major Canadian cannabis firm to do so since legalization began last fall.
The Leamington, Ont.-based company said on Thursday for its fourth quarter ending May 31 it earned $15.8 million on a net revenue of $128.6 million — a 75 per cent jump from its previous quarter and higher than any expectations from analysts.
Shares of Aphria soared almost 32 per cent higher in after hour trading on the New York Stock Exchange late Thursday. Analysts at FactSet estimated the company would hit a revenue of $104 million, according to MarketWatch.
Aphria's better-than-expected revenues were fueled by a surge in sales in Canada's recreational market that reached $18.5 million in the company's fourth quarter, up 158 per cent from its prior quarter. Aphria's cash cost per gram of dried cannabis also improved falling to $1.35 from $1.48.
Our team's solid execution across key areas of our business resulted in strong adult-use revenue growth and a profitable fourth quarter.
In total, Aphria said it sold 5,574 kilograms of cannabis, generating $28.6 million. Investors were largely disappointed in the company's last quarter when it sold 2,636 kilograms of cannabis and generated $15.4 million in revenue in both the adult-use and medical markets.
But the lion's share of the company's revenues came from its overseas distribution partners, mainly with CC Pharma in Germany, generating $99.2 million in total. Aphria paid about $60 million in January this year for CC Pharma, a company that ships medical cannabis across Europe to 13,000 pharmacies.
Aphria Inc. Announces 158% Increase in Adult-Use Sales and Profitable Fourth Quarter $apha: https://t.co/QOK6de2nnU pic.twitter.com/4cEu9DjU3D

— aphria inc. (@aphriainc) August 1, 2019
Aphria expects revenues to hit $700M next fiscal year
With the recent crop of weaker-than-expected earnings and high-profile scandals casting a shadow over the pot industry this summer, Aphria will inject some much-needed light into the sector with its surprise Q4 profit.
Although Aphria reported a net loss of $16.5 million over its fiscal year compared to $29.4 million in net income during the previous financial year, the company thinks its latest quarter profit is the start of a new trend.
In a conference call, Simon and company executives said they expect net revenues in the range of $650 million to $700 million in fiscal 2020, ending May 31.
Aphria's adjusted earnings before interest, taxes, depreciation and amortization was in positive territory in Q4 as well coming in at $200K. And the company said it expects adjusted EBITDA of $88 million to $95 million in fiscal 2020.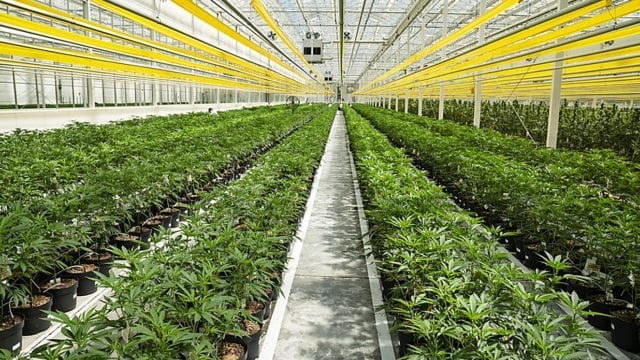 Simon told The Financial Post in order to hit its fiscal 2020 targets it will focus on its home base in Leamington.
The company said it planted 200,000 cannabis plants over the last quarter at its fully operational Aphria One facility, which is 700,000 square feet in greenhouse space. The pot producer is waiting on a Health Canada licence for its 1.2 million square foot Aphria Diamond cultivation site. Once the next facility is licensed and running, the company expects to reach annual production of 255,000 kilograms.
Aphria turning a corner
Simon took over as interim CEO of Aphria in February after he was named independent chairman of the company's board of directors in December. Before that, he founded and was the head at Hain Celestial, an organic products company.
Simon said one of the reasons the company has seen success is because of new found focus on keeping costs low. Because of Health Canada's strict rules on advertising, he said the company has cut marketing costs and have passed the savings onto the consumer.
"Right now, I want to get Aphria's brands into a lot of consumer's hands. We make sure it's available and priced right, and that's talking to consumers," Simon told MarketWatch.
The company drew fire late last year when a short-seller report questioned the value, and even the existence, of Aphria's Jamaica and Latin American acquired assets. At that time shares of the company plummeted and CEO Vic Neufeld along with other key executives parted ways. In its previous quarter Aphria took a $50 million non-cash impairment charge over those same assets.
However, Simon has been working hard to rally the company by focusing on production and fiscal responsibility. "Our strategic priority over the last six months has been focusing on our Canadian operations here in Leamington," he said.
Over the past three months, the company has also been able to build up some positive cash flow. A settlement with American cannabis firm Green Growth Brands Inc. (CSE:GGB) over its failed hostile takeover bid resulted in $50 million cash for Aphria, with an additional $39 million to be received in November.
Aphria's future plans
Moving forward, the company is "building strategic partnerships" in the U.S. CBD market, where it has yet to establish a presence in.
"Let me be clear: we're always looking for opportunities in the U.S., but it needs to be the right opportunity, one that will create real and long-term value for our shareholders," Simon said.
Aphria also has big plans for entering the edibles and vaporizer markets when those product become legal and available in Canada late this year. Simon said the company will look to offer its vape products at a fair price and its partnership with industry-leading Pax Labs Inc. will help it create a formidable brand to compete with the black market.
"There's probably $1 billion worth of vape sales in the black market," Simon said. "The illicit market today is the biggest market out there."
He said there are no imminent plans to replace him as interim CEO. "The leadership team we have in place is solid; there is no management void at Aphria," Simon said.
"My focus was getting the company back on track, and as you can see, all our hard work is paying off," he said.