You can't deny that globalization has opened up stunning new vistas in terms of culture and finance. Capital flows move between countries far easier due to free trade agreements, people visit new countries and have experiences unknown to prior generations, and the world generally seems to be a far more open and inviting place. The noteworthy word in that sentence is seems—because globalization has a dark side. It's also brought home issues with security, defence and ever widening inequality.
The internet specifically have introduced new threats our parents generation would have found absurd. Click the wrong link in your email and you can open an entire world of pain and strife for you and your family. It's enough to prompt the Canadian government to introduce new cyber-security legislation.
Cybersecurity legislation quick hits:
Since 2018, the Government of Canada has invested approximately CAD$4.8 billion in cyber security.

Budget 2019 provided CAD$144.9 million to introduce a new critical cyber systems framework to protect Canada's federally regulated critical infrastructure in the finance, telecommunications, energy, and transport sectors.

Canada's two departments responsible for securing and defending government information systems, and preventing and responding to cyber incidents on critical infrastructure are the Canadian Centre for Cyber Security (Cyber Centre) within the Communications Security Establishment and the National Cybercrime Coordination Unit (NC3) within the RCMP.
But as we all know, cybersecurity is only one facet of the growing security problem. School shootings, bomb scares and other malicious behaviours are also on the rise. It's an excellent start for the public sector to get involved in helping keep us safe from malicious actors on the internet (and beyond), and it represents a significant opportunity for companies to pull in revenue while making a difference in their communities.
Here are five companies walking the cybersecurity and defence beat.
Closing the regulation gap on blockchain projects
The cryptocurrency sector has earned a well-deserved reputation of being a lawless, regulation-defiant place, where criminals can feel free to exchange cryptocurrency for illegal goods and services. But what most criminals don't realize is that most cryptocurrencies aren't anonymous—in fact, they're quite the opposite. Most cryptos offer a supplementary product called a block explorer, wherein anyone with enough time, interest (and technical savvy) can follow transaction flows on the blockchain.
Bigg Digital Assets (CSE.BIGG) takes that a step further by adding an artificial intelligence driven way to read the traffic flows on every blockchain the company services, and now it's extended its reach to non-fungible tokens. (NFT)
"With the increasing number of scams and hacks impacting the adoption of NFTs, it's critical that blockchain investigators, as well as traditional financial institutions, can track them effectively to mitigate risk. We're proud to be the first blockchain analytics company to provide a solution specifically created to track NFTs and support further adoption," said Lance Morginn, president of Blockchain Intelligence Group, one of BIGG's subsidiaries.
Bigg Digital Assets is working towards a vision of the cryptocurrency and blockchain space as a safe, compliant and regulated environment. In that way this company believes the opposite of what you would expect from a cryptocurrency company, especially given crypto's cyber-libertarian origins. But if there's anything we've learned from the first fifteen years of cryptocurrency's existence, it's that regulation is not only necessary, but required. So why not self-regulate?
Core capabilities include:
Comprehensive token tracking on the ERC-721 standard, including market cap and 24-hour volume;
Explorer function for ERC-271, displaying NFTs by collection, along with lists of token traits, including name, image, token owner and associated transactions;
Ability to perform investigations that include NFT transfers.
Now if an NFT is stolen on the blockchain, it can be traced along the blockchain to whatever wallet (or exchange) is presently holding it. That wallet (or exchange) gets a certain ranking (from one of Blockchain Intelligence's core products BitRank Verified) as being involved in illegal activity. Consider for a moment that legit cryptocurrency exchanges require their users to jump through know your customer/anti-money laundering (KYC/AML) regulatory hoops, then if it's an exchange the wallet's connected with, then all of the information about the thief is readily available. After which the authorities are called and action can be taken.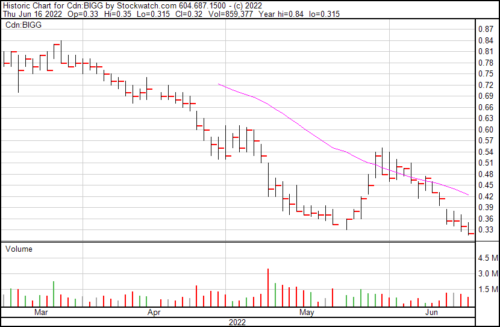 Bigg Digital Assets is trading at $0.34.
High technology meets aviation security with Liberty Defence
Liberty Defence Holdings (TSXV: SCAN) (OTCQB: LDDFF) has been awarded a contract for airport checkpoint screening from Battelle to help with development, integration and testing of High Definition Advanced Imaging Technology (HD-AIT) upgrade kits.
Columbus, Ohio-based Battelle is an independent research and development organization. Liberty has a prior relationship with the company, wherein it had previously licensed its millimetre wave-based, HD-AIT body scanner and shoe screen technologies. Both technologies were developed by researchers at the Pacific Northwest National Laboratory (PNNL), and funded by the Department of Homeland Security Science and Technology Directorate (S&T)
"Today's aviation security requires improved detection capability to meet evolving threats. We licensed the HD-AIT technology to support the development and commercialization of this leading-edge platform, and we look forward to working with the Battelle and PNNL teams towards this end," said Michael Lanzaro, Liberty president and CTO.
Liberty Defence provides technologically-aided security solutions so places with high foot traffic like airports, stadiums, schools and more can maintain a modicum of operational security. For example, Liberty's HEXWAVE product provides a discrete, hands-off solution to the problem of metallic and non-metallic weapons. No pat downs required.
You have the public step through the assigned space and the computer readout informs security personnel if they're carrying weapons. There's also no need to make this device visible as it can easily be hidden from the public and still perform its slated security duties.
The HD-AIT is the stand-up booth where the airport security bombards you with non-ionizing radiation in the form of low-level radio waves to determine if you're a threat.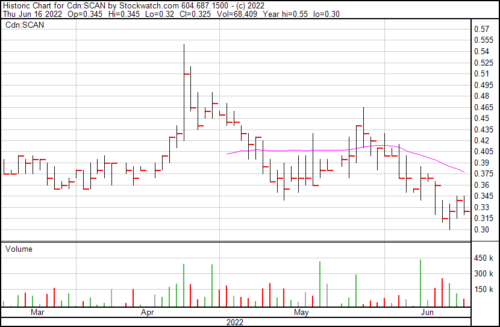 SCAN is down a penny and a half today, and is presently trading at $0.325.
Biometric-based cyber security company Plurilock pulls money from the SEWP
Government contracts are the bread and butter of junior tech firms trying to make their way through the market. That way they can get and keep a lucrative and stable client, get more contacts courtesy of networking, and get their product out there on the market largely without needing to worry about marketing. The government will do that.
In this case, we have Plurilock Securities (TSXV.PLUR), or more specifically its subsidiary, Aurora Systems Consulting, which received purchase orders from multiple organizations in May of this year. The number attached is USD $2,011,073.
The SEWP is the Solution for Enterprise-Wide Procurement (SEWP) program run by the National Aeronautics and Space Administration (NASA). It's a United States government-wide acquisition contract vehicle that companies in the industries of Information Technology and Computer Networking, Software and Cloud Computing, Wireless and Mobile Technology, Supporting Technology, AV/Conferencing technology and solutions, can use to get funding for projects.
For example, imagine no longer requiring passwords. Not only are they a pain, but they're a security hazard.
Logins and passwords can become corrupt. Then there's the wet-ware problem. Jim in accounting has left his computer open again when he went for break and someone's got his password. Now the company's security is compromised. Password policies, multifactor identification—all of this makes authentication and credentials harder to use without revealing the presence of illicit activity on stolen credentials.
Plurilock's take on cybersecurity is different from most other companies. They use biometric signatures to provide ongoing verification that the user is who they say they are. It's artificial intelligence and internet-of-things (IoT) sensors that pick up continual movements, such as the way you use your mouse or your typing habits, and determine that the person sitting at that computer is who should be there.
No more passwords required. If you aren't meant to be at the computer station, then the computer won't respond to you. Problem solved.
This latest contract is only the latest. Plurilock and its subsidiaries have been feasting at the government table since January 1, 2022, and have since pulled in USD$8.7 million in sales.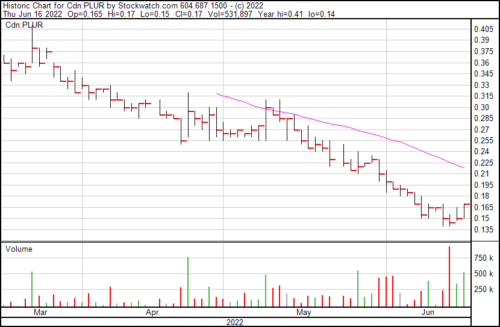 Plurilock is up 9.7 per cent today and now trading at $0.17.
Viasat picks up a government contract for experimenting with 5G
Everyone from law enforcement to the military relies on high tech communications to maintain operational efficiency, as well as keep themselves and everyone involved safe and the government often looks to the private sector to find where the next big communications breakthrough is coming from.
In this case, we have Viasat (nasdaq.VSAT).
Viasat received an award from the United States Department of Defence (DoD) to conduct research on the uses of 5G technology to support communications for Expeditionary Advanced Base Operations (EABO).
The focus of the research will be on network enhancements, command and control and advanced processing through digital twin and agile software capabilities. This is also the third award that Viasat's picked up courtesy of the DoD's $600 million research partnership with industry and academic leaders for further study of 5G's potential battlefield applications.
"Like the DoD, we see the significant potential for 5G to enhance the warfighter's ability to produce, consume, and make sense of mission critical data at the point and time of need in contested and congested environments to support JADC2 enablement. The ability to swiftly move information and data across the battlespace is essential to the multi-domain and joint-force operations needs of the future. The addition of 5G bandwidth and network management capabilities will support C2 for specific missions and greater visibility across highly dispersed forces in EABO and littoral operations in contested environments," said Craig Miller, president, Viasat government systems.
Viasat is a global communications company, and it's been around for decades. It's been working to connect consumers, businesses, governments and military organizations, and is presently developing a global communications network to power high quality, secure, affordable, fast connections to impact people's lives anywhere they are, be it on the ground, in the air or at seat.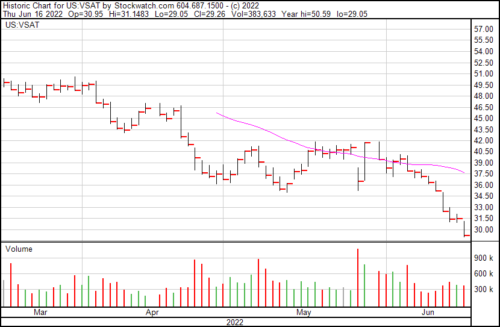 Viasat shares dipped $2.28 today and are now trading at $29.26.
Pegasystems flies to defend the cloud for the department of defence
Pegasystems (nasdaq.PEGA) announced that The Defence Information Systems Agency (DISA) granted Pega Cloud for Government a provisional authorization for the Department of Defence (DoD) at Impact Level 4 (IL4).
Throughout the DoD, agencies are taking their processes to highly secure cloud platforms to protect mission-critical information from cyber threats, including hackers and other bad actors. PEGA's IL4 provisional authorization gives PegaCloud for Government uses across the DoD the option of migrating their important data at a faster rates.
The authorization verifies that the platform meets the security requirements for cloud computing in support of mission-critical information.
"Today's government agencies require the fastest track to deliver on their modernization goals, part of which is ensuring they're working on secure and compliant cloud platforms. This authorization demonstrates our commitment to helping meet the specialized security and compliance needs of customers across the DOD as we work with them to achieve their digital transformation goals," said Doug Averill, vice president, global industry market leader, government, Pega.
It's not like the modern DoD keeps their information on Commodore 64's and clipboards, but the benefits of a secure cloud-based solution can't be denied, especially when information needs to travel across the world. Pega provides the software that eliminates complexity in communications so its clients (in this case, the DoD) can have the information they need to make the important decisions when they need it. The company's tech is powered by real-time AI And intelligent automation, while their architecture and low-code platform helps its clients stay nimble enough to adapt to ever changing environments.
The company's solutions provide connections between data and systems across operational silos, helping to streamline and simplify organizational complexity without sacrificing efficiency. Pega is presently working with the largest government agencies in a push to help them bypass their modernization goals.
The Pega Cloud for Government is a cloud that provides tools, environments and support for government agencies to help them develop applications optimized for government workloads. The platform is scalable and keeps to standards set by the Federal Risk and Authorization Management Program (FedRAMP).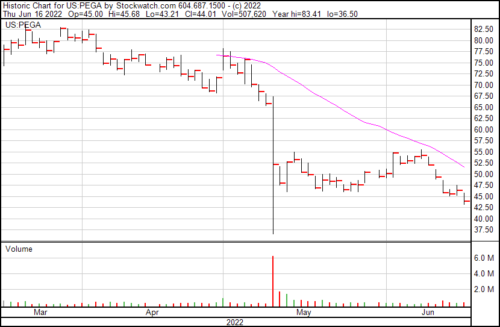 PEGA is down another $2.44 today, closing at $44.01.