Today's edition of the Mugglehead technology roundup features five companies with five unique value propositions, each representing significant opportunities to buy the dip and make your financial future that much brighter.
Color Star Technology opens a portal to the future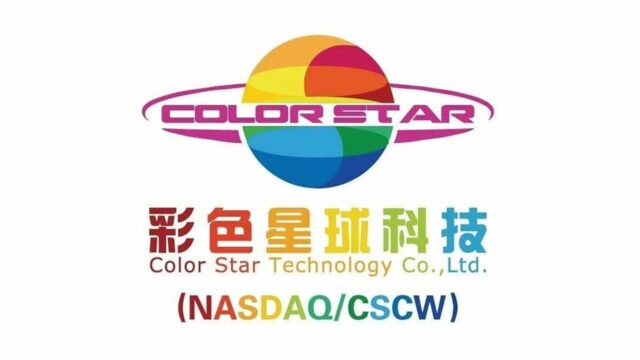 Color Star Technology (Nasdaq:CSCW) upgraded its metaverse software Color World to include not only code enrichments but new content to multiple places in the application, including new flagship stores of new businesses that have transitioned into the Color World metaverse app.
Some of these include the famous tea brand "San Si Yi Ting." The tea brand has already started store renovations and intends to take advantage of their involvement with Color Star to run a global marketing and brand promo campaign.
"Through the continuous efforts of our technical team in recent months, Color World Metaverse app has received wide recognition from users all around the world, with a stronger and stronger user experience, while also providing us with a lot of improvement suggestions. Businesses are likely to migrate onto our platform, as we are currently among the world's first entertainment metaverse software, and Color World is different from other software in the same genre," said Lucas Capetian, CEO of Color Star.
Color Star Technology is an entertainment and education company involved in online entertainment and music education services. It operates using its subsidiaries, Color China Entertainment and CACM Group NY.
Color World's metaverse application can be found on Android and Apple app stores. At present, the apps support over a million uses and is anticipated to increase as the metaverse grows in popularity. The company anticipates the size of the user base to draw in more businesses in the future, and that's why it has been working to help onboard businesses into the metaverse. When complete, users will be able to visit online stores of brands like they would in any shopping mall. Color Star intends to work with companies to assist with the development of both physical and virtual products (NFT's, etc), which should bring in more revenue for the company.
"We will increase our celebrity resources and well-known commercial brand promotions, moreover, a number of product sales will cover almost all parts of the world. Users can enjoy entertainment and enjoy integrated immersive experiences without having to step foot outside their door. This concept is also the subject of our continuous improvement and focus. We will also try to guarantee that all the products sold on our platform are first-class regardless of quality, price and after-sales service," said Capetian.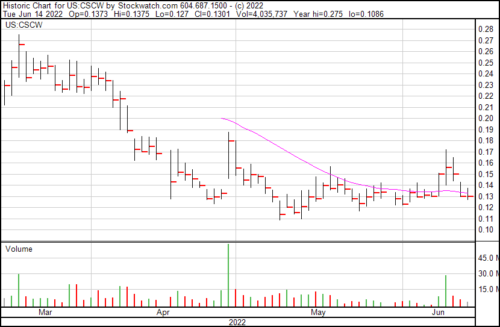 Color Star Technologies is trading at $0.13 today.
New report reveals generation gap behind digital banking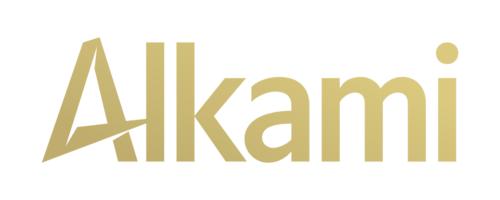 Alkami Technology (Nasdaq:ALKT) released a research report called "The 2022 Digital Banking Transformative Trends Study" providing information and context for leaders at financial institutions to help understand the potential for implementation of digital banking across generations.
The report is a co-production with The Centre for Generational Kinetics, and surveyed more than 1,500 participants in the United States who presently have a bank account and are involved in digital banking.
"This is a critical time for financial institutions to discover and act on statistically accurate data to inform their customer and member roadmaps, technology plans, and investments," said Allison Cerra, Chief Marketing Officer of Alkami. "This new study provides the missing link to the data leaders need to drive long-term growth across generations."
Alkami Technology is a cloud-based digital banking solutions provider for financial institutions in the United States. It helps clients develop through a mix of retail and business banking, digital accounts and loan origination as well as multi-payment fraud protection, data analytics and engagement solutions.
The survey derived its population using the 2020 U.S. Census, selecting for age, region, gender and ethnicity, and the findings discovered unexpected and important insights that pertain to financial institutions of all sizes, customer and membership numbers, as well as locations.
Key findings of the report include:
Digital banking engagement is statistically correlated with higher FI product penetration.
Regional and community FI account holders are less likely than all other financial provider cohorts to believe their financial relationship will grow over the next year. However, 40 percent would be more likely to try, use, or engage with other products if they were completely satisfied with their digital banking experience.
Younger generations are up for grabs; more than one in five do not think or are unsure if their primary financial institution (PFI) will remain as such in the next year.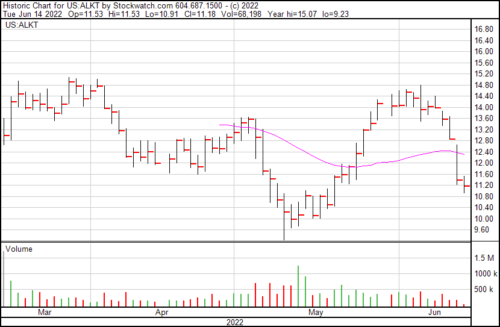 Alkami Technology has cratered in the previous month from a high of $14.50 to $11.18, where its presently trading
Welcome to the Nasdaq
Naas Technology (nasdaq.NAAS) announced its successful uplist today to the NASDAQ, where it's become China's first listed pure play electrical vehicle charging service company. This listing comes after the merger of RISE Education Cayman and Dada Auto a few days ago and a subsequent 1 for 5 stock consolidation.
Twenty years ago if you asked around about the future of transportation only those in the know would have talked about electric vehicles. The technology wasn't there yet. The batteries were neither strong nor reliable, and the metals that went into them were varied and expensive when they weren't unavailable. This is, of course, before Elon Musk and Tesla. It was before the dramatic changes in climate brought home the reality of the damage of fossil fuels.
Fast forward to today and we're in the early stages of an emergence of electric cars, as traditional car manufacturers like Ford and Toyota open the doors to hybrid and EV production. Sourcing the metals involved in the development of EV batteries is still proving to be a problem both financially, environmentally and politically, but we're making some progress towards the ultimate goal of saving ourselves from a climate change related demise.
That more than anything has paved the way for companies like NaaS to get in the game in pursuit of carbon neutrality.
"Carbon neutrality is the mission of our generation, and a new chapter in global energy has already begun – with new energy vehicles being at the center. Having been able to successfully list on the NASDAQ, I'd like to thank our shareholders and partners for their faith and confidence in us. This is a gift from today but also a test for tomorrow. We hope that NaaS' presence will make energy smarter, the earth greener, and the skies bluer. Carbon neutral energy is NaaS' aspiration, and the common dream of all humanity. We will continue to strive to achieve this goal," said Ms. Yang Wang, NaaS' founder and CEO.
NaaS Technology has been manufacturing EV charging services since 2019, and has since established and maintained the largest charging network in China in terms of volume transacted through its network for third party charging station operators. The company has been focusing on promoting carbon neutrality and environmental, social and corporate governance (ESG) issues, and according to global assessment company SGS, have helped reduce carbon emissions by nearly 900,000 tons annually.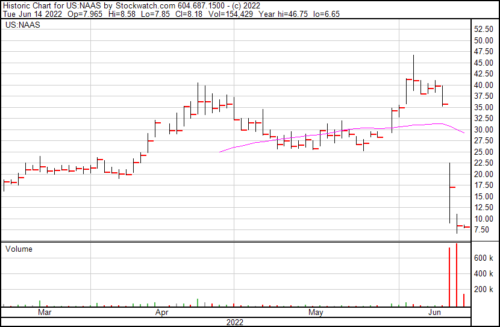 Upon merging this company implemented a 1-5 share consolidation.
BlackBerry is geared up for the future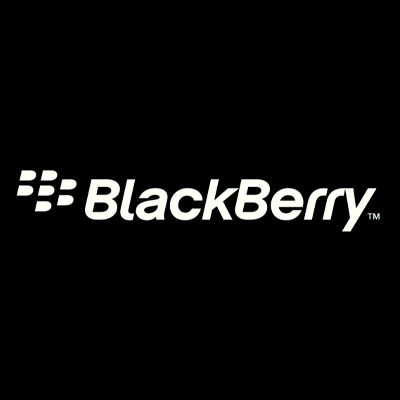 BlackBerry (NYSE:BB) (TSX:BB) announced its updated version of its QNX Advanced Virtualization Frameworks (QAVF) and support for Google's latest Android Automotive OS.
The new version will make any future work of automotive software developers easier by giving them the tools they need to simplify development, boost their time to market and reduce costs when building Android Automotive operation system based IVI systems. The new development also offers a boost to BB's leadership position within the vehicle onboard computer market by giving them a foundation they can build their safety and non-safety applications on.
This news comes hot on the heels of BlackBerry being recognized as a leader in the IDC MarketScape: Worldwide UEM Software 2022 Vendor Assessment and the IDC MarketSpace Worldwide UEM Software for Ruggedizing/Internet of Things Device Deployments.
The IDC MarketScape: Worldwide UEM Software 2022 Vendor Assessment report highlights for BlackBerry:
BlackBerry's UEM offering meets a wide range of government and industry certifications around security and compliance, including FedRAMP, FIPS 140-2, NIAP Common Criteria, and PCI-DSS, among several others. The UEM product is on the approved vendor listings for a number of U.S. and foreign government organizations as well.
BlackBerry's extensive portfolio of cybersecurity products, services and solutions, and the AI technology behind its threat detection and remediation capabilities, provides a powerful tie-in to the UEM solution, especially for use cases requiring continuous authentication and security health checks of endpoint devices accessing corporate data and apps.
BlackBerry's mobile threat detection (MTD) technology integrates with the UEM product to provide a strong management/security endpoint offering for smartphones, tablets, and IoT devices running mobile-centric OSs such as Android.
BlackBerry UEM integrates tightly with the vendor's critical event notification and management SaaS platforms, BlackBerry(TM) Alert and BlackBerry(TM) AtHoc(TM). This includes pushing specialized, deterministic messages to endpoint devices, as well as integrating with device access control settings and policies to adapt to emergency situations.
Formerly a mobile phone company, BlackBerry now provides security software and services to companies and governments all over the world. The company is responsible for more than 500 million endpoints, including over 195 million vehicles. Based in Waterloo, Ontario, BlackBerry uses AI and machine learning to develop and deliver solutions in the fields of cybersecurity, safety and data privacy solutions. It's also an industry leader in endpoint security, endpoint management, encryption and embedded services.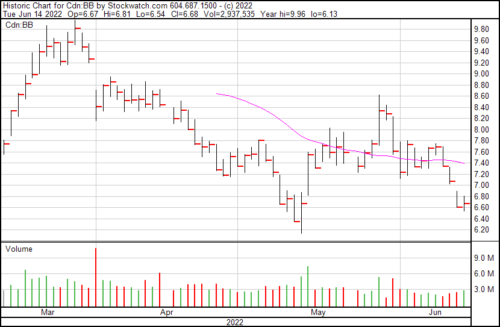 BlackBerry is presently trading at $6.68 with a market cap of $3.8 billion.
Cubicfarm completes $3.8-million HydroGreen sale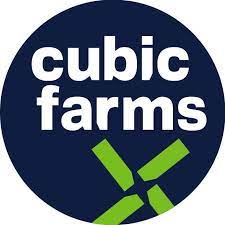 Humanity has been farming for thousands of years and it's always backbreaking labour. Technology has made it easier, and will continue to make it easier in the future, but the core of it is the planting, the daily tending and the harvest.
Now Cubicfarm Systems (CUB.T) aims to make the job easier for farmers. In this case, it's actually dairy farmers. The company finished a 10-machine automated vertical pastures sale for $3.8 million today.
The test run is being done with a farmer named Jim Cnossen. His dairy farm is located in Hereford, West Texas, where he supports approximately 11,000 cows over 7,500 acres of farmland. The company's HydroGreen division is installing a 10-machine Automated Vertical Pastures commercial-scale system to grow year-round, nutritious forage for the Cnossen Dairy, giving his cows a reliable source of food while the Western United States resolves its ongoing drought issue.
"Vertical farming is going to be important for all dairies raising their own feed, regardless of drought conditions, and the HydroGreen product benefits are unique in the industry. Adding HydroGreen fresh forage to the ration improves feed intake with better digestibility, sugars make it more soluble, and transition cows can increase milk production. We're pleased to support innovative ag-tech like HydroGreen to meet the land and water savings needed by the farmers who put their trust in us," said Bill Dyer, CEO, Dairy Specialists.
Cubicfarm is a chain agritech company developing and developing technology required to meet the nutritional demands a changing world. It agritech solutions give growers what they need to produce high quality, predictable produce and livestock feed.
Vertical farming is growing crops in vertically stacked layers, often in a controlled environment to optimize plant growth. It can also incorporate farming techniques like hydroponics, aquaponics and aeroponics. It cuts down on space usage and allows for a greater yield per square foot. Some common sources of structures used to house vertical farming systems include abandon mine shafts and shipping containers.
"There is tremendous need for daily consistency and herd health for dairies all over, with particular need in West Texas and other drought areas. Repurposing valuable land and water savings is important with the added labour-saving benefits of automation in a controlled environment. We're helping more farmers like Cnossen Dairy and Golden Rule Dairy meet their daily nutritional needs and we're pleased that new HydroGreen certified dealers like Dairy Specialists, Advanced Dairy Systems and Penner Farm Services are helping deliver and support farmers across Canada and the U.S," said Dan Schmidt, president of the company's HydroGreen division.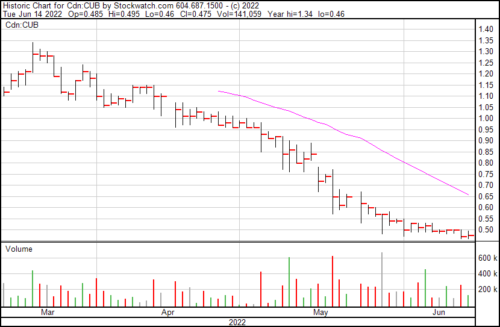 CUB's price point right now represents a significant opportunity to buy the dip on a company one catalyst away from a breakout.