Democrat presidential candidate Sen. Kirsten Gillibrand (D-NY) unveiled her plan to legalize marijuana Wednesday, saying she would make the issue "a top priority of my presidency."
Out of the crowded group of 2020 Democrat presidential hopefuls, most have stated they support legalizing cannabis, but only a few have come up with a concrete plan. And by making the issue a campaign priority and offering what a post-prohibition America may look like, Gillibrand is likely trying to separate herself from the pack.
"Marijuana legalization is a criminal justice issue, a health care issue, and an economic issue," Sen. Gillibrand wrote in a Medium post.
"It's past time to make this happen at the federal level."
Under my plan, we'll decriminalize marijuana and expunge all non-violent marijuana charges, expand access to medical marijuana, nationally legalize and tax recreational marijuana, and create economic equity and justice through marijuana-driven programs.

It's 2019. It's time. pic.twitter.com/eUUyte1Xg7

— Kirsten Gillibrand (@SenGillibrand) June 5, 2019
If the New York senator is elected, she said she would deschedule marijuana right away, adopt a policy framework to encourage cannabis research, and tax and regulate legal sales to fund programs to boost economic opportunities for communities disproportionately damaged by current marijuana laws.
"As president, I will immediately deschedule marijuana as a controlled substance, and start working to not only heal the damage done by racist drug laws, but tap into the medical and economic opportunity that legal marijuana offers," Gillibrand said.
The presidential hopeful also said the country should be expanding access to medical marijuana, as millions seeking cannabis to treat chronic pain – who are also looking to avoid prescription opioids – have limited access to dispensaries even in states where medical pot is legal.
"These are real injustices that affect millions of Americans and multiple areas of our society, and it's past time to get to work making them right," she said.
Although the post did not include details how the plan would be executed, Gillibrand did lay the groundwork of what she sets to accomplish:
Establish a national process to make marijuana production and consumption clean, safe, and sustainable
Expunge all non-violent marijuana convictions
Invest in research for medicinal applications, and require coverage for medical marijuana in all health insurance plans, including Medicare, Medicaid, and the (Veteran Affairs)
Legalize and tax recreational marijuana nationwide, and direct revenue towards programs that help repair the damage done by the War on Drugs
Normalize cannabis businesses' tax treatment and allow access to the banking system
Create equity for small business investment in the cannabis industry, lifting up communities that have been most hurt by marijuana laws
Leafly reports that Gillibrand's ideas are quite similar to the a cannabis legalization plan laid out in U.S. Congress last February. The bill is call the Marijuana Justice Act and was introduced by Sen. Cory Booker (D-NJ), and cosponsored by Gillibrand and Bernie Sanders (I-VT) all of whom are presidential hopefuls.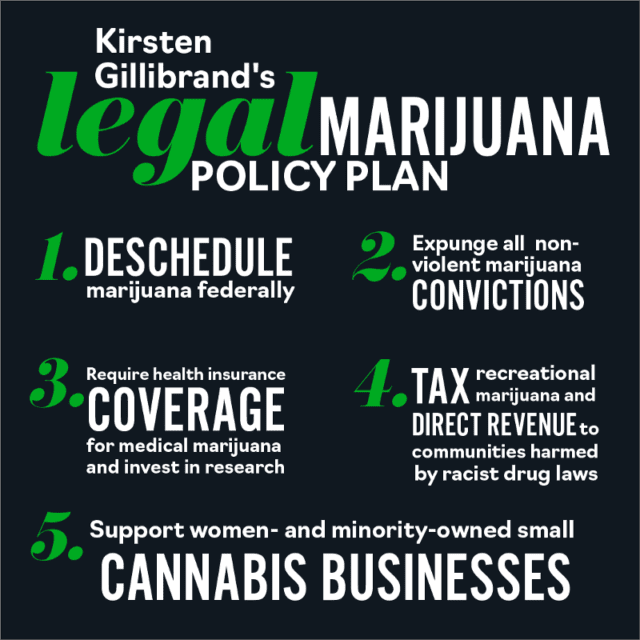 Federal legalization reality check ahead of the 2020 U.S. elections
Gillibrand's announcement is yet another sign U.S. federal legalization is gaining national attention and the issue promises to be a hot topic leading to the 2020 election.
But Gillibrand is one of more than 20 Democrats vying for the party's nomination for president, and currently she sits in 20th spot in most polls—far behind former U.S. Vice President Joe Biden who holds a commanding lead to date. And even though frontrunner Biden made recent headlines by declaring he supports decriminalizing marijuana, Biden has been widely criticized for not going far enough on the issue, and for his long history supporting the War on Drugs.
With Biden's tepid support for marijuana reform and past support for draconian pot laws, Forbes has reported, it could give President Donald Trump a huge advantage if he chooses to make legalization a top priority. Biden's previous harsh stance on cannabis spans decades, so the Trump campaign would have a treasure trove of statements to paint Biden as a out-of-touch on marijuana reform.
The election is more than a year away, but cannabis industry players and analysts, along with consumers, will certainly be following how the federal legalization issue continues to unfold over the coming months.