Already home to the world's largest pot company, Ontario's Smith Falls and its liberal city council has its sights on becoming the premiere cannabis tourism destination in Canada.
The town is where pot giant Canopy Growth (TSX:WEED) is headquartered and last month Smith Falls revealed its cannabis tourism strategy to attract marijuana lovers from across the globe.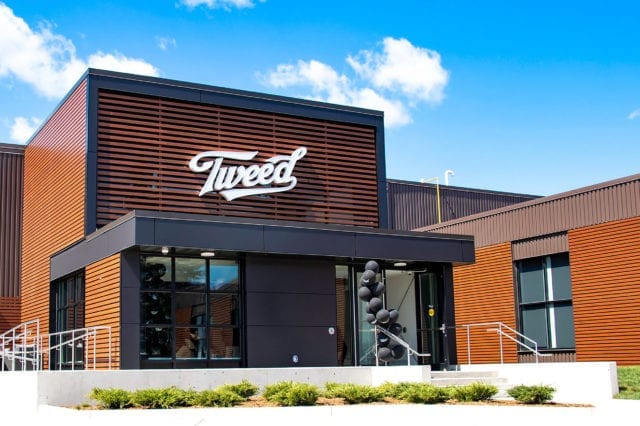 Canopy built its home base at a shuttered Hershey's chocolate factory and its Tweed Visitor Centre already attracts thousands offering enthusiasts an inside look at cannabis, its history, and grow room tours.
"In other parts of the world where legalization has been introduced, cannabis tourism has injected hundreds of millions of dollars in direct and indirect revenue," said Shawn Pankow, Mayor of Smiths Falls, in a press release.

"We believe Smiths Falls is the first community in Canada to develop a cannabis tourism strategy. This is an important step in solidifying our role as a leader."
Early in 2019, the town created a Cannabis Tourism Committee that gathered local businesses, industry leaders and tourism experts to combine forces and figure out how to get cannabis consumers to open their wallets in the town of about 9,000.
Plans aren't limited to "just experiencing the euphoria from THC" and include cannabis-themed golf, cannabis spas, cafes, restaurants and breweries, glass art, music, and cannabis-friendly hotels.
The committee is also looking at making town buildings with hemp-crete — a building material made from the wooden core of the hemp plant — along with developing a "cannabis business accelerator" and participating in a "smart city challenge."
The strategy is meant be fluid to meet the ever-changing landscape of cannabis tourism, the town noted.
In 2016, the state of Colorado attracted 6.5 million cannabis tourists. "This is the market that Smiths Falls has the potential to access," the committee wrote.
A central part of the town's plan, of course, will be to further promote Canopy's marijuana visitor hub and the company is completely on board.
"We are proud to open our doors to tourists and visitors from around the world who are interested in learning more about cannabis," said Mark Zekulin, CEO of Canopy in the release.
"When we moved into the former Hershey chocolate factory, it was always our dream to bring tourists back to Smiths Falls, and to pay homage to the history and heritage of the town. We have already welcomed more than 30,000 guests through the visitor centre, and look forward to welcoming even more."
The Smith Falls location is an indoor growth & breeding facility, employing over 1,300 people. @TweedInc is a licensed cannabis producer, growing medical grade cannabis across Canada. Here's a view of the mother room, clone room, vegetation room & flower room #ofafarmtour #ontag pic.twitter.com/l6xaKibHtf

— Ontario Federation of Agriculture (@OntarioFarms) August 12, 2019
Cannabis tourism strategy faces hurdles
Canada being the first developed nation to legalize pot is supposed to bring first mover advantages for cannabis businesses — including tourism dollars.
But critics argue the country's onerous marketing restrictions have stymied the weed market and pot tourism, which could also be a hurdle for Smith Falls' bold plans.
Under the Health Canada's marketing rules, it is strictly prohibited for any entity to promote marijuana by sponsorship through celebrities, events or buildings. As well, cannabis cannot be marketed in publications and broadcasts, nor can the drug be sold through games, draws or contests.
Smith Falls said cannabis tourism has the potential to mirror something similar to Canada's wine tourism industry, which generates $1.2 billion annually in tourism-related economic activity. But analysts say the country needs to switch heavy cannabis regulations — that are similar to tobacco's — to more marketing-friendly alcohol rules for that to happen.
Another issue the town faces is the fact there is no licensed cannabis retail location in Smith Falls.
"That will be that sort of one key missing ingredient," Pankow told CBC News.
The town mayor said he hopes the Ontario government will issue a pot shop licence by next year, but so far the country's most populated province has suffered a slow retail rollout.
Forty-two new cannabis stores are expected to open across Ontario this month, but the process has been held up in courts due to complaints filed by disqualified lottery applicants. The province is the country's largest market for pot and is expected to have 75 stores open by the end of the year.