With a tiny population south of 600,000, cannabis players might not be jumping in delight on the news Luxembourg announced this month it plans to be the first European country to legalize recreational marijuana. But when the country's health minister confirmed the legalization plans he also called out neighbouring EU nations to relax their drug laws, signalling how tiny Luxembourg could be a major catalyst in bringing cannabis legal reform to much bigger markets in the continent.
Luxembourg to start legislation process this year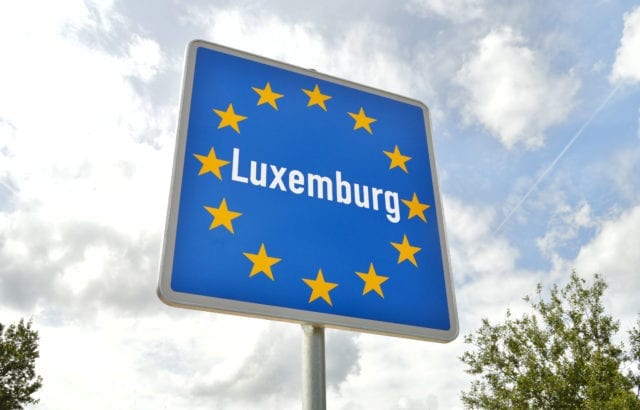 While other European Union nations like Germany and the U.K. have introduced medical cannabis programs over the last couple of years, Luxembourg plans to be the first to make pot completely legal. The country's health ministry has plans to unveil a legislative blueprint this fall, with the goal for it to become law within two years.
"This drug policy we had over the last 50 years did not work," Health Minister Etienne Schneider told Politico.
Luxembourg would be the third country in the world to legalize cannabis joining Uruguay and Canada, on top of the 11 U.S. states that have given pot the green light.
Schneider and Justice Minister Félix Braz are the two putting together the draft legislation, and the three left-wing parties that make up Luxembourg's governing coalition have all shown strong support on the issue.
Under the proposed legislation, residents 18 and older would be able to buy and consume cannabis for recreational use in a tightly regulated market. The EU nation would issue growing and selling licences through a cannabis agency, while home cultivation would be banned. Schneider also said he's leaning towards prohibiting non-residents from purchasing pot, in an effort to avoid drug tourism.
When the draft legislation is revealed later this year, further details will be provided including what products would be available — ranging from dried cannabis flower, to edibles and topicals — and the tax rates that would be issued.
Luxembourg currently has a legal medical cannabis program, and possessing small amounts is decriminalized. But the sale and production of the drug remain illegal.
Luxembourg may start domino effect
When Canada became the first industrialized country to legalize cannabis for recreational use last October, the grand experiment has been considered a testing ground for other developed nations to examine.
Luxembourg ministers Schneider and Braz came to Canada last year to study how its government is regulating the legal cannabis market. During the visit, the pair took a tour at a greenhouse owned by Canopy Growth (TSX:WEED)(NYSE:CGC), located in Smith Falls, Ont., to observe the mass production of cannabis.
The visit seemed to have an effect on the two lawmakers, as the proposed legislation would create a highly regulated cannabis market, much like the one seen in Canada.
But even if Luxembourg imposes strict rules when it legalizes pot, bordering countries remain on edge with how it may pressure them to relax cannabis laws, too.
"The social pressure will be so high that if you have legalization in one of the EU member states, soon that will be discussed seriously in the other ones," said Malte Goetz, a lawyer that specializes in medical cannabis in Germany.
Considering how Luxembourg sees an estimated 200,000 business travelers each day, Schneider admitted even requiring a resident card for anyone to purchase pot in the country, it might be hard to strike a balance between keeping border traffic flowing and regulating a new cannabis market.
However, Schneider said he has been talking to other European health ministers to get other countries on board with cannabis policy reform.
"I'm hoping all of us will get a more open-minded attitude toward drugs," he said.
European cannabis reform could mean big industry dollars
Just like with Canada, if Luxembourg goes recreational other nations may be looking into the details of the country's legalization policies — especially the EU state members that already have medical cannabis programs.
"Luxembourg is a very small country, but it's also quite a powerful one," said Alexandra Curley, with cannabis consultancy group Prohibition Partners. "Everybody's just waiting for that first person to take the plunge and see how it works out."
Each EU country has distinct health systems, and those that permit medical marijuana also have different laws regarding distribution and cultivation — with many issuing strict rules.
For example, the government in France has only begun expanding its medical program by allowing one million patients to have access to cannabis to treat pain while also conducting clinical trials.
According to cannabis research firm New Frontier Data, France leads the EU with the largest demand for marijuana at US$10.5 billion. Next in line, Italy has a value of US$9.7 billion, and in Germany it reaches US$9.5 billion, while in the U.K. it comes in fourth at US$4.6 billion
Canadian cannabis companies have been flocking to this market potential with major players already establishing themselves inside Europe.
This year, Canopy Growth acquired German medical cannabis firm C3, British skincare and wellness outfit This Works, and Spanish pot producer Cafina. And this week, B.C.-based Tilray Inc. (NASDAQ: TLRY) added 20 hectares of cultivation space in Portugal, to go along with its $30 million growing and research facility.
Meanwhile Aurora Cannabis Inc. (NYSE:ACB)(TSX:ACB) took over Portuguese pot producer Gaia Pharm, and won a tender to supply medical cannabis in Germany, and recently in Italy. But the Edmonton-based weed company might be watching carefully if, and when, Luxembourg goes recreational, as it also supplies the country with medical pot as well.
All three companies, and the cannabis industry, will be waiting to see if Luxembourg is a catalyst in further opening the market for weed in other major European markets.