Canadian cannabis producer Hexo Corp. (NYSE:HEXO)(TSX:HEXO) is dismissing a recent short seller report alleging the company is "running aggressive product promotions on Snapchat" and it could be the next pot stock to tumble in the summer of cannabis scandals.
The pot industry has been weighed down lately by a series of unsettling events. Fellow Canadian producer CannTrust Holdings (NYSE:CTST)(TSX:TRST) is currently under federal investigation for growing cannabis illegally and could have its licences revoked. Meanwhile, American pot company Curaleaf Holdings Inc. (CSE:CURA) received a warning letter from federal regulators for making unfounded claims with its CBD products, adding to the reasons why pot stocks have been struggling the past few months.
The high-profile scandals have created a fragile environment in the industry and there's growing concerns over which company might be the next to get into trouble. But The Friendly Bear's short seller report calling out Hexo Corp. for its advertising strategies so far has been shrugged off by investors as shares of the company remain mostly flat this week.
The Friendly Bear alleged on July 29 the Gatineau, Quebec-based company has been running aggressive advertisements on Snapchat that violate Health Canada's strict marketing regulations, that prohibit promoting cannabis products associated with "glamour, recreation, risk, excitement or daring behaviors." The short seller also said because Snapchat is popular with teens, Hexo's ads may have been exposed to minors, or even worse, the company might be targeting teens with its products. Several of Hexo's Snapchat advertisements were sent anonymously to The Friendly Bear and one of them can be seen here.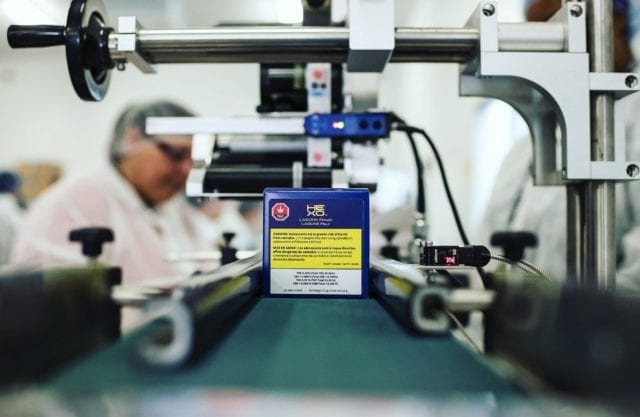 Making cannabis unappealing to young people has been a major priority for Health Canada and the main reason why products are sold in plain packaging and there are strict rules around advertising. If Hexo is found to be in violation of those rules, it could land the company into some trouble.
The Friendly Bear expects Hexo will fall the same way CannTrust did, which has plunged 56 per cent since its regulatory fiasco began.
But so far investors aren't biting on the short seller report with Hexo shares modestly up two per cent this week. The penalty for breaking federal advertising rules wouldn't be as harsh as what CannTrust faces for growing marijuana illegally.
In an emailed statement obtained by Bloomberg News, the company dismissed the allegations:
Hexo is scrupulous in adhering to rules and regulations surrounding cannabis promotion, both federally and provincially.
Health Canada looking into allegations
Hexo said it hasn't received any complaints from federal or provincial regulators, while Health Canada said it is "aware of the situation and looking into the matter."
So far there appears to be little merit to the short seller's claims and it's not apparent if the federal agency will be revealing its verdict any time soon. Unless something definitive comes from Health Canada saying Hexo is in trouble, it appears shares of the company are safe for now.
Even if Hexo is found to be in violation of the government's advertising rules, the punishments would likely be less severe than what CannTrust faces. And it probably wouldn't have the same impact with investors as well.
For instance, Curaleaf has mostly recovered its losses since the public learned about its misleading CBD product claims.
Aggressive advertising tactics are nothing new and they happen in every industry. But in the nascent legal cannabis sector, the rules are different and Hexo's decision to advertise on Snapchat could set a precedent on what is allowed in Canada and what is not. However, growing unlicensed cannabis is a much different story and one that is proven to be devastating.