Cronos Group Inc. (TSX:CRON)(NYSE:CRON) rose nearly 12 per cent on the TSX this week, after the Canadian cannabis company announced on Tuesday it plans to be "aggressive" with launching into the U.S. CBD market within six to 12 months.
After Cronos CEO Mike Gorenstein shared the news at a Consumer Analyst Group of New York (CAGNY) luncheon, it prompted Bank of America Merrill Lynch to give the stock a rare double upgrade to a 'buy' rating from 'underperform.'
Banking analyst Christopher Carey led the charge becoming the leading bull on the shares with a 12-month price target of CAD$27/US$20 up from share prices at the time of CAD$17/US$13.
Cronos closed with a value of CAD$21.12 per share Friday.
Gorenstein said the U.S. CBD launch is not "that long of a way out," and the announcement comes on the heals of a public hearing held by the Food and Drug Administration to determine regulations for CBD food and supplementary products.
The continued growth of the burgeoning CBD industry will depend on how the FDA chooses to regulate products, according to industry analysts. The CBD market is currently valued at US$1 billion, and Wall Street expects it could soar as high as $16 billion by 2025.
Carey wrote in the research note that the formed alliance between Cronos and Altria Group, Inc. (NYSE:MO), which gave Altria 45 per cent ownership, is going to be "key to winning the U.S."
Altria Group is one of the largest producers of tobacco products and its distribution network and presence in 230,000 stores will give Cronos an advantage with the launch of its CBD products, instead of the entering the U.S. via acquisition of a cannabis retailer, Carey noted.
"The potential to scale distribution nationally via Altria separates Cronos vs peers," he said.
Carey is confident Cronos will soon make a public announcement it is enterting the largest market in the world for cannabis and hemp-derived compounds, and the move will be a "significant catalyst" in improving its near-future visibility. Carey also notes with its CAD$2.4 billion available cash on hand along with its Altria partnership, Cronos may turn into a "vastly different company in the years ahead.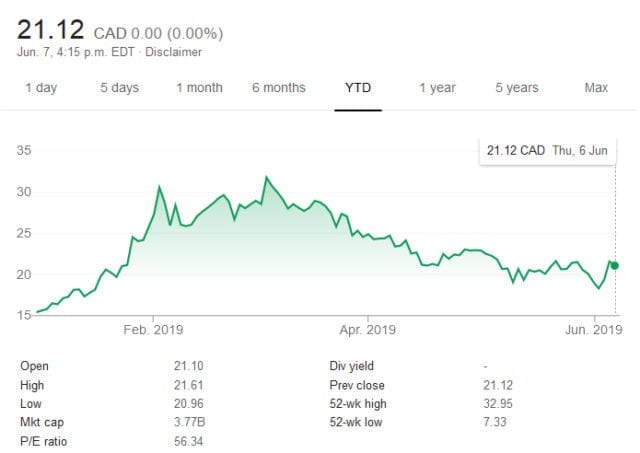 FDA holding the keys for many CBD companies
But as Cronos waits for FDA rulings on CBD in food, drinks and supplements, other analysts from Cowen expect it will still enter the market in other segments.
"In particular, we would expect CRON to focus on topicals and vapor, initially, given the current regulatory framework," Cowen analysts wrote after attending the CAGNY lunch event.
Gorenstein was bullish, however, on the potential for CBD edibles and beverages, and he thinks they will likely lend be more popular than THC edible products. But like many companies eagerly awaiting to launch hemp-based CBD products in the U.S., they are all holding their collective breath on the FDA's ruling.
Sources: https://www.thestar.com/business/2019/06/05/cronos-rises-on-analyst-upgrade-following-aggressive-cbd-expansion.html
https://markets.businessinsider.com/news/stocks/weed-stocks-cronos-plans-us-cbd-market-entry-2019-6-1028257779