Ontario currently has one legal pot shop for every 600,000 people and the province knows if it wants to combat the black market, it needs more licensed stores open. This week, Ontario selected 42 operators from its second cannabis retail lottery, but critics say it still isn't enough to dismantle the shadow industry and are blasting the lottery system that has led to a cluster of winners in small areas and shut out established retailers.
The Alcohol and Gaming Commission of Ontario (AGCO) — which regulates the province's legal industry — announced Wednesday the 42 lottery winners who can apply to run the next batch of cannabis stores in five regions in the province. 
Unlike the first 25 winners, applicants for the second draw were required to secure a retail space and prove they held $250,000 in working capital. This time around just over 4,800 individuals applied, versus the more than 17,000 who entered the first draw, which were only required to pay a $60 entry fee.

The 'golden ticket'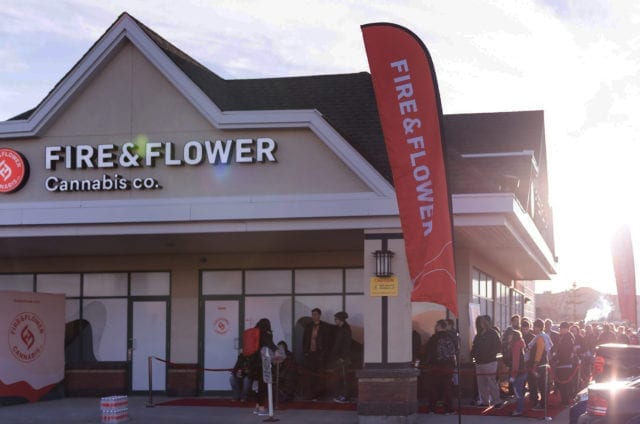 But industry experts and current store owners say the Ontario government didn't fix all of the problems from the first lottery that was held in January — and likely created a new set of problems.
David Phillips, former president of the government-owned Ontario Cannabis Store, told The Globe and Mail the latest winners are holding a golden ticket and he expects to see a bidding war on the winning tickets that will be essentially auctioned off to the highest bidder. "That is something we will likely see play out over the next week or so," he said.
Current winners have until Aug. 28 to pay a minimum of $6,000 in licensing fees. They also need to provide a letter of credit for an additional $50,000 to the AGCO.

In the previous lottery, the Globe reported the 25 selected were mostly first-time business owners, and existing cannabis retailers paid several of them millions of dollars to use their brands or, in some cases, acquire the business altogether if regulators approved the sale.
No established retailers were selected in the latest draw, and Phillips said a number of the applicants already have signed deals with existing retailers before the second draw took place, but even more will be shopping around to cash in.
Edmonton-based Fire & Flower (TSXV:FAF) made deals with two lottery winners in the first draw to use its brand at stores in Kingston and Ottawa. And chief executive Trevor Fencott said he plans to discuss similar deals with the recent crop of winners. Fencott criticized the provincial lottery for causing the bidding war and said he would rather use capital on opening stores to combat the black market. But he added the situation leaves the company with no choice but to seek out deals with the winners.
Some lottery winners may face investigation
The lottery was designed to be random, but the AGCO rules allowed more than one person to use the same address on different applications. Of the 42 retail locations, 30 of the winners that were drawn had more than 10 separate applications. One location in Oshawa was drawn twice — on 169 different submissions.
Because of the multiple submissions on many addresses, it appears applicants worked in concert with each other to improve their odds. If the provincial government can prove that's the case, Cannabis lawyer Trina Fraser told The Financial Post, those winners would be disqualified.
"The AGCO will have to determine if someone had a degree of influence over an applicant or over multiple applicants," Fraser said.
The Post reported cannabis retailer HighLife Cannabis Co. appears to be linked to seven of the winning addresses. Over 100 private individuals submitted more than 650 applications for 14 addresses tied to the pot shop business chain, which wasn't actually named on any of the winning applications itself.
The media outlet released screenshots from HighLife's website that showed a list of 15 stores the company said it was planning on opening. Fourteen of the store addresses listed were used in the 650 lottery applications — including the Oshawa address (20 Simcoe Street) that won twice on 169 submissions. The webpage with the list of soon-to-come locations has since been taken down.
"The AGCO will only licence applicants and authorize stores that meet all legal and regulatory requirements," the agency said in a statement.
Other anomalies
The lottery results also produced several clusters across Ontario. Three separate locations in Innisfil, a small town of 37,000 near Barrie, were drawn in the lottery in tight proximity on a rural road. In Toronto, five of the 13 winning addresses are located close together in a shopping district on Queen Street, which is already home to a couple legal pot shops.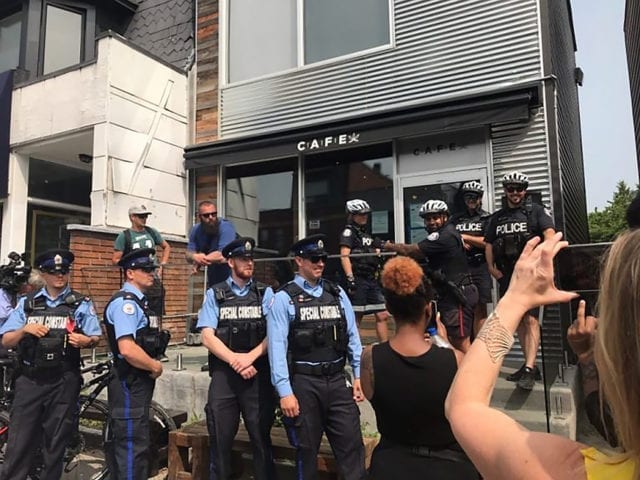 Meanwhile, another winning location in Toronto — 104 Harbord Street — is the address of a notorious illegal dispensary CAFE, which was raided and shut down by police in July. CAFE ran four illicit cannabis stores since 2016 and because the company continued to stay open after legalization began last October, the owners or anyone affiliated with them are ineligible from operating a legal store, according to provincial rules.
"I'm assuming that the AGCO is going to take a very close look at who the winner of that site is affiliated with," said Fraser, the cannabis lawyer.
The sole director of the numbered company that was listed on the winning application at the CAFE location, film producer and director Rob Heydon, told CBC News he has "no connection" to CAFE or the people behind it.
More legal pot stores needed to combat black market
The AGCO said it aims to have the next wave of new legal stores open by October. On top of the 25 stores licensed through the province, another eight stores on First Nations reserves are being approved through a separate process, bringing the total up to 75 stores that all should be open by end of the year.
The 42 new stores are split into five regions: Thirteen in the city of Toronto, six located in the Greater Toronto Area, 11 in the west, seven in the east, and five in the north.
Industry experts say the additional stores will add more consumers to the legal market, but the province still needs to do more.

"Fifty more licences is a good step, but it's nowhere near what they need to do to actually deal with the illicit market," said Omar Khan, who advises cannabis businesses at Hill+Knowlton.
Phillips said: "every additional store in Ontario will help towards eliminating the illicit market, but the province still has a long way to go." He added he has a "high degree of confidence" Ontario will move to open licensing soon.
Legal cannabis sales in Canada seem to be tightly linked to the number of physical store openings. Canadians spent more than $85 million on cannabis from retail stores in May – nearly a 15 per cent jump over April sales as more stores opened in that span, according to Statistics Canada.
Full list of winners for the second AGCO cannabis retail licence lottery:
Toronto region:
9247220 Canada Ltd., 570 Bloor St. W.
Najla Guthrie, 964 Kingston Rd.
11180673 Canada Inc., 104 Harbord St.
1916384 Alberta Ltd., 619 King St. W.
Jason Krulicki, 2480-2490 Gerrard St. E., Unit 20A.
Brian F. Parker, 1303 Queen St. E.
2197130 Alberta Ltd., 1180 Queen St. W.
Varant Kichian, 213 Queen St. E.
Maria Laura Rasile, 237 Queen St. W.
Helene Vassos, 730 Danforth Avenue, Suite 1.
2464 Dufferin Inc., 2464 Dufferin St.
2708654 Ontario Ltd., 501 Church St.
Junaid Khan, 815 Queen St. W.
GTA region:
Cory Floyd Cacciavillani, 1025 Plains Rd. E., Burlington.
Ekrem Uzunova, 20 Simcoe St. S., Oshawa.
Grant Willson, 15243 Yonge St., Unit 3, Aurora.
Corner Grass Corp., 5779 Main St., Unit 105, Stouffville.
Ravino Junaev, 20 Simcoe St. S., Oshawa.
2674620 Ontario Limited, 1505 Guelph Line, Unit 3-4, Burlington.
West region:
Patricia, Gertrude, Donnelly, 589 Fairview Rd. S., Kitchener.
Noah Soberano, 1135 Richmond St., London.
2249364 Ontario Inc., 1400 Upper James St. Suite 8, Hamilton.
Pietro Greco, 115 Division St., Welland.
Kyriakos G. Anastasiadis, 545 Ouellette Ave., Windsor.
11535447 Canada Corp., 1338 S. Service Rd., Building C 5 Unit 2, Winona Crossing Shopping Centre, Stoney Creek.
Robert Chomiak, 1310 Fanshawe Park Rd. W., Unit F1, London.
Bara Bahlul, 8685 Lundy's Lane, Unit 6, Niagara Falls.
Eleonora Plata, 1142 Wilson St. W., Unit 9, Ancaster.
Hratch Abrahamian, 395 Ontario St., Suite B2, St. Catharines.
John Reynolds, 120 Wyndham St. N., Guelph.
East region:
Ronen Ackerman, 2008 Commerce Park Dr., Innisfil.
Ethan Stark, 4335 Strandherd Dr., Unit 3, 4, 5, Nepean.
Huge Shops Ontario Inc., 566 Frank Hill Rd., Peterborough.
German Olga, 1988 Commerce Park Dr., Innisfil.
Ilim Uzunova, 1982 Commerce Park Dr., Innisfil.
Louis Laskovski, 312 Hurontario St., Collingwood.
Sofia Kuliev, 65 Collier St., Barrie.
North region:
Thomas Miszuk, 317 Northern Ave. S., Sault Ste. Marie.
CC alliance, 273 Pine St. S., Timmins.
Carl Ignatius, 420 Second St. S., Kenora.
Gerald Harrison, 1802 Victoria Ave. E., Thunder Bay.
Lorne J. Fine, 390 Lakeshore Dr., Suite 3, North Bay.