As consumer awareness around CBD continues to grow, cannabis companies are beginning to allocate an inordinate amount of investment capital into the development of CBD-infused beverages. 
In this report, we explore some of the largest and most active companies preparing to make their mark on the dawning CBD-infused beverage market.
CannTrust Holdings Inc.
CannTrust Holdings Inc. (NYSE: CTST) (TSX: TRST) is a federally regulated licensed producer of medical and recreational cannabis in Canada. In terms of production capacity, CannTrust currently operates a 450,000 sq. foot Niagara Perpetual Harvest Facility. CannTrust forecasts that it will be able to produce 100,000 kg of cannabis per year following completion of its "Phase III" 390,000 sq. foot greenhouse expansion.
As a supplier of Canadian medical marijuana since 2014, CannTrust is a well-recognized name amongst Canadian medical marijuana patients.
Via MarketWatch:
"According to Jefferies research, CannTrust has secured about 20% of the [Canadian] medical market."
Aside from its cultivation operations, CannTrust is focused on developing patent-pending nanotechnology intended to enable concentrated, water soluble, tasteless/colorless/odorless CBD/THC-infused beverages. Potential cannabis-infused beverage products include cannabis-infused flavoured coolers and sparkling beverages, multi-serve (1 oz serving) designer cannabinoids, non-alcoholic cannabis beers and ciders, and CBD sports recovery drinks.
CannTrust also holds patents in the U.S., Canada, and Australia for Brewbudz™, a single serve cannabis-infused coffee and tea brewing pod technology. Brewbudz is currently only available in Nevada.
With plans for an assortment of CBD/THC-infused beverages in the future and cannabis-infused brewing technology already launched in the U.S., CannTrust is aiming to become one of the early leaders in the CBD-infused beverage industry.
The Alkaline Water Company
The Alkaline Water Company (NASDAQ: WTER), a leading producer of premium bottled alkaline drinking water sold under the brand name Alkaline88®, continues to gain momentum as it achieves record Q3 sales, boasting a 102% increase in revenue in comparison to to last year.
Moreover, the company announced that that PITCO Foods would begin selling Alkaline88® to over 12,000 retail stores across Northern California and Reno Nevada.
Alkaline88® is already sold in over 47,500 retail locations nationwide in all 50 states, with a distribution that spans more than 150,000 stores, including 9 of the top 10 largest retailers in the entire U.S. and two of the largest retailers in the entire world.
As the second fastest growing branded water among the top 20 brands in the U.S., Alkaline88® provides the Alkaline Water Company with an unrivalled platform to launch its hemp-infused product line, which includes sparkling flavored hemp-infused alkaline water and hemp-infused Alkaline88® original.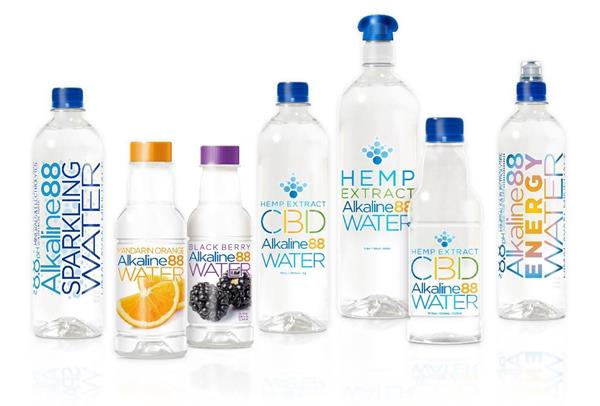 With the company's hemp-infused beverages continuing to roll out over the course of the following weeks, the Alkaline Water Company is expected be the first national U.S. beverage company—and the first NASDAQ-listed company—to bring premium, hemp-infused alkaline water to U.S. consumers.
HEXO Corp.
HEXO Corp. (NYSE: HEXO) (TSX: HEXO), formerly known as The Hydropothecary Corporation, is an award-winning consumer-packaged goods cannabis company that creates and distributes award-winning products to serve the global cannabis market. With over 1.3 million sq. ft. of facilities in Ontario and Quebec, HEXO is one of Canada's largest licensed cannabis companies.
Back in 2018, HEXO made headlines with the announcement of a joint venture with Molson Coors Canada, a subsidiary of Molson Coors Brewing Co. (NYSE: TAP, TAP.A), to develop non-alcoholic, cannabis-infused beverages. Molson maintains a 57.5% controlling interest in the cannabis joint venture, called Truss.
Although very little else is known about Truss, it appears to be on track for a cannabis-infused product line ahead of October 17, 2019—the date when edibles are expected to be legalized in Canada.
"[Molson Coors Brewing Co.] expects Truss, a joint venture with Gatineau-based Hexo Corp., to launch a portfolio of cannabis-infused beverages this autumn . . . "
Tilray Inc.
Tilray Inc. (NASDAQ: TLRY), a global pioneer in the research, cultivation, production and distribution of cannabis and cannabinoids, happens to be one of the earliest—and largest—Canadian cannabis companies to enter the CBD-infused beverage arena.
Not only does Tilray have a partnership to develop non-alcoholic, cannabis-infused beverages with Anheuser-Busch InBev (the single largest brewer in the world), but it recently strengthened its senior leadership team with four new executives, each of whom had previously worked for a Fortune 500 beverage company.
Tilray also recently announced an agreement to acquire all of the issued and outstanding shares of FHF Holdings Ltd., also known as Manitoba Harvest. With a diverse all-natural product line available in approximately 16,000 retail locations across the United States and Canada, Manitoba Harvest is the world's largest vertically-integrated hemp food manufacturer.
Having publicly declared their intent to disrupt the functional beverage market in the past, the acquisition of Manitoba Harvest provides Tilray with an ideal launchpad to enter the CBD wellness and hemp-based consumer food product markets.
Canopy Growth Corp.
Canopy Growth Corp. (NYSE: CGC) (TSX: WEED) is a world-leading diversified cannabis and hemp company with ten licensed cannabis production sites and  over 4.3 million square feet of production capacity.
Thanks to a hefty C$5 billion investment from New York-based alcohol beverage giant Constellation Brands (NYSE: STZ and STZ.B), Canopy Growth is already considered one of the most likely cannabis companies to lead the CBD-infused beverage industry.
Constellation Brands has more than 100 alcohol beverage brands in its portfolio, including household names like Corona and Modelo Especial.
But Canopy Growth's investment relationship with New York isn't entirely one-sided.
Following the passage of the U.S. Farm Bill, Canopy Growth announced a commitment to invest between US$100 million and US$150 million in New York in order to establish a "Hemp Industrial Park". According to a recent interview with Canopy Growth CEO Bruce Linton, the company's N.Y. hemp operation will mirror its 190 million sq. foot (4500 acres) Saskatchewan hemp division.
Via the Financial Post:
"We have been quiet about this, but we've been experimenting with hemp-derived CBD out in our hemp facility in Saskatchewan. We've developed a processing and extraction technique and we're going to take that to New York," Linton told the Financial Post.
With potentially hundreds of millions of square feet of hemp-derived CBD production capacity, Canopy Growth is well-positioned to supply both its U.S. and Canadian CBD-infused endeavours.
The Key To Success With CBD-Infused Beverages: Speed
With tens of billions of dollars spent annually in the global beverage market, the beverage industry is one of the most competitive markets in the world. By that same token, one can expect a significant degree of competition in the growing CBD-infused beverage market.
But while large, billion dollar cannabis companies like Canopy Growth continue to pursue multi-year R&D projects for CBD-infused beverages in hopes of attaining a competitive edge, firms that are quick to combine both water-soluble hemp extract technology with market share—like The Alkaline Water Company—are likely to become early leaders in the CBD-infused beverage space.
Disclosure: Directors of Mugglehead own shares of The Alkaline Water Company Inc. and other marijuana stocks not mentioned in this release.