There has been a resurgence of interest in uranium as a component of the global energy transition and decarbonization efforts. Uranium, which is commonly used for nuclear power generation, has regained attention due to its role in providing reliable and low-carbon energy.
The devastation wrought by climate change has made governments and companies alike look to alternative technological options such as the creation of small modular nuclear reactors (SMR) as an option in the gradual transition away from fossil fuels.
This resurgence of interest has manifested in rising uranium prices, renewed exploration and project development, and a sense of urgency in securing a stable supply chain for nuclear fuel.
According to the World Nuclear Association, Kazakhstan, Canada and Australia hold the top three positions as the world's leading producers, collectively contributing to 68 percent of global production. Other nations with annual production exceeding 1,000 tons include Namibia, Niger, Russia, Uzbekistan, the United States and China.
The majority of mined uranium is primarily utilized to fuel nuclear power plants.
Here are the top three uranium producing countries in the world and what companies are present.
Read more: Marvel Discovery acquires Athabasca Basin uranium project for $1M
Read more: ATHA Energy performs largest multi-platform EM survey in the history of the Athabasca Basin
1. Kazakhstan
According to the World Nuclear Association, Kazakhstan holds the title of the world's largest uranium producer in 2022, contributing 43 per cent of the world's uranium supply.
Kazakhstan possesses approximately 12 per cent of the world's uranium resources and, as of 2021, achieved production of roughly 21,800 metric tons. In 2009, it claimed the position of the world's leading producer, contributing nearly 28 per cent of the global production.
Kazakhstan sports 17 mines with maximum output capped at 20,000 tons per year.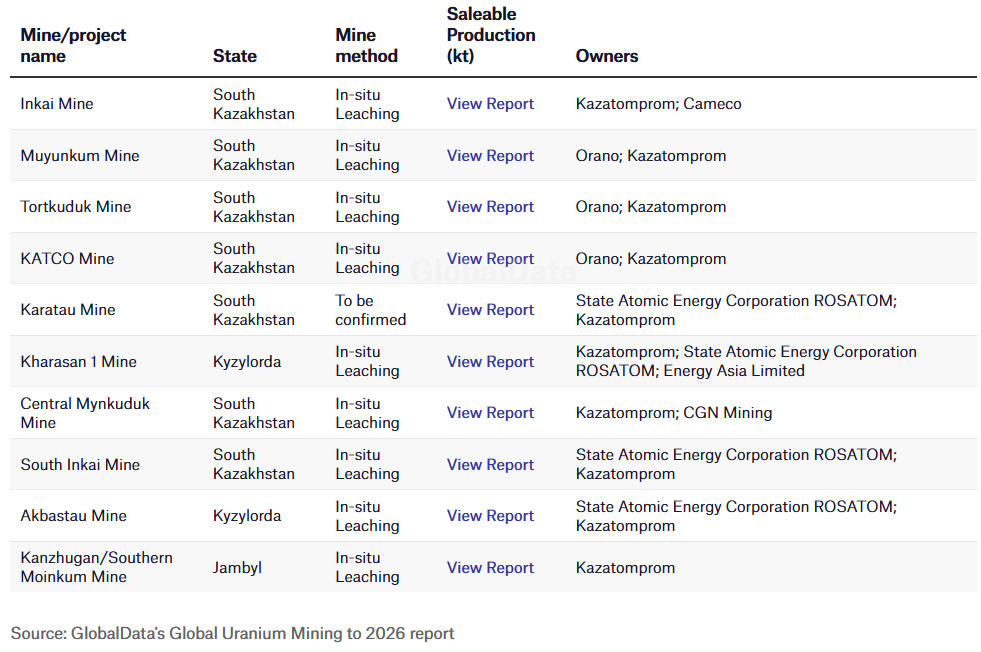 National Atomic Company Kazatomprom Joint Stock Company (Kazatomprom) (LSE: CAP) (OTCMRKTS: NATKY) holds the distinction of being the world's foremost producer and distributor of natural uranium. In 2019, it supplied more than 40 percent of the global primary demand, sourced from its operations located in Kazakhstan.
Kazatomprom serves as Kazakhstan's official entity responsible for managing the export and import of uranium and its derivatives, nuclear power plant fuel, specialized equipment and technologies. Its designation as a National Company grants it distinct advantages, including the ability to secure in-situ recovery mine licenses directly through negotiations with the Government of the Republic of Kazakhstan.
On Monday, Kazatomprom exported uranium to China for its Yangjiang Nuclear Power Plant.
The plant successfully transported a shipment of fuel assemblies (FAs), comprising over 30 tons of low-enriched uranium, to the Yangjiang Nuclear Power Plant situated in Guangdong Province, southern China. The Yangjiang facility houses six power units equipped with CPR-1000 and ACPR-1000 (PWR) reactors, each boasting a capacity of 1,000 MW.
Shares of Kazatomprom dipped by 1 per cent on Monday to USD$40 on the OTC markets exchange.
Қазақстан қытайлық АЭС үшін ядролық отынның партиясын экспорттадыhttps://t.co/LrfBVSxCKf

Kazakhstan exported batch of nuclear fuel for the Chinese nuclear power planthttps://t.co/VACqsPIA25#kazatomprom pic.twitter.com/NnHsrWBP0p

— Kazatomprom (@NAC_Kazatomprom) October 16, 2023
Orano SA, a subsidiary of The Orano Group, is a global nuclear fuel cycle corporation with its headquarters located in Châtillon, Hauts-de-Seine, France. The company is involved in various aspects of the nuclear industry, encompassing uranium mining, conversion and enrichment, recycling of spent fuel, nuclear logistics, dismantling services and nuclear cycle engineering.
In Kazakhstan, Orano has a joint venture with Kazatomprom named Katco.
KATCO manages the largest in-situ uranium mine globally and was established in 1997 as a collaborative effort between Orano and Kazatomprom in Kazakhstan.
The operation economically extracts uranium with low content while minimizing its environmental footprint.
Read more: Global Atomic inks US$250M uranium supply agreement with utility company
Read more: Centrus Energy to begin producing high-assay low-enriched uranium at Ohio plant
2. Canada
Canada is the second largest jurisdiction for uranium in the world with rich deposits, particularly in the Athabasca Basin in Saskatchewan. The basin is known for high-grade uranium deposits and hosts several active mines.
The Athabasca Basin is situated south of Lake Athabasca, west of Wollaston Lake, and encompasses nearly the entirety of Cree Lake. Stretching across approximately 100,000 square kilometers (39,000 square miles) in Saskatchewan, with a small portion extending into Alberta, this geological region features a surface primarily composed of sandstone sediment.
In 2022, Canadian mines yielded a total production of 7,351 metric tons of uranium. Comparatively, according to statistics firm, Statista, Canadian uranium production was higher in 2016 when it reached 14,039 metric tons.
This exceptional richness in uranium resources has made the region a vital hub for global uranium production, attracting numerous mining companies and contributing significantly to Canada's status as one of the top uranium-producing nations.
Here are a few companies operating in the Athabasca Basin.
ATHA Energy Corp. (CSE: SASK) (FRA: X5U) (OTC: SASKF), which possesses the most extensive cumulative exploration package within the Athabasca Basin, covering a vast 3.4 million acres. Additionally, ATHA holds a 10 per cent carried interest portfolio of claims that are actively operated by Nexgen Energy Ltd. (TSX: NXE) and IsoEnergy Ltd. (TSXV: ISO).
We have news: ATHA Energy Announces Results From Large-Scale Electromagnetic Survey Program On East Vista Project $SASK.CN $SASKF $SASK @ATHAEnergyCorp holder of the largest uranium exploration portfolio in the highest grade #uranium district in the world, is pleased to… pic.twitter.com/7SgfRUJHb7

— ATHA Energy Corp $SASK.CN $SASKF (@ATHAEnergyCorp) October 10, 2023
ATHA shares rose 1.7 per cent to $1.18 on Monday on the Canadian Securities Exchange.
NexGen Energy is a Canadian uranium exploration and development company headquartered in Vancouver, British Columbia. The company's flagship project is called the Arrow Deposit, it is characterized by its exceptional grade and potential to become a vital future uranium source.
NexGen shares declined 1.4 per cent to $7.49 on Monday on the Toronto Stock Exchange.
Make no mistake: nuclear is the key to the energy transition. Our Rook I Project will help diversify the global uranium supply chain, protect energy security, and lead the charge to energy independence. @travmcph @leighcuryer $NXE https://t.co/VKkHKL8lvh

— NexGen Energy Ltd. (@NexGenEnergy_) October 11, 2023
Cameco Corporation (TSX: CCO) (NYSE: CCJ) operates several significant mines in the region, including the renowned Cigar Lake Mine and the McArthur River Mine. Cameco's operations in the Athabasca Basin also encompass ore processing facilities like the Key Lake Mill.
Cameco shares declined 1 per cent to $49.23 on Monday on the Toronto Stock Exchange.
Denison Mines (TSX: DML) (NYSE: DNN) Denison's assets in the region include the Wheeler River project and the Waterbury Lake project, both of which hold significant uranium resources. Wheeler River, in particular, stands out as a high-grade deposit with strong potential for future production.
Denison Mines shares declined 2 per cent to $1.96 on Monday on the Toronto Stock Exchange
A number of uranium juniors also work in the Athabasca basin. A few of these include Skyharbour Resources Ltd (TSXV: SYH) (OTCQX: SYHBF), which possesses a wide-ranging portfolio of uranium exploration projects within the Athabasca Basin, encompassing 24 projects that span over 518,000 hectares in northern Saskatchewan.
Skyharbour shares declined 3.8 per cent to $0.51 on Monday on the TSX Venture Exchange.
Another uranium junior company operating in the Athabasca Basin is Fission Uranium Corp. (TSX: FCU) (OTCQX: FCUUF) (FSE: 2FU). Its flagship project, the Patterson Lake South (PLS) property, hosts the Triple R deposit, which is known for its significant uranium resources.
Fission Uranium shares declined 4.6 per cent to $0.83 on Monday on the Toronto Stock Exchange.
Read more: South Korea partners with Canada and Italy to refurbish Romania's only nuclear plant 
Read more: Russia delivers nuclear fuel to power up the first nuclear power plant in Bangladesh
3. Australia
Australia possesses the world's largest known uranium resources, accounting for nearly one-third of the global total. In 2022, Australia's uranium production reached 4,820 tonnes of U3O8, equivalent to 4,087 metric tons of uranium. This substantial output positioned Australia as the world's fourth-largest producer in 2022, contributing 8 per cent to the global supply.
The country is home to several prolific uranium mining regions, with South Australia and the Northern Territory being notable hubs for extraction.
The Olympic Dam mine, operated by BHP Group (ASX: BHP), stands out as one of the world's largest uranium mines, producing not only uranium but also copper and gold.  Originally opened in 1988 by WMC Resources, the Olympic Dam project resulted from the discovery of a substantial deposit in 1975. It later underwent substantial expansion through an A$1.9 billion program, increasing its production capacity to 200,000 metric tons per annum (tpa) of copper and 4,300 tpa of uranium, in addition to gold and silver.
It is primarily a copper project and Chairman Ken MacKenzie stated in 2022 that uranium production is a byproduct of copper production, and will always come secondary.
In the mid-2005, BHP Billiton assumed control of WMC Resources through a A$9.2 billion takeover. The company holds a mining license for the Olympic Dam valid until 2036, with the potential for an additional 50-year extension beyond that period.
BHP shares rose 0.38 per cent to A$45.18 on Monday on the Australian Securities Exchange.
Other companies operating in the region include Boss Energy (ASX: BOE), which owns and operates the Honeymoon Uranium Project in South Australia.  It has also secured the necessary licenses and permits for uranium production, storage and export. Since acquiring Honeymoon in December 2015, Boss Energy has significantly expanded the project's Joint Ore Reserves Committee (JORC) resource, increasing it from 16.6 million pounds to an impressive 71.6 million pounds.
Boss shares declined 1.6 per cent to A$4.30 on Monday on the Australian Securities Exchange.
Deep Yellow (ASX: DYL) diverse project portfolio spans two countries, Namibia and Australia. In Namibia, Deep Yellow is engaged in projects including Tumas, Omahola, Nova and Yellow Dune through joint ventures. In Australia, the company operates the Alligator River and Mulga Rock projects.
Recently, on August 14, Deep Yellow successfully concluded its extensive 656-hole drilling program at the Mulga Rock project, with results expected in Q4.
Deep Yellow shares declined 1.92 per cent to A$1.28 on Monday on the Australian Securities Exchange.
ATHA Energy Corp. is a sponsor of Mugglehead news coverage