Cannabis retail is one of the most fast-paced segments of the marijuana industry.
It's no wonder why: cannabis retail provides marijuana companies with unrivalled access to an end-consumer that is impossible to reach otherwise, considering stiff regulations around online cannabis retailing.
With this in mind, we take a look at some of the cannabis companies attempting to redefine cannabis retail in two of the largest and most well-developed for cannabis—the United States and Canada.
Westleaf
Westleaf Inc. (TSX-V: WL) (OTCQB: WSLFF) is a vertically integrated Canadian cannabis company focused on innovative retail experiences and engaging cannabis brands as well as cultivation, production and extraction of cannabis products.
As of now, Westleaf has 2 premium cannabis retail stores open in Saskatchewan under its flagship cannabis retail brand Prairie Records. With one in Warman, Saskatchewan and the other in Saskatoon's high-traffic Broadway Avenue, Westleaf has managed to establish a solid foothold in one of Canada's "cannabis battleground" provinces.
Via Westleaf,
"Saskatoon is the 17th largest metropolitan area in Canada with around 300,000 people in the metropolitan area. The SGLA has approved seven licenses for the market, with Westleaf holding two locations under option to purchase agreements. Westleaf believes the ratio of population to licenses will make Saskatoon one of the best markets to operate cannabis retail in Canada."
Favourable ratio of population to cannabis licenses aside, Saskatchewan is unique in that it is one of the few Canadian provinces to allow online cannabis sales.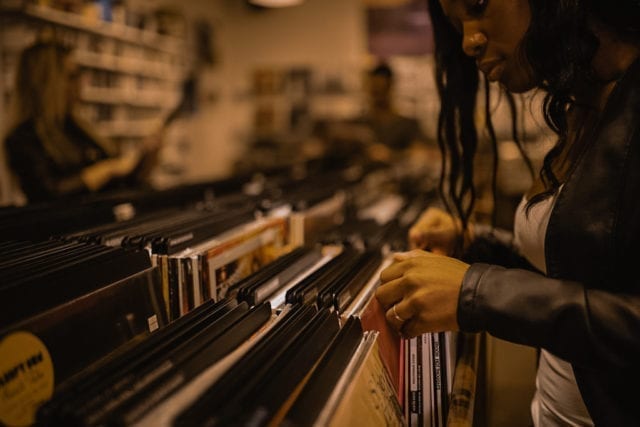 Prairie Records features a more "tactile" in-store purchasing experience through the use of record sleeves. These sleeves help to guide the customer journey through a variety of informational visual cues.


Westleaf certainly appears to be staying true to its plan to become one of Canada's largest premium marijuana retailers. Not only is the company moving forward with plans for a third Saskatchewan store following its purchase of a cannabis retail store location in Saskatoon's premium Preston Avenue,  but its flagship Banff store—which will be located in one of the tourist town's highest density areas—is set to open in Q3 2019. 
While Westleaf has noticeably fewer retail locations than its competitors at this time, it makes up for this disparity with an unequalled cannabis retail concept and two world-class cannabis facilities (cultivation and extraction) which are on schedule to be completed in 2019.
National Access Cannabis
National Access Cannabis Corp. (TSXV: META), the largest private retailer of recreational cannabis in Canada, continues to solidify itself as one of Canada's leading cannabis retailers.
National Access Cannabis (NAC) currently operates 24 cannabis retail stores across Canada; 14 in Alberta, 9 in Manitoba, and 1 in Saskatchewan. The company also recently received approval for another cannabis store in Calgary, which would bring NAC's total Canadian cannabis retail portfolio to 25.
In terms of the company's performance, NAC recently reported total revenue of $16.2 million for Q2 2019, which marks a 328% increase in total revenue compared to the last quarter.
Via Newswire, 
"Our team is focused on accretively building our national retail footprint to 40 stores by the end of calendar 2019, while maximizing the same-store sales growth and contribution of individual store locations.

As the Canadian cannabis market finds its footing, we also expect supply issues to begin to abate, which will enable us to continue offering our customers the wide selection they are used to [said Mark Goliger, CEO of NAC] . . ."
NAC notes that it's setting its sights on retail operations in British Columbia in 2019 and Ontario in 2020.
Canopy Growth
Canopy Growth (TSX: WEED) (NYSE: CGC), the world's largest cannabis company, looks like it's about to get a whole lot bigger with recently announced plans to acquire N.Y.-based Acreage Holdings, Inc. (CSE: ACRG.U) (OTCQX: ACRGF), a leading multi-state operator in U.S. cannabis.
With the transaction valued at approximately $3.4 billion on a fully-diluted basis, the acquisition of Acreage Holdings would be one of the most foundational moments for the cannabis industry yet—especially in terms of cannabis retailing.
Via Canopy Growth,
"Acreage . . . owns or has managed services agreements in place for cannabis-related licenses across 20 states (giving it the right to develop), including 87 dispensaries and 22 cultivation and processing sites . . . the combined operations of Acreage and Canopy Growth would immediately create the undisputed leader in U.S. cannabis, the only relevant market where Canopy Growth does not yet have a major presence."
With Constellation Brands, Canopy Growth's forthcoming Hemp Industrial Park, and now Acreage Holdings all located in New York, Canopy has a lot riding on cannabis legalization in the Big Apple. Though a new report suggests that the adult-use cannabis industry could provide $4 billion of economic activity for the state of New York, it remains unclear when—or even if—New York will legalize adult-use cannabis.
Trulieve Cannabis
Trulieve Cannabis Corp. (CSE: TRUL), a vertically integrated "seed-to-sale" company and the first and largest fully licensed medical cannabis company in the State of Florida, is one of the United States' fastest growing cannabis retailers.
Trulieve Cannabis currently operates 28 stores in Florida, 1 store in California, and intends to develop various cannabis assets across Massachusetts with its previously announced acquisition of Life Essence.
Though it fell short by 2 stores in its goal to open 30 stores in Florida by Q1 2019, Trulieve reported record revenue of $102.8 million for the full-year 2018, representing year-over-year revenue growth of 419%.
Via Benzinga,
"In 2018, we focused on building a foundation to scale the business over the long-term and made significant progress on Trulieve's core mission to create the preferred customer-centric brand in cannabis," said Kim Rivers, CEO of Trulieve.

"2019 will be a year of execution for us as we leverage our strong revenue growth and positive adjusted EBITDA. We will focus on innovating and delivering new products for our customers, such as smokable flower, edibles and nano-emulsions. We will cultivate new strategic partnerships, as we have recently demonstrated with Slang and Blue River. Finally, we will execute on our plans for multi-state operational expansion."
MedMen Enterprises
MedMen Enterprises Inc. (CSE: MMEN) (OTCQX: MMNFF) (FSE: A2JM6N), a leading cannabis retailer with operations across the U.S., continues to expand its nationwide retail footprint.
MedMen currently operates a total of 33 cannabis retail locations in the United States (23 MedMen, 10 PharmaCann) and has 82 additional store locations that are permitted under the appropriate licenses.
The bulk of MedMen's forthcoming retail stores are planned for Florida and California. While MedMen has yet to establish any retail presence in Florida as of this writing, the company notes that it believes to have acquired approximately 7% of the California cannabis industry's market share.
Most recently, MedMen have entered into a definitive agreement in respect of a $250,000,000 secured convertible credit facility with Gotham Green Partners, an investor in the global cannabis industry.
Via MedMen,
"We are excited to close our investment into MedMen. The company has firmly established itself as the leading cannabis retailer in the United States with an unparalleled physical and brand footprint across the country," said Jason Adler, managing member of Gotham Green Partners. "We look forward to working closely with management to accelerate growth and drive margin improvement across the organization."
Cannabis Retailers In North America Must Pursue Quality Over Quantity
From multi-billion dollar cross-border acquisition plans to accelerated nationwide retail rollouts, cannabis retailing in North America is progressing at an unprecedented rate. Considering the developments this past month, there's almost no telling what the cannabis retail landscape could look like even a month from now. That said, investors should expect that once the land rush for cannabis retail store locations subsides, it will be the retail concepts themselves that will be put to the test—which is exactly when premium, unique cannabis retail concepts like Westleaf's Prairie Records can truly shine.
Disclosure: Directors of Mugglehead own shares of Westleaf.