In February there was a string of robberies at cannabis stores in Edmonton, Alberta.
Local police said the thieves used the store's covered windows to their advantage by ensuring no one outside could see the hold up. 
This prompted Fire & Flower Holdings Corp. (TSX: FAF), who reported being one of the stores hit by the robbers, to push back against the then industry-wide norm to cover all store windows with vinyl stickers.
The Cannabis Act says no weed or related items can be visible to minors, so retailers removed visibility from the outside. 
But the coverings were putting staff at risk, then Fire & Flower spokesperson Nathan Mison told Mugglehead at the time. To prevent further robberies Mison said the retailer would remove stickers to allow for people to see in and out, using store layout instead of window coverings to prevent underage eyes from peeping pot. 
That's the same line of logic British Columbia followed when it said in June that cannabis retailers no longer had to cover windows. 
Read more: Fire & Flower will no longer cover its windows, says it promotes theft
Read more: Cannabis retailers in BC no longer required to cover windows
Not everyone agrees that clear windows were a catch-all solution. 
In September, Mugglehead received an anonymous tip from someone who said they were a Fire & Flower employee. They were concerned, they said, because seven months after the robbery many of Fire & Flower store windows were still covered, and staff had not been briefed on the February break-in. Employees had raised these concerns internally but had been ignored, they said. 
In a phone interview, Fire & Flower VP of retail operations Isaac Watson said each store's window coverings were being assessed on a case-by-case basis. The retailer has 51 stores and around one-third of them have had a number of stickers removed, he says.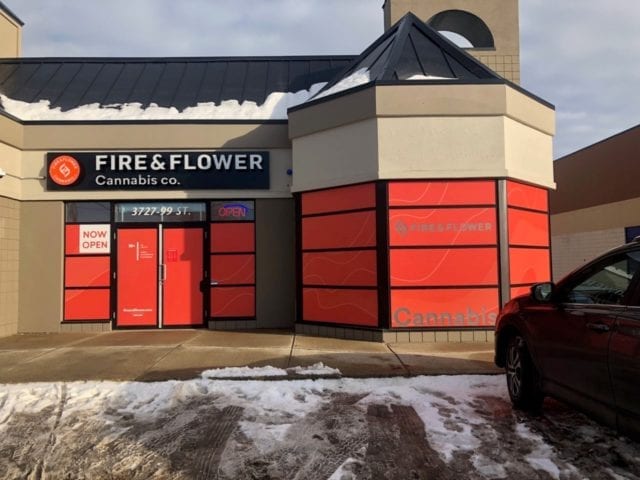 Some stores removed window coverings close to the ground or the ceiling, so people's heads and feet are visible. Others have clear windows that look in at the entryway. There are locations unable to remove the vinyl because they were built in a way that cannabis would be visible from the street without covering the windows, according to Watson.
When asked why staff were not briefed on the specific details about this robbery, Watson said the retailer could not share details with the public or staff "for both security and privacy concerns." 
That stance could be putting staff at risk, says Tony Gallo, managing partner for Sapphire Risk Advisory Group, which helps Canadian and U.S. cannabis retailers prevent break-ins. 
Gallo has 30 years of experience in the security field and has been involved in 2,000 armed robbery investigations.
Hands down the best way to prevent robberies is to ensure all staff have formal awareness training, he said. This helps staff understand best practices like having two employees open or close a store, Gallo says, which is statistically the likeliest time to be robbed. 
Clear windows are a small piece of the puzzle, but can also work as a double-edged sword as robbers can look in and quickly canvas a store. Retailers' ultimate goal should be to communicate to a potential criminal that their store isn't a good place to rob, Gallo says. That happens through a wide combination of things, including visible security cameras, a tidy and graffiti-free store exterior and signage about how much cash is left in the store overnight.
In the event of a robbery, Watson says there was a policy in place to keep the retailer's 450 employees safe.
"Since that time [the policy] has been reviewed a number of times and bolstered up — additional scenarios added to it, retraining has occurred on multiple occasions and has been incorporated into our onboarding for new people," he said. 
After the robbery, "All our staff were briefed on an all-store call where we both provided context on the incident as well as rolled out the set of new procedures that we discussed," Watson said.
But Gallo says the retailer could go further. 
The retailer should make sure all employees are aware of what happened, what policies did and didn't work and how their formal awareness training would be updated in response to the robbery, he said. They could have done that without going into personal details, he added. 
Please note: In a post-publication interview Fire & Flower VP of retail operations Isaac Watson said the retailer held an all-staff call after the February robbery. The story has since been updated to reflect this information.
Top image: Top image of a Fire & Flower retail store with the window fully covered by a vinyl sticker. Submitted photo
michelle@mugglehead.com
@missmishelle