The Alkaline Water Company Inc. (TSXV:WTER) (NASDAQ:WTER) announced last week it posted record monthly sales to a tune of $3.8 million in May—and that's without sales of its new hemp-infused water line that is set to hit store shelves once U.S. regulators give the green light on hemp-derived beverage products.
"As our infused product line begins to gain traction, we expect the flavor infused and hemp water to contribute significantly to our sales over the next three quarters," said Richard A. Wright, President and CEO.

"We are working on and will be rolling out a new brand strategy that we believe will further accelerate our ongoing growth."
WTER's Chairman Aaron Keay said what make's the company's record sales month even more impressive is the figures are based solely on sales of its flagship Alkaline88® product, which continues to boost WTER's organic growth.
In fact, The Alkaline Water Co. was ranked first among 30 U.S. value-added water brands as the fastest growing alkaline water in a 13-week period ending in May, according to Nielson data.
Keay said the Arizona-based company's flavor infused water line is set to hit store shelves this month and will help sales continue to climb further.
WTER's hemp-based water line poised to further catapult sales figures
Although Keay couldn't offer a timeline on when WTER will roll out its hemp water line, as the U.S. Food and Drug Administration mulls regulations on hemp-based CBD food and beverages, he was optimistic the federal regulators will be moving forward soon.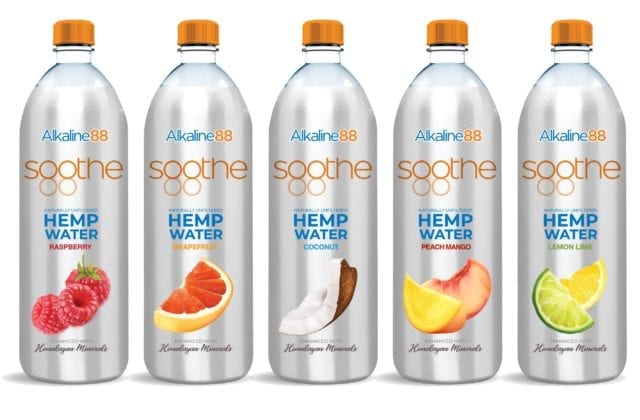 "When you see Canopy Growth announcing it is expanding its hemp operations into seven U.S. states, and with many companies having already developed CBD products and pressuring Congress, you can put two-and-two together," Keay said.
The WTER Chairman added the company's partnership with distribution giant E.A. Berg already gives it a major advantage over competitors with its Alkaline88® products, but if the and when the FDA approves hemp-based beverages, WTER can almost instantly move its hemp water into a rich distribution network. Whereas most CBD beverage company's will have to take months to establish ties with supermarket and store distributors.
Keay said through the company's E.A. Berg program, it has already allowed its Alkaline88® products to be sold in 1,100 new convenience stores, which has accelerated the growth of the single serving sizes by 65 per cent over the last year.
And that's big news considering WTER's hemp-based water product will be offered in the same single serving size once regulators give the green light.
Keay before said the company teamed up with The Ungerer Company who possess the ability to produce 100 per cent natural and organic flavourings, to address hemp water's undesirable taste profile.
"The flavour aspect of this business is going to be big. A lot of companies are struggling with the taste of their hemp-based beverage products—but wait until you taste ours," Keay said.
Other key stats on The Alkaline Water Company and industry growth:
WTER's products are sold in more than 40 of the top 50 U.S. Super-Grocer chains
Top grocery chains include Whole Foods, Krogers and Walmart, which saw sales grow 29% last year
Alkaline88® already sold in 47,500 retail locations in all 50 states
Distribution spans more than 150,000 stores, including 9 of the top 10 largest retailers
Sales were up 46 per cent in natural/specialty stores with appointment of CA Fortune
WTER is expected to post revenue north of $30 million in most recent fiscal year – up 60 per cent
Hemp and CBD beverage market projected to be worth $1.4 billion in the U.S. by 2024, according to Zenith Global
Worldwide sales of alkaline water in 2017 rose to $631 million and are on pace to reach $1 billion this year, according to Zenith Global
Disclosure: The Alkaline Water Company is a news coverage client of Mugglehead Media Corp.