A company that takes pride in sustainability and developing organic products has been particularly enthusiastic over a new sticky-icky strain grown in maple-syrup-infused soil.
On Tuesday, The Green Organic Dutchman Holdings Ltd. (CSE: TGOD) (OTC: TGODF) announced that it had been having immense success distributing Organic Maple Kush within Ontario and Alberta, lining the shelves of over 1,000 stores.
The Ontario-based company also revealed that financial success and strong retail feedback with the new maple herb had inspired the upcoming release of maple kush pre-rolls available in a 3-pack this August.
TGOD is a grower that claims to be committed to cultivating a better tomorrow through responsible production practices, minimizing waste and reducing environmental degradation to the furthest possible extent. The manufacturer caters to the Canadian recreational cannabis market with a subsidiary brand portfolio that includes Highly Dutch Organics, Ripple by TGOD and Cuuzy Brands.
Additionally, the Dutchman proudly grows its plants with a certified organic process that includes filtered rainwater and living soil.
Organic Maple Kush is currently available in a 3.5 gram dried flower container –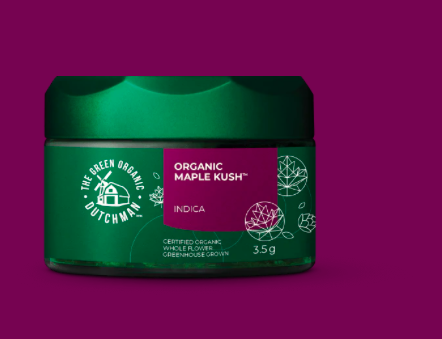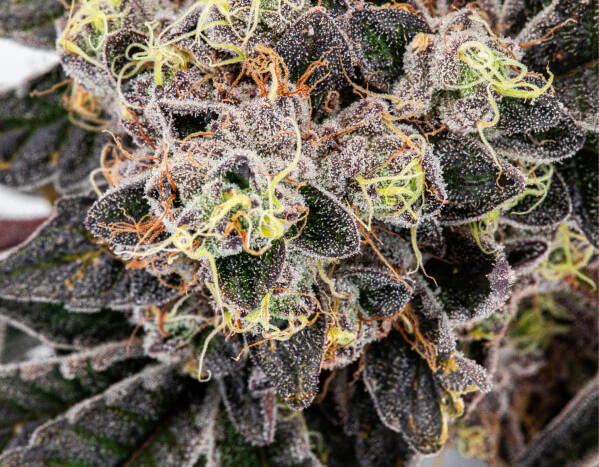 Photos via TGOD
Read more: Phinest Cannabis set to move into new super-facility
Read more: Chill Medicated refines enhanced new topicals
The strain is known for having dark purple leaves with hints of tropical and fruity flavour, which the company credits to the farnesene and myrcene terpenes present in the buds. The maple flavour cultivar is said to have a terpene ratio between 3.5 per cent and 4.5 per cent and a THC level range of 25 per cent to 29 per cent.
As part of the upcoming Canada Day celebrations on Friday, many retailers will be promoting Organic Maple Kush as "The Quintessential Canadian Dried Flower Product."
Locations happily involved will include 420 Premium, True North Cannabis and Bud Bar.
"There are few things as Canadian as maple syrup, and enjoying this unique product is a great way to celebrate Canada Day.  Our proprietary living soil contains natural ingredients sourced from different regions across Canada, including organic maple syrup from the maple forests of Quebec" said Sean Bovingdon, CEO of TGOD.