Back in October, I went to Kamloops to visit the only (legal) pot shop open in B.C. It was an interesting experience unlike any other that I've had as a consumer. So is BC's first legal retail marijuana shop worth a visit? Here's my review of BC's first legal retail marijuana store in Kamloops.
Store Layout: A

The store wasn't overrun with people as security ensured that there were no more than about a dozen or so people in the store at any given time. That's a bit frustrating to know after the fact, given the first weekend of legalization saw long lines that meant even under the best circumstances you were likely waiting more than 30 minutes just to get in. In my case, I had to wait 40 minutes, in what the security at the front of the store said was one of the shortest lines they had seen all day.
However, it was a very open environment once inside and easy to view the products. The best comparison I can give someone is some sort of a cross between what you'd see at an Apple store and the cosmetics section of a Shoppers Drug Mart. This is a model that seems to be gaining popularity in the industry, and it's easy to see why as it offers consumers a lot of room.
However, given the tight security and the fact that shoplifting was near impossible given that the actual products were either behind glass or a counter, the layout seemed a bit unnecessary.
There were also lots of attractive visuals, tablets to search for products, and artwork that definitely added a nice touch to the store. Overall, it looked classy and had a very clean look.
Education and Information: C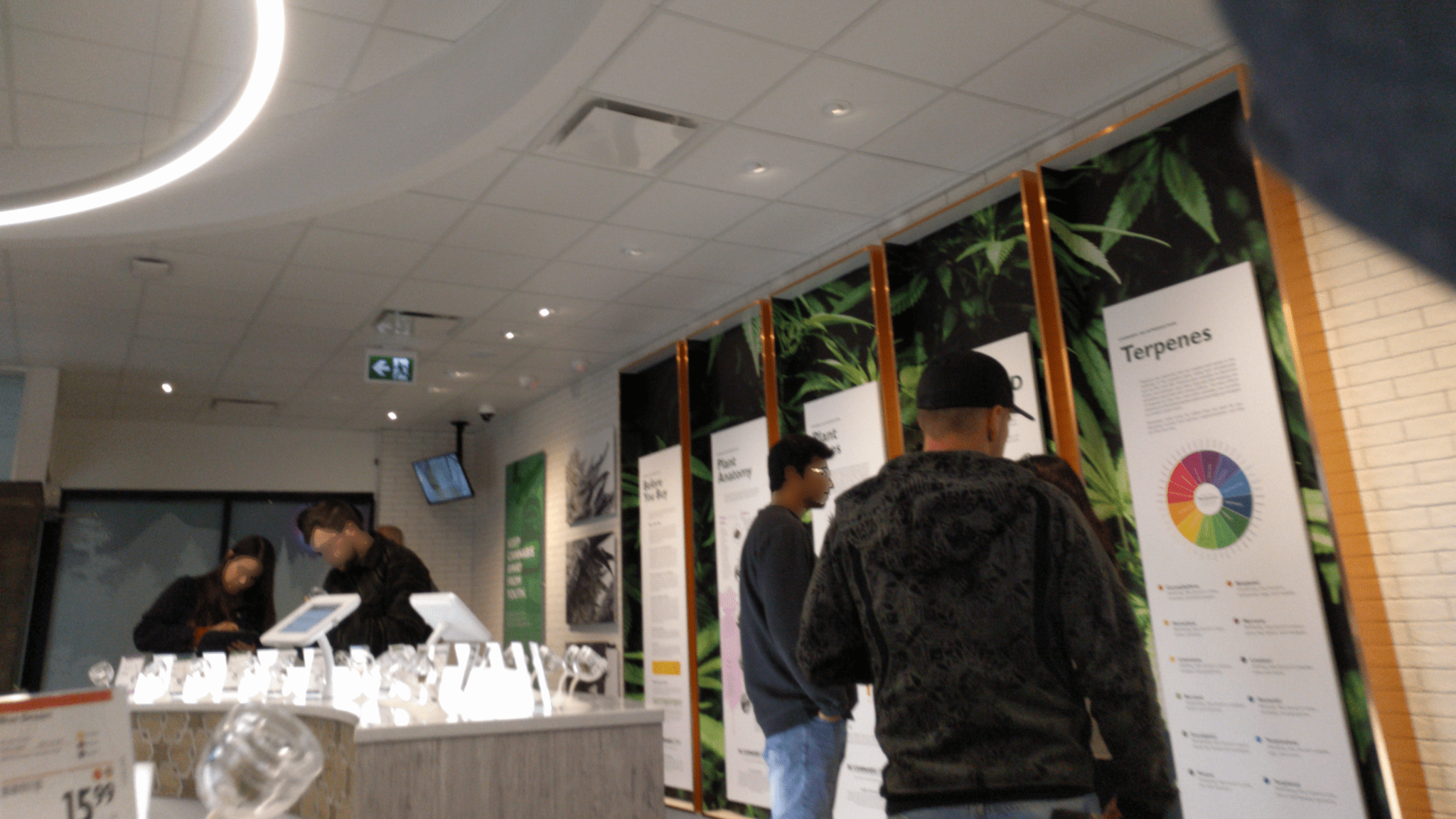 A big part of the growth that's expected for cannabis stocks is going to come from new users, and so I thought it would be relevant to consider how well the store educated and informed potential buyers.
There were some visual aids that allowed you to learn a little about the different strains of marijuana and that could help guide you. However, this wouldn't be sufficient for someone like me that has never used cannabis before, and that is not familiar with the different strains to understand what makes one better than the next. Even on the products themselves, there wasn't enough information to compare and contrast.
Make no mistake, you would need some prior knowledge of cannabis to get the product you wanted, this is not something for newbies. This is definitely a missed opportunity by the government, and I would have definitely expected more from the store, especially given that it invested a lot in technology.
While there was help in-store, I didn't get the impression from the one person that was there to help that they specialized in cannabis, and they were likely just there to facilitate navigating around the store and selecting items, as consumers needed to fill out the sku# and quantity of what they wanted to purchase.
Product Selection: C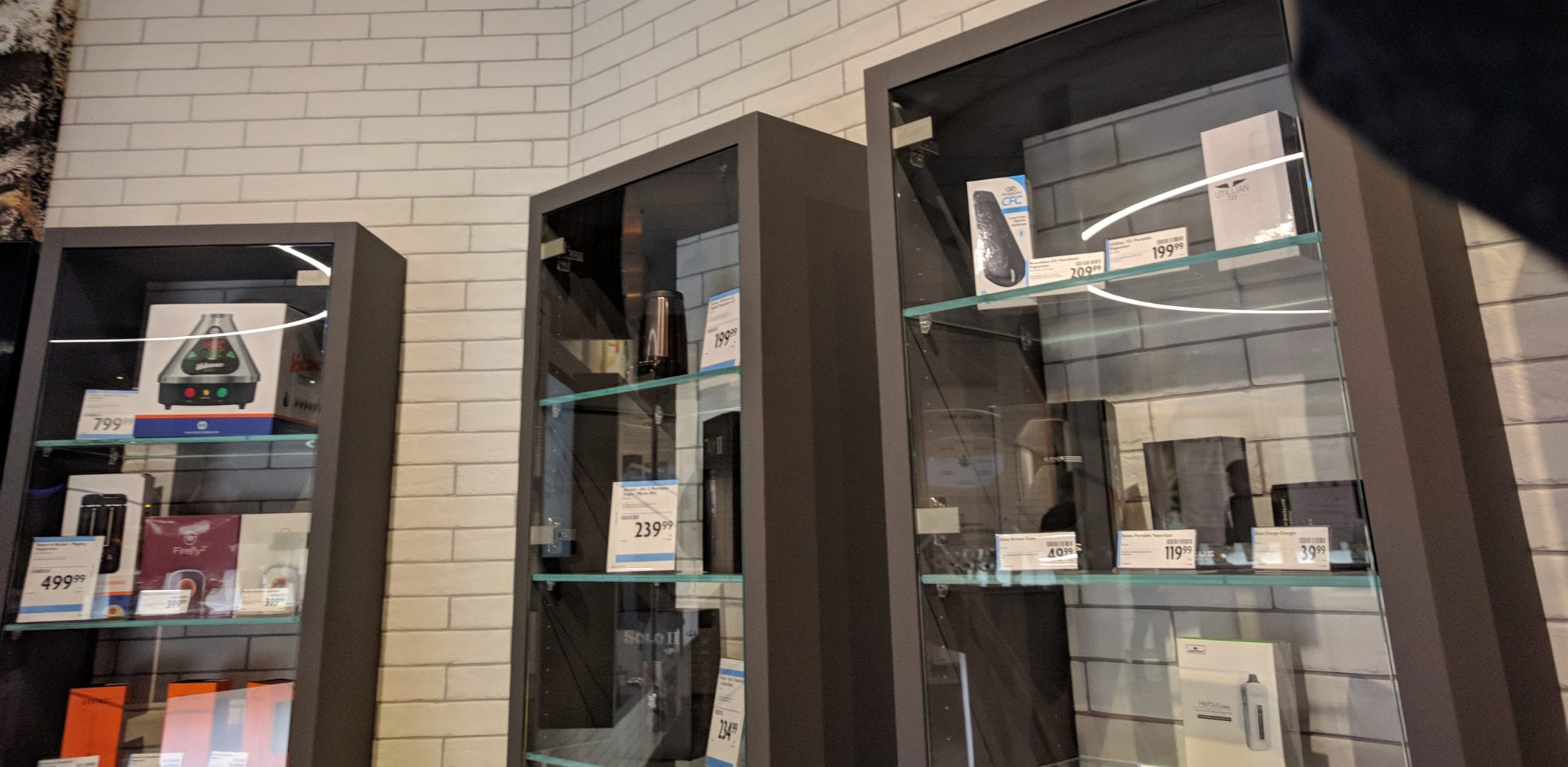 What was a bit surprising to me was the selection. While there were many different types of recreational strains that consumers could choose from, for medicinal products (which is what I was looking for), there was just one that fit the criteria that I was after – pain relief without the high. Given the high hopes that medical users have for cannabis, I'm surprised that there wasn't more of a selection in this area.
Even when I asked the person in store for assistance, they were taken aback that I had waited so long just for a medicinal product. It was confirmation of what I had expected, and that's that medical marijuana users are clearly not the target market and that the products are geared primarily for recreational users.
And that's unfortunate, as the medicinal segment is one that could generate a lot of sales for companies, and being able to walk in and buy a product without needing a prescription definitely helps facilitate that process.
Overall Experience: D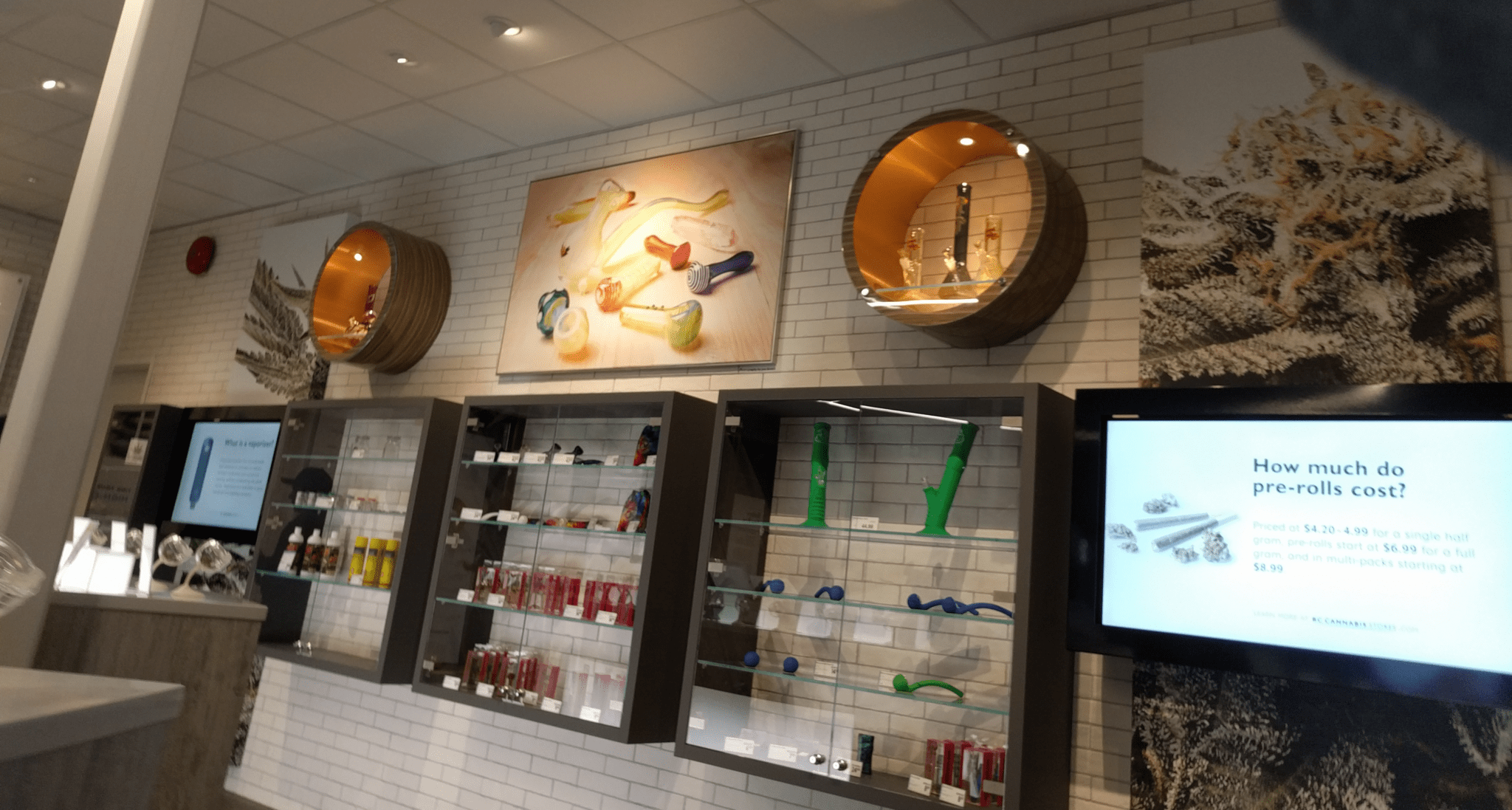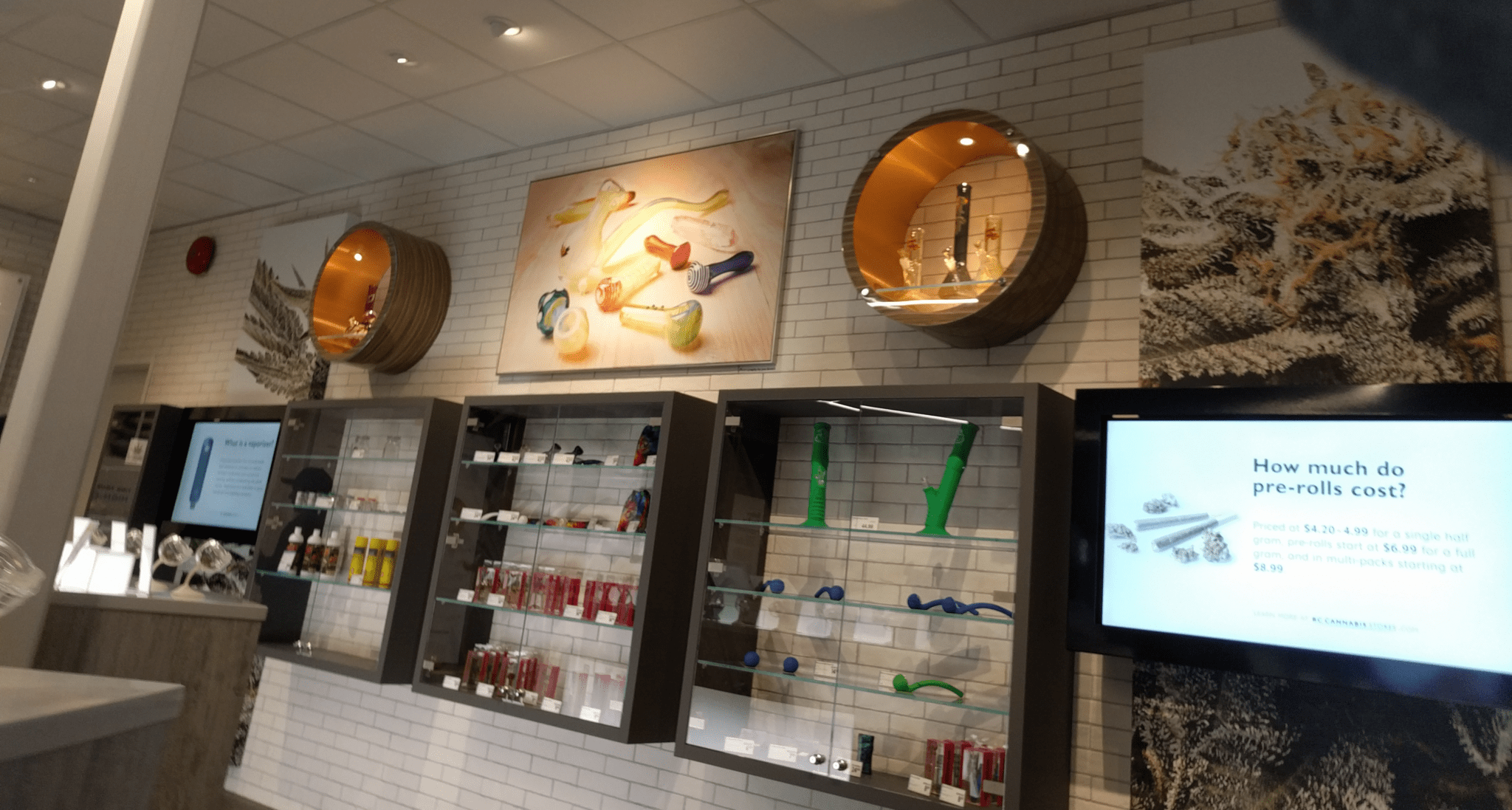 While the layout may have been spacious, the experience in the store left a lot to be desired. The whole shopping experience felt like a very controlled and supervised process that's very carefully been designed to leave nothing to chance.
Not only was it about as quiet as a church inside, but from the very beginning when I presented two pieces of identification just to enter the store, it definitely seemed like the big concern was security, and not much else. I assume that letting in few people at a time wasn't for the consumer's benefit – it was for the store in being able to track individual customers and their every move more easily.
It's a far different experience than what people are used to at government-run liquor stores, which is the type of environment I assumed the province would have tried to mimic. Instead, it felt like you may as well have been shopping inside a police station.
Summary
My experience was limited to just one store, but if this is what the government has planned for cannabis, treating it like some sort of explosive that needs to be handled with extreme care, then it's going to fail miserably until and unless we see private retailers take over.
From start to finish, there was nothing easy about the process. From waiting in a long line to picking out a product with next to no information and logo on it to help you find what you want, to a checkout process where consumers looked to avoid credit, there was clearly more apprehension inside the store than there was fanfare outside of it.
The cannabis industry is still in its early days, so maybe the government will figure out a model that makes sense because if this is the best it can do, I'd assume consumers would rather just order online.