Human rights watchdog Global Witness published a report on Tuesday detailing the abuses and excesses common to the lithium extraction industry in the African countries of Zimbabwe, Namibia and the Democratic Republic of Congo (DRC).
The investigation uncovered that the surge of interest for lithium on the continent has increased risks related to corruption and a host of other environmental, social and governance (ESG) problems.
In early 2023 thousands of artisanal diggers in Zimbabwe rushed to the Sandawana mine, where they worked in unsafe conditions, according to the report. Reports surfaced of child labour and mine collapses burying miners and the diggers were subsequently evicted, and their minerals confiscated.
The mine was then taken over by companies closely linked to Zimbabwe's ruling ZANU-PF party and military, some of which were subject to sanctions imposed by the US or EU. Yet despite an official ban on unprocessed lithium exports, the politically-connected Sandawana mine appeared to have received an exemption. It transported thousands of tonnes of ore out of the country during 2023.
In the first nine months of 2023, Zimbabwe, boasting Africa's largest lithium reserves and ranking sixth globally for lithium exports, recorded earnings of USD$209 million from the mineral. This figure is nearly three times higher than the earnings from the previous year. Zimbabwe, along with Namibia and Tanzania, has imposed a ban on the export of raw or unprocessed lithium as part of their efforts to extract added value from this lightweight metal.
However, Zimbabwe's ban has come with exceptions.
Global Witness' report uncovered that companies were still exporting large amounts of lithium ore out of the country despite the ban.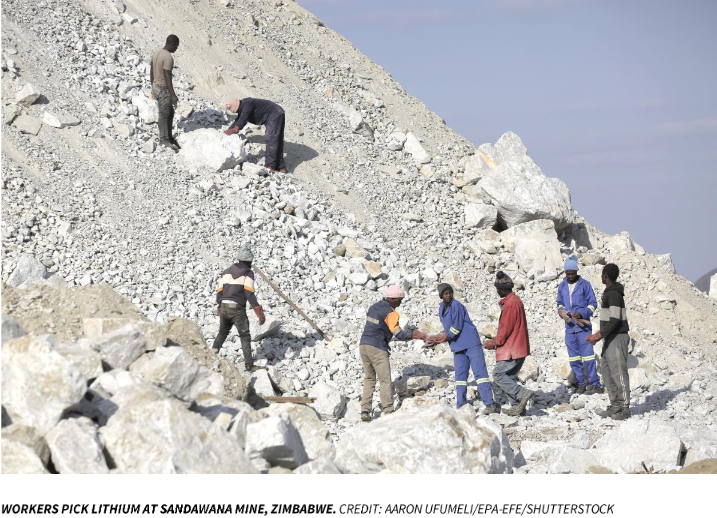 Read more: Lithium South Development updates leadership roster, appoints new director
Read more: Lithium South Development Increases Lithium Resource by 175% and begins well-drilling program at Argentina's Hombre Muerto North
Chinese company faces accusations of corruption in Namibia
Meanwhile in Namibia, Chinese-owned firm Xinfeng Investments faces accusations of acquiring the Uis lithium mine through bribery.
There is also evidence suggesting that Xinfeng used permits originally intended for local small-scale miners to develop the industrial mine. This allowed Xinfeng to commence mining a significant lithium deposit with an investment as low as USD$140, all while circumventing the requirement for an environmental impact assessment.
Local communities and Namibian parliamentarians have levelled allegations against Xinfeng, including housing their workers in conditions reminiscent of apartheid, influencing local chiefs through financial incentives and disturbing the local wildlife that contributes to the region's tourism revenue. Despite promises to construct processing facilities within Namibia, Xinfeng has shipped thousands of tonnes of raw lithium ore to China without fulfilling these commitments.
The DRC is no stranger to issues surrounding corruption.
A dispute involving Australian and Chinese mining companies has caused a halt in the development of the Manono lithium deposit in the Central Africa country. This dispute has raised numerous corruption concerns. It appears that the project has funnelled as much as USD$28 million into shell companies controlled by middlemen who have previously been implicated in corruption scandals involving ex-President Joseph Kabila.
There are allegations that a senior official in the party of the current President Felix Tshisekedi received a USD$1.6 million 'commission' from Chinese-based Zijin Mining Group Co. (SHA: 601899) when it acquired shares in the Manono project. The state-owned mining company that inked the Manono agreements has been accused by DRC's anti-corruption agency of selling lithium rights at a reduced price and misusing the proceeds.
Read more: Lithium South Development technical report shows 40% increase in lithium recovery
Read more: Lithium South Development first production well installed at Hombre Muerto lithium project
China holds a virtual monopoly on African lithium
Zimbabwe's authoritarian government, which has cultivated strong ties with Beijing, has expressed its approval of Chinese investment. In an effort to boost job opportunities in the processing industry, it instituted a ban on the export of raw lithium last year, which in turn encouraged Chinese companies to enter the processing sector. However, in areas like the Nora Valley, the jobs generated by Chinese investors are offset by significant concerns regarding their impact on the local residents.
China holds a virtual monopoly on lithium extraction in Africa with estimates from mining consultancy, Benchmark Mineral Intelligence, indicating that 83 per cent of Africa's projected lithium supply for this decade will originate from projects that are at least partly owned by Chinese companies.
In the past year, three Chinese mining giants have acquired lithium mines and projects in Zimbabwe, amounting to a total investment of $678 million.
"Domination of lithium mining by one country may led to undesirable results such as undervaluation of mineral resources, tax avoidance and human rights abuses in the sector," said a recent report by the Zimbabwe Environmental Law Association.
The rapid increase in production in Zimbabwe aligns with a global trend. According to projections by the multinational bank UBS, mines under Chinese control are expected to contribute 32 per cent of the global lithium supply by 2025, which represents an increase from 24 per cent observed last year.
As far as global comparisons go, the African markets don't compare well.
Australia, Chile and China dominated the global lithium supply in 2022, collectively producing 90 per cent of the light metal. Despite holding only about 5 per cent of the world's lithium ore reserves, Africa still possesses significant untapped potential. Currently, only Zimbabwe and Namibia are exporting lithium ore, while various projects in nations Congo, Mali, Ghana, Nigeria, Rwanda and Ethiopia are in the exploration or development phases.
With the demand for this critical mineral expected to surge, potentially growing forty-fold by 2040 according to projections from the International Energy Agency, major economies and international companies are engaged in a race to secure access to lithium resources on the African continent.
Read more: Lithium South Development expands production goals, updates PEA on Hombre Muerto lithium project
South America provides a better alternative
China's strong hold on African lithium resources is a concern for the global lithium supply. As Chinese-controlled mines are set to provide a significant share of the world's lithium, there's an increasing reliance on China for this crucial mineral.
This dependence could pose risks for countries heavily reliant on lithium for their growing electric vehicle and renewable energy industries, potentially leading to geopolitical and economic vulnerabilities. To reduce this risk and stabilize the global lithium market, it's essential to diversify the sources of lithium supply, with a greater emphasis on South American production.
The majority of lithium production is concentrated in Argentina, Chile and Bolivia, which are commonly called the lithium triangle.
Chinese companies, including Zijn Mining and Ganfeng Lithium Group Co. (SHE: 002460), are present, but Chinese firms do not dominate this region. A few other companies operating in the region include the largest lithium companies in the world, Albemarle Corporation (NYSE: ALB) and Sociedad Química y Minera de Chile (SQM) (NYSE: SQM).
But it also includes some developing juniors, such as Critical Elements (TSXV: CRE), American Lithium (TSXV: LI) and Lithium South Development Corporation (TSXV: LIS) (OTCQB: LISMF) (Frankfurt: OGPQ).
Lithium South operates the Hombre Muerto North Lithium Project in the Salta Province of Argentina, where its five claims total 3,287 hectares. A recent established a Lithium Carbonate Equivalent Resource (LCE) of 1.5 million tonnes with an average grade of 736 mg/L Li within the Alba Sabrina, Tramo and Natalia Maria claim blocks indicating that there are stronger sources of lithium than Africa.
The global demand for lithium, driven by the burgeoning electric vehicle and renewable energy industries, has put a spotlight on the African continent as a potential lithium source.
However, the rapid expansion of Chinese-controlled mining operations in Africa, marked by allegations of corruption, environmental degradation and human rights abuses, raises concerns about the sustainability and ethics of this supply chain.
As China tightens its grip on African lithium, the need for diversification becomes apparent, with South America emerging as a more stable and ethical alternative. To ensure a stable and responsible lithium supply for the future, a broader global effort to foster diverse sources of production and uphold environmental and ethical standards is essential.
.
Lithium South Development Corporation is a sponsor of Mugglehead news coverage
.
Follow Joseph Morton on Twitter