Illinois is the 11th and latest U.S. state to legalize recreational cannabis, and since the new law won't take effect until the start of 2020, pot firms are positioning themselves to take advantage of the new promising market. One company is Chicago-based Cresco Labs (CSE:CL), one of the largest multi-state cannabis operators in Illinois, which is looking to relocate one of its medical marijuana dispensaries near Wrigley Field, home of the Chicago Cubs.
Cresco has applied with the City of Chicago to move its MedMar Lakeview medical pot shop — roughly one kilometer in distance — to a larger Wrigleyville neighborhood location to capture the demand from Illinois' growing number of medical marijuana patients.
Since Illinois loosened laws and reduced wait times for patients seeking medical cards, close to 79,000 patients are now registered in the state's medical marijuana program, up from 24,000 in February.
The City of Chicago and other Illinois municipalities haven't set rules on zoning cannabis business yet, and Cresco will have to wait to see if its new location will get zoning approval.
Illinois transitions from medical to adult-use
Under the new state law signed by Gov. Pritzker last month, medical marijuana dispensaries that are currently operating in Illinois today can apply to also sell recreational cannabis and to open up a second shop if they desire.
Cresco owns a total of five dispensaries outright or through its subsidiaries and operates three cultivation facilities in Illinois. The cannabis company has applied for recreational selling licences for all five of its medical pot shops, according to Cresco spokesman Jason Erkes.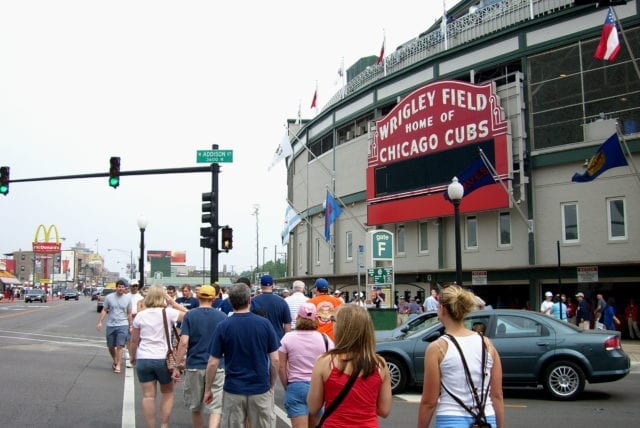 Having a cannabis shop location — that offers medical and recreational pot — in a high-traffic location next to iconic Wrigley Field could be a big move for Chicago-based Cresco. Sporting events are always a surefire way to drive food sales and they could do wonders for cannabis as well, especially for fans that want to relax before or after the game.
Location the key to success in the industry?
We've seen how operating a successful flagship cannabis shop could have a big impact on a company's sales. In Las Vegas, Planet 13's (CSE:PLTH) SuperStore location has proven to be a big hit with consumers and has generated significant revenue for the Nevada-based cannabis company. Having one major, high-traffic location can allow a company to consolidate its efforts and minimize overhead as opposed to focusing on running and operating several different locations.
And for a world-class city like Chicago, there might not be a better location for a cannabis store than right by Wrigley Field. With competition in the industry ramping up, it's more important than ever for companies to stake out key locations and positions early on to potentially prevent competitors from acting first. With Curaleaf (CSE:CURA) recently making a move into Illinois, time could be of the essence for Cresco to ensure that it gets any advantage that it can from being headquartered in America's sixth-most populated state.