Voyager Digital (TSX: VOYG) (OTCQX: VYGVF) signed a non-binding term sheet with Alameda Research to add a revolving line of credit and potential access to further capital to the balance sheet.
The company looked at the present cryptocurrency market conditions and decided it would need some extra cushioning to help protect customer assets given present market volatility.
"Today's actions give Voyager more flexibility to mitigate current market conditions and strengthen our relationship with one of the industry leaders. Safeguarding customer assets is always our top priority, and ongoing, prudent risk management as well as a strong balance sheet are two ways that we continue to demonstrate that priority," said Stephen Ehrlich, chief executive officer, Voyager.
Voyager Digital is a cryptocurrency platform in the United States. It offers over 100 different cryptocurrencies on its mobile app and right now, they're all taking a hit.
When you factor in that Bitcoin itself retested its 2017 all time high of $25,000 over the weekend and continued to plummet down to $19K, where it's presently hovering, this deal makes a load of sense. Most of the altcoins are directly correlated to Bitcoin's fortunes, so a glance at Bitcoin's chart is an indication of how most of the other coins are faring.
Bitcoin's chart for the quarter.
There's potentially another catalyst for the choice to go with Alameda and that's the fallout from the cryptocurrency lender Celcius.  Due to a confluence of events, namely mismanagement and bearish market conditions, Celcius has been the latest casualty of the downturn in cryptocurrency markets. Without getting too technical about it, they ran into a liquidity crisis with one of their digital currency pools that they're unlikely to recover from anytime soon. In their most recent update, Celcius provided no indications of when it expects to stabilize its liquidity and operations but did indicate they're working with regulators, and not talking to their clients.
After one week the company paused withdrawals, Swap, and transfers, they said they "maintain an open dialogue with regulators and officials" and "plan to continue working" with them "regarding this pause and our company's determination to find a resolution."  This variety of problem is not going to befall Voyager as they don't offer the same kind of services that led Celcius into liquidity trouble, but that doesn't mean there aren't other pitfalls out there to fall into.
The term sheet gives Voyager access to revolving term credit facilities, each expiring December 31, 2024, and with an annual interest rate of 5% payable on maturity to Alameda. The first credit facility is a cash/USDC based facility with a principle of US$200 million. The second involves a revolving credit facility for 15,000 in Bitcoin (BTC). The company will only use the debt if it needs to safeguard customer assets.
The question every investor should be thinking about is whether or not Celcius represents an outlier, or is going to be the harbinger of the crypto-winter to come. Regardless, Voyager's move to batten down the hatches is some smart business.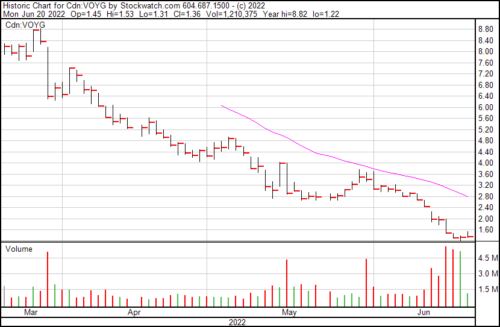 VOYG's up a penny today and trading at $1.35.