Today's edition of the Mugglehead technology roundup includes six companies, four losers and two winners, but each worthy of recognition in their own right.
Buy now, pay a lot later with new PayPal layaway program
PayPal Holdings (Nasdaq:PYPL) has put a new program called PayPal Pay Monthly, which is a digital layaway program that allows consumers in the United States to spread payments on larger items out over longer periods of time. The program is issued by Webbank.
This allows Americans to make purchases between USD$199 and USD$10,000 and break the total cost into monthly payments over a period of six months to two years, with the first payment due a month after the purchase. It's difficult to be certain if there's a market for this kind of service. We have credit cards and credit lines for such things.
"How consumers look to pay for larger purchases is evolving and there is a growing demand for flexible payment options with 22 million PayPal customers using our pay later offering this past year," said Greg Lisiewski, Vice President of Shopping and Pay Later at PayPal. "Pay Monthly builds on our commitment to deliver leading payment solutions that offer customers choice to ensure checkout matches their needs and budgeting preferences."
Say what you will about this company, but PayPal is one of the key players in the digital payment space and has been there for approximately two decades. It uses technology to make financial services and commerce more convenient, affordable and secure, and has more than 429 million consumers and merchants in over 200 markets to prove it.
The catch is a risk-based annual percentage rate (APR) from 0 to 29.99 per cent. The customer gets to choose up to three different plans of varying lengths, and pick the option that suits them best. The plan will be automatically available for merchants to pick it up with no addition cost or risk, and no back-office integration. Merchants will also be able to add a messaging service to deliver relevant Pay Later options to customers to let them know they can spread their payments around at checkout.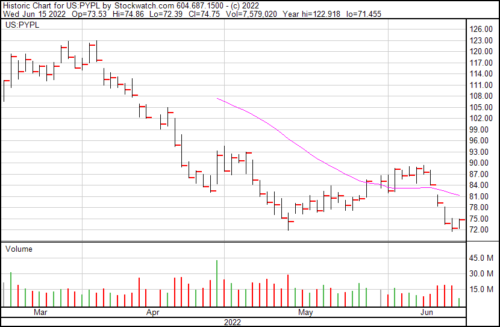 The stock has dipped substantially this month from a high of USD$88.59 to USD$72.46 where it's now trading and puts them square in the losers column.
Is Michael Saylor the greater fool?
Plenty of big name personalities have come online in previous years calling Bitcoin (and really, all of cryptocurrency) speculators a demonstration of the greater fool theory. The latest to do so is Microsoft founder and real-life Bond villain, Bill Gates.
The Greater Fool Theory is the idea that people can make money buying overvalued assets and selling them for a profit later during a market bubble, because it will always be possible to find someone willing to pay a higher price.
Entered into evidence we have Michael Saylor, the CEO of Microstrategy (Nasdaq: MSTR):
#Bitcoin is a swarm of cyber hornets serving the goddess of wisdom, feeding on the fire of truth, exponentially growing ever smarter, faster, and stronger behind a wall of encrypted energy.

— Michael Saylor⚡️ (@saylor) September 18, 2020
Microstrategy is an analytics and business intelligence company. The company ranks as one of the best in enterprise analytics and are used by many of the world's biggest brands in the Fortune Global 500. The company operates with two strategies: Grow their enterprise analytics software business, and acquire and hold Bitcoin, which the company views as a dependable store of value supported by a public open-source architecture untethered to sovereign monetary policy.
The idea that Bitcoin isn't tied to sovereign monetary policy is true. Sure. It's not tied to central banks, but it is still subject to the whims of the greater market as is evidenced by this latest downturn. Now Bitcoin has fallen below USD$21,000, which is a level that Microstrategy will have to deal with as it may be now facing a potential margin call on their $4 billion bet on Bitcoin.
A margin call is a demand for more cash or securities from a broker to cover possible losses. In this case, Microstrategy took on substantial debt for their bet, and now the bill's coming due.
Saylor initially got into bitcoin in 2020 when he started adding BTC to MicroStrategy's balance sheet as part of his management strategy. He believed as many crypto-holders did at the time that bitcoin wasn't correlated with traditional financial markets.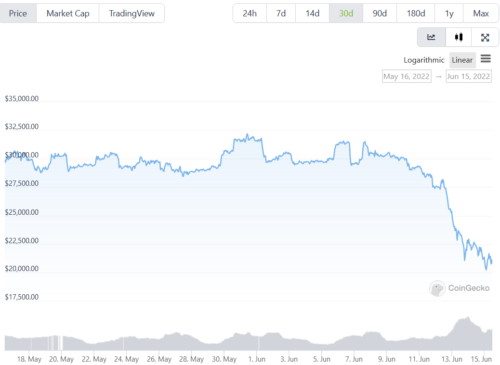 He was wrong.
Digital currencies have suffered the same market-related fear, uncertainty and doubt as stocks and other assets in the face of an aggressive interest rate hike from Federal Reserve. The question as to whether or not Saylor is the greater fool in this equation is presently under debate, and won't be resolved anytime soon.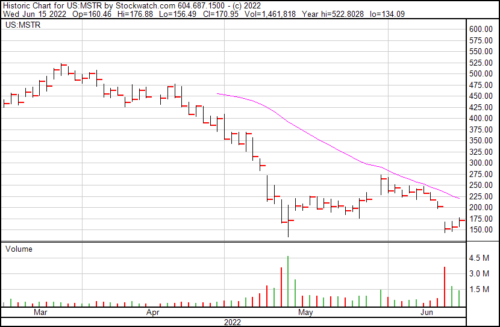 Without a doubt, the dip in this chart corresponds to being so tightly tethered to Bitcoin. At present, it's up $15 and now trading at $172.99.
TeraWulf gets financing, but market is distracted
TeraWulf (nasdaq:WULF) is a Bitcoin miner that came online earlier this year and has managed to ramp up and get financing in the centre of 2022, right at the beginning of this Bitcoin halving cycle's crypto-winter.
This isn't good timing.
Regardless, the company is here so it doesn't get to be in the winners column, even as it's really not its fault. It's not like WULF is really doing anything wrong in terms of how its mining its Bitcoin, either. Under normal circumstances having a fully integrated mining facility powered by 91 per cent renewable, zero-carbon energy would be worthy of plaudits.
In this case, with Bitcoin where it is and the policy wonks and floating heads pontificating on the death of crypto, the timing couldn't be worse.
The company started mining operations at its Lake Mariner facility in New York back in March by using existing space at a decommissioned coal fired plat. TeraWulf is now close to finishing its first facility, which will house 50 MW of capacity and is anticipated to begin mining Bitcoin in early Q3. After which, the company will be working on completing its second building at the site, and thereby adding another 50 MW in Q4, bringing their total mining capacity at Lake Mariner to 110 MW.
It's a far cry still from Hut 8 Mining (TSX.HUT) or Marathon Digital Holdings (nasdaq.MARA) but it's early yet, and those companies have had years to develop.
What isn't comparable, though, is that both HUT and MARA had a chance to grow and develop during the last Bitcoin bull run while WULF is coming in when Bitcoin's down and the pundits are questioning its continued survival.
Clearly, though, company CEO and cofounder, Paul Prager, isn't worried about that:
"Our recent financing activities provide valuable access to capital, and we expect any additional growth capital we are able to raise will help ensure a timely path to completing our operational objectives in 2022. Our vertically integrated strategy, along with the most competitive energy costs in the industry, differentiates TeraWulf from our peers, and should enable us to deliver strong mining economics while ensuring the flexibility to rapidly scale our operations toward our ultimate goal of deploying 800 MW of zero-carbon mining capacity by 2025."
WULF is up $0.10 and closed at $2.
Novozymes and AgroFresh team up to fight food waste
Novozymes (nasdaq.NVZMF) and AgroFresh (nasdaq.AGFS) latest research and commercialization partnership gears towards developing biological solutions that can help with post-harvest food quality while minimize the damage caused by fungal pathogens. The results of this partnership will be used to post-harvest applications to help benefit growers, retailers, consumers and the environment. It also puts them squarely among the winners for today.
Approximately one third of all produced food is lost or wasted before it can even get on shelves, with fruits and vegetables making more than half of this amount. Shortly after the harvest, crops quality begins to degrade. Fresh crops like fruits, vegetables and flowers, in this stage are at an increased risk of microbial attack, as well as losses due to cooling, cleaning, sorting and packing.
This partnership aims to change that.
"AgroFresh and Novozymes share very similar missions around sustainability and the introduction of differentiated technologies to address unmet needs across the food chain. We are excited to partner with Novozymes to pioneer the use of biological solutions in the post-harvest sector to reduce food loss and waste and help improve the quality of our food system overall," says Duncan Aust, chief technology officer, AgroFresh.
The partnership is suitable and curious.
On one hand, we have Novozymes, one of the world's largest enzyme and microbial technology providers, with tech in support of increasing agricultural yields, energy-efficient production, renewable fuel and plenty of others. And Agrofresh, an agritech company involved in the prevention of food loss and waste. This company is also involved in the conservation of the planet's resources through the delivery of a range of science-based solutions, data-driven digital technologies, and customer services.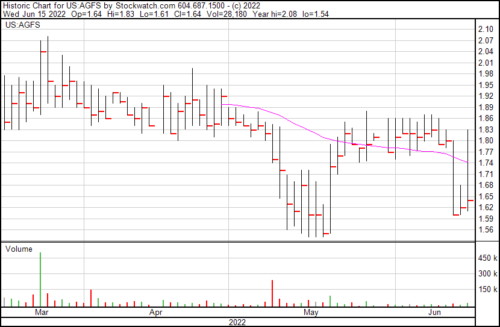 Agrofresh is up three cents today trading at $1.64 and a market cap of USD$85,293,000. In contrast again, Novozymes is up sixty cents today, trading at $56.50. It's hard not to think acquisition target when you see a partnership of two relatively aligned companies, but one is almost ten times larger than the other.
Palo Alto Networks joins winners column with actual award
Palo Alto Networks (nasdaq.PANW) received the 2021 Google Cloud Technology Partner of the Year award for Security today.
Palo Alto Networks received the recognition in the Google Cloud ecosystem by helping organizations change their security operations for future success. Google Cloud and Palo Alto make cloud native security solutions to help secure customer data and protect against the next generation in the ongoing arms race in the cybersecurity.
"We are honored to receive the Google Cloud Technology Partner of the Year award for Security. Palo Alto Networks is committed to helping our customers leverage the public cloud, extending consistent security across all domains. We look forward to continuing our momentum with Google Cloud, building best-in-class integrations that simplify cloud security for our joint customers while improving their security posture," said Don Jones, senior vice president of Ecosystems, Palo Alto Networks.
Palo Alto is a tech company offering cybersecurity options. Cybersecurity is always an arms-race and the moment a company comes out with a novel solution to a pressing security problem is the moment that someone else tries to find a way around it. That's the world this company operates in. The company tries its best to outpace cyberthreats so organizations can embrace and use technology with confidence.
Palo Alto partnered with Google Cloud in 2021 to develop, produce and introduce new product integrations, reference architectures and other solutions on the Google Cloud Marketplace. The most notable of which was Good Cloud Intrusion Detection System (Cloud IDS), the first intrusion detection system delivered as a cloud service.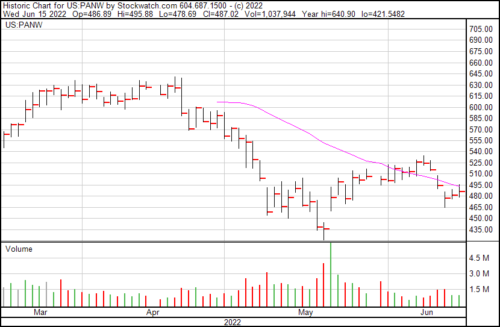 Palo Alto is up $5.39 and closed at $487.02.
Wix is a winner at the google cloud awards
Like the previous company, Wix.com (nasdaq.wix) pull in one of the Google Cloud Awards. It were the winner of the 2021 Google Cloud Expansion of Partner of the Year Award.
Wix was recognized for the company's achievements in the Google Cloud ecosystem, helping joint customers achieve better results through integration of Google Cloud and Google Workspace within the Wix platform. The partnership provides Wix users access to Google Cloud's leading business solutions, enabling Wix to provide business owners with advanced tools to optimize their online presence and succeed in today's online landscape
"We are proud to be recognized as the Google Cloud Expansion Partner of the Year for the second year in a row. In the past year, we've significantly scaled our partnership with Google Workspace to expand and support larger businesses on the Wix platform, unlocking new enterprise opportunities and revenue streams. We look forward to continuing to work with Google Cloud to provide our users with advanced tools to help business owners efficiently manage and grow their online presence," said Liron Raz, Head of Finance & Corp Dev at Wix.
Wix started in 2006 as a way to build a website on the cheap, and has since developed into a complete platform providing users with enterprise-grade performance, security, and infrastructure. It also offers a wide range of commerce and business solutions, as well as advanced search engine optimization and marketing tools.
Today's award clearly puts it in the winners column even if the chart suggests otherwise.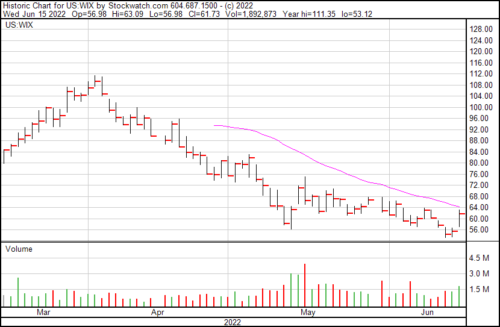 Wix is up 11per cent today and closed at $61.73.