The reason why crypto-enthusiasts call a long term downturn in the crypto and blockchain sector a crypto-winter is because there's no recourse and no security. There's no government bailout waiting in the wings. Strong companies (barely) survive and the weak die like old dogs. There's also a significant checks-and-balances act where companies and products built on froth and investor enthusiasm fold, while the alternatives, with strong foundations and utility, survive to see the bulls run again.
In the coming year we'll see some consolidation as smaller crypto-miners and NFT producers fail and are gobbled up by larger, healthier companies. Non-fungible tokens themselves will likely need to be re-thought. Art is a luxury item and luxuries are the first to go during an economic downturn, which means companies which may have grown fat while NFT were all the rage will see the demand for their products dry up.
The Bitcoin mining hashrate will readjust as players downsize and exit the market as the large margins they gathered while the bulls are running eat into their revenue, and make bitcoin mining unprofitable. In their place will come smaller, leaner and hungrier miners.
The old dog dies so the pack can live on.
Today's roundup gives a glimpse into the world of publicly-traded cryptocurrency-based companies and ancillaries, and what they're doing to prepare for the winter.
Big name miners dump their holdings
The beginning of the crypto winter usually begins with a selloff.
The basis for which is the price of Bitcoin. At the time of writing it's inclined a smidge over the past day to USD$20,972.43, which is below the 2017 all-time high of $25,000. That places downward pressure on Bitcoin mining and infrastructure, and that's in evidence today as publicly-traded Bitcoin mining companies like Marathon Digital Holdings (Nasdaq:MARA) and Riot Blockchain (Nasdaq:RIOT) sold more Bitcoin than they mined last month, which was a considerable bounce from where these companies were three months ago. According to a report from Arcane Research, these companies sold roughly 30 per cent of what they produced.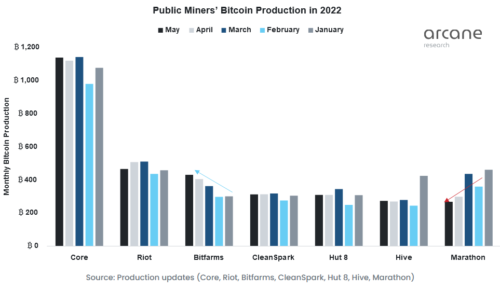 "The public miners only make up around 20% of Bitcoin's hashrate but studying their behavior can hint at what the private miners are doing. Public miners likely sell a larger portion of their mined bitcoin now since they could keep a larger share of their production during the bull market by tapping into financial markets, which was more difficult for private miners," according to Jaran Mellerud, an Arcane Research Bitcoin mining analyst.
The network's hash rate is a measure of determining how much computer power is required to mine Bitcoin. Each hash represents one attempt at resolving the complex mathematical question that verifies the ledger, closes the block. The Bitcoin released is the reward miners get for verifying the contents of the ledger, but mining's profitability dips substantially as markets lag.
A bit more specifically, Bitfarms (TSX.BITF) sold 3,000 Bitcoin to reduce debt.
"In consideration of extreme volatility in the markets, we have continued to take action to enhance liquidity and to de-leverage and strengthen our balance sheet. Specifically, we sold 1,500 more bitcoin and are no longer HODLing all our daily BTC production. While we remain bullish on long-term BTC price appreciation, this strategic change enables us to focus on our top priorities of maintaining our world-class mining operations and continuing to grow our business in anticipation of improved mining economics," said Jeff Lucas, chief financial officer of Bitfarms.
This comes on the heels of an earlier selloff of 1,500 Bitcoin earlier in the month, bringing the company's total holdings to 3,349 bitcoin. Bitfarms used these proceeds to pay down its debt to Galaxy Digital (TSX.GLXY) from USD$66 million to USD$38 million
The network's hash rate is an aggregate measure of how much computer power is being used to mine Bitcoin. Each single hash represents a computer generating a new number to "guess" a cryptographic string. Whichever miner, or pool of miners, correctly guesses it wins the right to verify a block of transactions and add it to the blockchain.
OSC goes after unregulated crypto exchanges
The second largest indication of an impending crypto winter involves increased government intervention. We've effectively exited the age where people involved in cryptocurrency do so with full understanding of the risks. The early adopters are the types of risk-absorbing investors who read the fine print and make their own decisions.
We left that behind in 2017. The past five years has seen a vast upsurge in market sentiment and with it have come bandwagon riders. People who chase whatever the market's doing with hopes of catching a win and pay scant attention to the red flags and fine print. Eventually, scammers arrive and we have issues like the Squid Game coin or OneCoin. There's not much a regulator is going to be able to do about the Squid Game rug pull and the high priestess of the OneCoin ponzi scheme is still on the lam, but this type of nasty behaviour has secondary effects, such as increased regulatory attention and control on existing markets.
The Ontario Securities Commission (OSC) approved financial settlements earlier this week with two cryptocurrency firms—Bybit Fintech Limited and KuCoin—for failing to comply with the province's securities laws.
Bybit isn't necessarily worthy of mention, but Korean-based KuCoin is a big deal. It's one of the largest cryptocurrency exchanges in the world and both have been operating unregistered in the province, allowing investors to trade without a prospectus. KuCoin specifically is going to be required to pay a CAD$2 million and an addition CAD$96,550.35 towards the cost of the regulator's investigation.
This is noteworthy because it's the latest stage in a series of regulatory actions against crypto. Governments can't do anything to the blockchain's themselves because of their decentralized, global nature, but they can clamp down on the onramps and offramps and regulate the way the public interact with them.
We're already beginning to see a stratification of acceptable exchanges in compliance with regulators, and unacceptable exchanges being forced into heavy fines, or outright banned in the province. Among publicly-traded companies, we have Bigg Digital Assets (CSE.BIGG). This company was the first to get their restricted dealers license for their Netcoins exchange, and therefore are the vanguard for regulated crypto in Canada.
The best chance to survive the crypto-winter is to get regulated.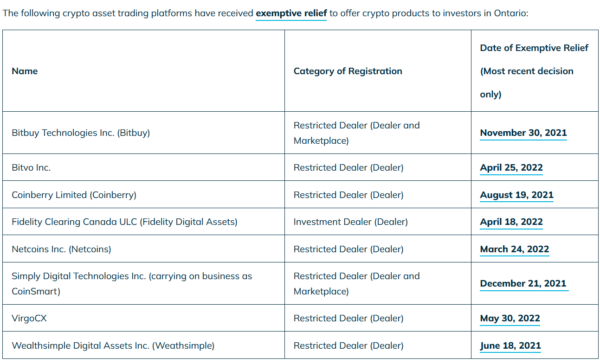 Meta doesn't care about the crypto-winter

What's going to happen to all the metaverse-based programs, companies and initiatives when the crypto-winter comes full swing? It's a good question. The metaverse is a strong use-case for non-fungible tokens, because everything from the skin your avatar wears, to the trees, houses, cars, dogs and trombones, you interact with in the metaverse is an NFT.
Meta Platforms (Nasdaq:META), formerly Facebook, is one company that hasn't shown any indication that it cares any which way about the impending crypto-winter. It's going ahead with Meta Pay and moving towards building a digital wallet for its metaverse. Facebook, Instagram, WhatsApp and Messenger will continue to offer the same features and user interface previously offered.
The digital wallet in the metaverse will give people the ability to securely maintain their identities, what they own and how they pay. Zuckerberg sees Meta Pay as a universal wallet for everything you'd want to buy in the metaverse.
Just like with Facebook Pay, with Meta Pay people will be able to:
Add their preferred payment method once, then use Meta Pay where available to make payments and purchases across our technologies and while shopping elsewhere online.
View payment history, manage payment methods and update their settings in one place.
Get 24/7 customer care via email or chat where available.
Meta has been in the payments game since 2009 and has since spread its reach to include 160 countries and 55 currencies. It's also since expanded to include NFT, and Zuckerberg announced that Meta is developing a function to allow users to display their NFTs on both Instagram and Facebook. The overall purpose is to expand tests for the NFTs on Instagram stories, and creators can exhibit their tokens on Instagram regardless of location.
Is eBay crypto-winter agnostic?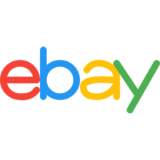 eBay (Nasdaq: EBAY) has to be included among the companies that either don't know or don't care about the dawning crypto-winter in the markets. Odds are good it doesn't care rather than doesn't know. But their recent announcement of the acquisition of NFT marketplace KnownOrigin could be a curious one in that NFTs haven't exactly shown the same correlation with Bitcoin's fortunes.
Instead one has to wonder whether or not this company is aware that the use-value of NFTs isn't necessarily in their artistic display, which may end up resulting in making this acquisition something of a bubble when investors seek to put their money elsewhere.
"We founded KnownOrigin to empower creators and collectors by giving them the ability to showcase, sell, and collect unique, authenticated digital items. As interest in NFTs continues to grow, we believe now is the perfect time for us to partner with a company that has the reach and experience of eBay. With more than twenty-five years building similar communities of passionate individuals, we are excited by the opportunity to bring a whole new audience on this journey. This is the start of a new chapter in the KnownOrigin story and we couldn't choose a better time to focus on building and innovating with the team at eBay. This partnership will help us attract a new wave of NFT creators and collectors," said David Moore, co-founder, KnownOrigin.
Evidently, the answer is no.
Regardless, the acquisition is part of a larger rebrand for eBay, which wants to be seen as a top destination for collectibles. KnownOrigin, itself founded in 2018 in Manchester UK, enables artists and collectors to create, buy and resell NFTs using blockchain-support transactions.
"eBay is the first stop for people across the globe who are searching for that perfect, hard-to-find, or unique addition to their collection and, with this acquisition, we will remain a leading site as our community is increasingly adding digital collectibles. KnownOrigin has built up an impressive, passionate and loyal group of artists and collectors making them a perfect addition to our community of sellers and buyers. We look forward to welcoming these innovators as they join the eBay community," said Jamie Iannone, CEO of eBay.
It's business as usual for Bit Digital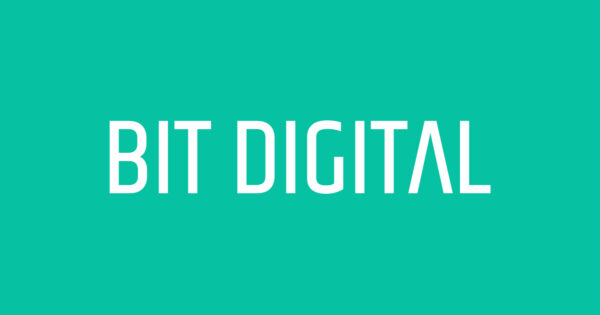 Bit Digital (Nasdaq: BTBT) isn't ready to cash out just yet. The company has only just arrived and even though its timing couldn't be worse, it's still ready to make some Bitcoin. Truly a hodlers company if there was one.
Bit Digital arrived last year on the wings of the Chinese diaspora, setting up shop in the United States after China put the kibosh on cryptocurrency mining. Since then the company has been busy importing rigs, buying more, and setting up their organization. In therms of size, the company is still a years out before it can compete with the likes of Marathon Digital Holdings, Genesis or Hut 8 Mining (TSX.HUT).
The company put out its financials and here's how it fared:
Bitcoin mining revenue was $8.0 million for the first quarter of 2022. Revenue from Ethereum mining was $0.5 million.
We had cash and cash equivalents of $28.1 million, and total liquidity (defined as cash and digital assets) of approximately $73.3 million, as of March 31, 2022. Total assets were $169.6 million as of March 31, 2022.
The Company earned 194.48 bitcoins and 189.26 ETH during the quarter. Factors impacting production included the Company's ongoing miner redeployment program, growth in the overall bitcoin network hash rate, and the number of days in the quarter.
Treasury holdings of BTC and ETH were 832.14 and 266.71, with a fair market value of approximately $27.6 million and $0.6 million on March 31, 2022, respectively.
That's a decent amount of scratch for a company that only arrived yesterday, compared to most of the other entrenched companies in the space.
The Company owned 27,644 bitcoin miners and 731 Ethereum miners as of March 31, 2022, with an estimated maximum total hash rate of 1.6 EH/s and 0.3 TH/s, respectively. As of May 31, 2022, the Company owned 33,376 bitcoin miners with an estimated maximum total hash rate of 2.17 EH/s.
Subsequent to quarter-end, the Company signed a miner swap agreement with Riot Blockchain, Inc. (Riot), which provides for Riot to deliver miners rated at 0.625 EH/s to the Company in exchange for 0.5 EH/s delivered from the Company to Riot, a 25% boost in favor of the Company.
As of May 31, 2022, the Company had received 5,023 machines pursuant to its previously announced 10,000-unit purchase agreement with Bitmain Technologies Limited. The final installment is expected to ship in June 2022. Pro forma for these announced purchases and the miner swap with Riot, our maximum total hash rate is expected to be approximately 2.8 EH/s.
The Company purchased 706 bitcoin miners on the spot market during the first quarter, and took delivery of these machines during April 2022. The Company also sold 100 MicroBT Whatsminer M21S bitcoin miners during the quarter.
The company's bitcoin mining fleet isn't yet comparable to the armadas owned by MARA and HUT, but the deals keep coming in and there's no reason to believe this company won't be competing with the big boys the next time the bulls start running.
Subsequent to quarter end, the Company signed a new 20 MW hosting agreement with Coinmint LLC ("Coinmint"). Approximately half of this capacity has been delivered as of the date of this report, with the remainder scheduled for early July. The Coinmint facility utilizes power that is 90% emissions-free.
Approximately 67% of our fleet's run-rate electricity consumption was generated from carbon-free energy sources as of March 31, 2022, based on data provided by our hosts, publicly available sources, and internal estimates, demonstrating our commitment to sustainable practices in the digital asset mining industry.
Big name deals with high flyers in the space, a substantial amount of cryptocurrency mined while the price is low and the cost of doing business is as well, and a steady impetus towards going completely green. That's an excellent start.
"Unsurprisingly, our first quarter results faced difficult comparisons to the prior year, when a majority of our fleet was deployed in China, and network hash rates were lower. Further, the decrease in bitcoin price since late 2021 has coincided with an increase in network hash, reducing industrywide margins and heightening competition. Our strong balance sheet positions us to successfully navigate these market headwinds. We remain debt-free, and had over $70M of cash and digital assets as of March 31, 2022. We have already paid all of our miner purchase obligations and have no other significant capital commitments as of the date of this report. Against this backdrop, we are excited for yet another transformational year for Bit Digital," said Bryan Bullett, CEO of Bit Digital.