In one of the biggest cannabis product recalls in Canada to date, TerrAscend and Health Canada are asking consumers to return 330,927 units of infused gummies.
On Jan. 27, TerrAscend Canada says it expanded a voluntary recall on a lot of Haven St. Wild Berry THC Infused Soft Chew to include all Haven St. soft chew gummies sold in the provinces of British Columbia, Alberta, Saskatchewan, Manitoba, Ontario, New Brunswick, P.E.I. and Newfoundland.
Recalled product was made by the company at its production facility in Mississauga, Ont., and sold from September 2020 to January 2021.
The recall issued by Health Canada on Friday includes a total of 33 lots of the Haven St. Rise No.570 Wild Berry THC Infused Gummy and Haven St. Drift No. 470 Sour Watermelon THC Infused Gummy.
Consumers should immediately stop using this product, the federal agency says, and return unopened units to the retailer where the product was purchased.
North American operator TerrAscend says it proactively initiated the recall after receiving consumer complaints alleging the presence of mould on certain gummies.
Read more: TerrAscend opens its first New Jersey store as adult-use sales loom
"Health Canada was notified and we continue to work collaboratively with the agency to follow their recommended actions for this voluntary recall," the company said in an email statement. "As we begin reaching out to customers directly impacted by the voluntary recall, we are asking them to take any used or unused product back to their local retailer for a full refund or credit. TerrAscend Canada remains committed to providing customers with safe, effective and quality products."
The affected product may contain mould, Health Canada warns.
"In certain individuals, exposure may result in allergic symptom such as sneezing, coughing, wheezing, runny nose or nasal congestion, and watery or itchy eyes," the regulator said in the official recall notice on the Canadian government's website.
"The use of, or exposure to a mouldy product may cause temporary adverse health consequences, where the probability of serious adverse health consequences is remote," the notice continutes. "To date, TerrAscend Canada has received 10 complaints regarding the recalled lots, none of which involved an adverse reaction. Health Canada has not received any complaints or reports of adverse reactions related to the recalled lot."
While complaints of unwanted fungus found on cannabis have spread wildly on websites like Reddit, cannabis experts often remind the public that the risks are akin to mould in food products. If you found one mouldy apple in a bag, for instance, you'd likely throw it out but eat the rest.
On Jan. 22, Health Canada issued a recall of 100,132 units of Hexo's All-in-One disposable cannabis vape pens following three reports of continuous battery engagement leading to excessive heat and melting. No injuries were reported.
Also in 2021, two small recalls have been issued for one lot of Delta 9 Oceanic Sea Breeze and one lot of North 40 Black Cherry Punch.
Read more: Industry praises North 40's integrity amid powdery mildew outbreak
Affected lots for the Haven St.Rise No.570 Wild Berry THC Infused Gummy: 2002172, 2002228, 2002291, 2002307, 2002308, 2002364, 2002366, 2002372,2002374, 2002381, 2002591, 2002593, 2002670, 2002672, 2002674, 2002774, 2002794.
And for the Haven St. Drift No. 470 Sour Watermelon THC Infused Gummy: 2002230, 2002232, 2002289, 2002311, 2002313, 2002339, 2002341, 2002368, 2002370, 2002595, 2002597, 2002599, 2002601, 2002738, 2002740, 2002742.
Update (2021-2-2 10:30 am): This article was updated to include the location where the recalled gummies were produced.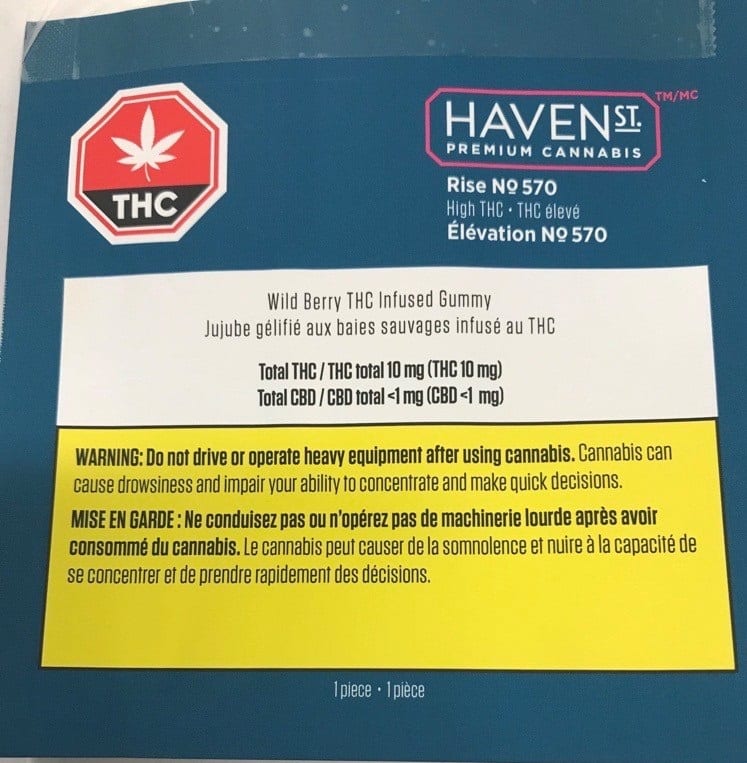 Top image: Screenshot taken from TerrAscend's website 2021-2-1 at 2:30 pm
nick@mugglehead.com