A new joint survey commissioned by financial advice firms, Bromwich+Smith and Advisor Savvy, discovered that half of older Canadians have delayed their retirement plans due to mounting inflation and cost of living increases.
Retirement Interrupted, the first of a two-part series conducted by Angus Reid, analyzed the financial challenges experienced by people in the retirement age cohort as they approach their later years.
"People aren't just retiring because they have too much debt. They're delaying that retirement because of a number of things like inflation, the prospect of CERB clawbacks. People are living longer and maybe they have adult children they need to worry about," said Taz Rajan, community engagement partner at Bromwich+Smith.
The inflation crisis came about due to the COVID-19 pandemic, when the Bank of Canada had to print money to keep the economy going because nobody was working. More money printed means devaluation of the currency, which means a substantial reduction in purchasing power. The result is climbing prices.
Inflation increased in May, with prices climbing 8.6 per cent. This was the fastest increase since December 1981 and more than the 8.3 per cent estimate.
That's a pain for everyone who experiences it but far worse for people living on their savings or off of fixed incomes, because it means the amount of money they have to live on can't buy them the same amount of goods month over month while the currency is devalued.
Preparation for inflation, especially on a fixed income, means planning ahead. She called it planning for the unexpected expected.
"There's a chance that your vehicle may need some mechanical work and you need to plan for that. But it's still unexpected. It's the same thing with inflation. We've seen mortgage rates in the 80's go up. Gas prices now. It can definitely be a bit more challenging to plan for inflation. You need a budget. You need to monitor your cashflow, and you need to make a spending plan," said Rajan.
The survey also included questions for older Canadians regarding their expectations for retirement, including fears of possible scenarios including never being able to retire, running out of money post-retirement, and having to go back to work due to cost of living increases.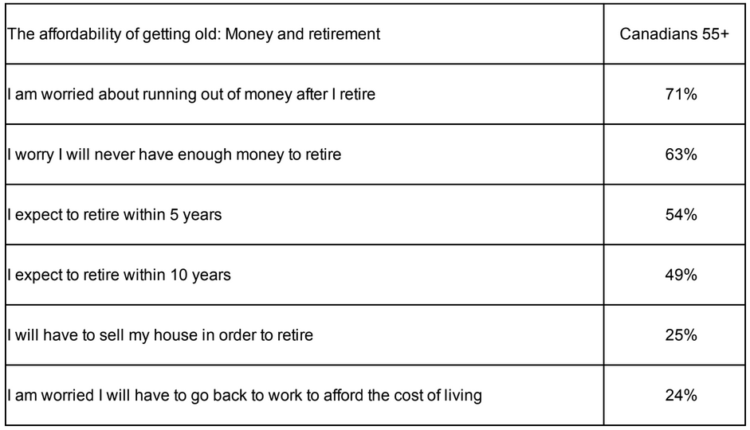 Rajan admits that there are other circumstances making the economic lives of Canadians more difficult beyond inflation. The presence of e-commerce increasing the ease of spending our money, especially during lockdowns when we're perhaps not at our best in terms of mental health and subject to the need for retail therapy. She also sites the ubiquity of online gambling ads and the YOLO (you only live once) mentality, and people wanting to live today instead of planning for retirement.
These elements, coupled with the inflation crisis, make for difficult circumstances. But even then all is not lost.
"Get a handle on the finances and get the retirement plan in place. Let's leave the shame and the blame and the guilt aside. Have productive money conversations with your loved ones. Starting to have those conversations can help management expectations. Some of our respondents are saying they have adult children they're helping out. Starting to talk about money as a family unit. Open communication about money is important," said Rajan.