While pharmaceutical giants are being forced in the U.S. to hand over millions of dollars for their role in fueling the opioid crisis, Canada's first-ever pot professor is leading clinical trials to explore how cannabis might help people fighting opioid addiction.
In late August, an Oklahoma judge ordered Johnson & Johnson to pay US$572 million for driving the opioid epidemic by deceptively marketing addictive painkillers. The landmark decision will have widespread consequences for other major drugmakers facing roughly 2,500 lawsuits filed by numerous U.S. jurisdictions seeking to hold the companies responsible for their role in creating opioid abuse.
Opioids were involved in almost 400,000 overdose deaths in America from 1999 to 2017, according to the U.S. Centers for Disease Control and Prevention.
OxyContin maker Purdue Pharma resolved claims with Oklahoma state in March for US$270 million for also aggressively promoting its opioid drugs. The company is offering to settle more than 2,000 lawsuits for US$10 billion to US$12 billion, according to NBC News.
In Canada, physicians have blasted the federal government for not prosecuting pharmaceutical giants that heavily promoted opioid painkillers since the late 1990s, which caused the overdose carnage to escalate. In 2018, there were 4,460 apparent opioid-related deaths in the country, according to the Public Health Agency of Canada.
Canadian pot professor studies potential of cannabis to treat opioid addiction
Addiction research scientist M-J Milloy sees the devastation of the opioid crisis up close in Vancouver's Downtown Eastside, a community plagued with high levels drug abuse, poverty and crime.
He and his family live in the neighbourhood and Milloy also works directly with people addicted to drugs there with the BC Centre on Substance Use (BCCSU). British Columbia lead all Canadian provinces in 2018 for opioid-related deaths with 1,525, and the Downtown Eastside is the epicentre of the crisis.
Last November, Milloy was named the inaugural Canopy Growth Professor of Cannabis Science at the University of British Columbia. Major Canadian pot producer Canopy Growth (TSX:WEED) donated $2.5 million, and the B.C. government contributed $500,000, to fund research into the potential use of cannabis in addressing the opioid epidemic.
"It's really been life changing personally," said Milloy in a phone interview. "I'm very grateful for the support and it really emphasizes to me the need to do the work and to try and generate the evidence what the risks and benefits might be of cannabis use in the context of the overdose crisis."
Milloy is currently putting together a series of peer-reviewed clinical trials at his BCCSU office based on several preliminary studies he's conducted already that used cannabis to see how it possibly supported people battling opioid addiction. His work remains at arms length and independent of Canopy and the B.C. Ministry of Mental Health and Addictions.
Studies underway

Milloy has authored more than 150 peer-reviewed articles on drug-related issues, but more recently zeroed in on the potential of cannabis helping with opioid use disorder. One study that is presently under review, showed how people in the Downtown Eastside living with chronic pain that used cannabis every day also used fewer opioids over time, Milloy explained.
"This suggests that at least for some people in our cohort, they can replace or substitute opioids with cannabis," Milloy said. "And so I think, scientifically, the challenge now is to try and demonstrate that through a clinical trial."
In another preliminary study published last year, Milloy and a team of scientists looked at 481 street-involved youth who use drugs,, and those who used cannabis daily were 40 per cent less likely to start injecting drugs.
Milloy also discovered in one other study people using methadone to treat opioid addiction were significantly more likely to stay on their methadone if they used cannabis daily. He explains this is important because methadone is the first line of treatment for opioid use disorder, which lowers the risk of getting HIV and of dying of an overdose.
Other cannabis-related opioid research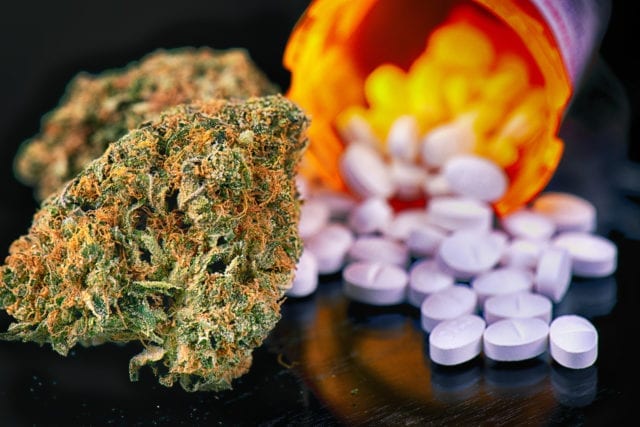 Milloy's research will add to the emerging body of scientific evidence that suggests cannabis has a positive impact on the health of people with opioid addictions.
In a study published last month in the journal Economic Inquiry, researchers discovered in states that have legalized recreational cannabis opioid overdose deaths were reduced by 21 per cent.
"I hope for a lot of people, they'll be able to replace their opioids with cannabis," said Milloy. "I think it's clear scientifically right now that cannabis has a much better risk profile than opioids do."
In Colorado, Governor Jared Polis signed legislation in May to expand the state's medical marijuana program to cover conditions that are usually treated with opioids.
Milloy said Phillipe Lucas, vice president of patient research and access at Canadian medical pot firm Tilray (NASDAQ:TLRY), has a tremendous background and is also at the forefront on cannabis research for treating opioid dependency.
Lucas contributed on a survey published in January that showed among 2,000 cannabis users, 69 per cent substituted pot for prescription drugs, particularly opioids.
Legalization catalyzes research, but cannabis isn't a panacea: Milloy
For Milloy, Canada becoming the first G7 country to legalize cannabis has really opened the door for research.
"In my research and the research of my colleagues, we have long argued that the prohibitionist approach to cannabis didn't work and had a lot of negative consequences attached to it," he said.
These changes have really catalyzed a whole bunch of research that really wasn't possible before.
Milloy said a benefit of legalization is going to be a whole wealth of new and better scientific knowledge around cannabis. He added he thinks cannabis and cannabinoids has the potential to help not only opioid addiction, but a variety of conditions such as pain, trauma, arthritis and multiple sclerosis.
But Milloy is cautiously optimistic and he said he doesn't think cannabis is a panacea.
"This doesn't mean that we're out here trying to prove cannabis works. No, that's not how I conceive my job," said Milloy.  "My job is to apply the best scientific methods to figure out what are the risks and benefits of cannabis so that we can maximize the benefits and minimize the harms of cannabis for as many people as possible in our community."
Cannabis is a tremendously diverse and complex area of research and we haven't even scratched the surface on all the different cannabinoids that there are past CBD and THC, Milloy said.
"I think that in 10 years from now we're going to be doing things and knowing things that were just inconceivable even now."
Clinical trials will take years, but offers hope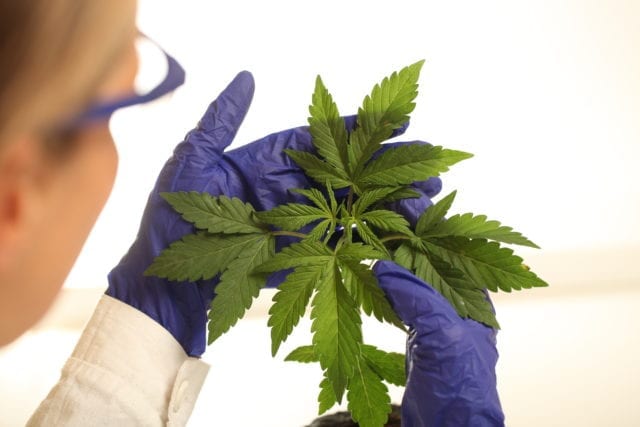 Milloy said he plans on conducting two or three pilot trials, which will help give his research team at BCCSU signals to allow them to do larger trials.  In the meantime, they will continue to publish results from the preliminary studies to collect more data.
He said the team hasn't recruited test subjects yet and it takes a long time to put together the trials because they have to be extremely careful of people's safety and well-being.
"Clinical trials take a hell of a lot of time with a hell of a lot of effort, especially when it involves administering psychoactive substances to people with mental health conditions," notes Milloy.
One of the key challenges is also figuring out what type of cannabis to give the people involved. Milloy said he has received additional funding from Health Canada to address these types of questions. Gel caps, concentrates and edibles are all on table, he added.
Milloy said he doesn't want to sound pessimistic, but he knows the clinical trials he is conducting are complex and will take patience.
"I don't think there's going to be a silver bullet, right? We're not going to come up with some magic strain of cannabis which solves all the problems," he said.
But the UBC scientist is hopeful in the next few years his studies, along with other emerging research, will sort out what the benefits of cannabis might be in terms of the opioid crisis.
"What I hope we will do, is we'll generate really useful evidence that hopefully allows people who want to use cannabis in fashions which protect their health and well-being."
Canada's first pot professor said his work is humbling as he gets approached all the time by people who have lost someone to the opioid epidemic or people who claim cannabis has saved their lives.
"So obviously there is a bit of a responsibility to try and do right by these people to try and ensure that their experiences are evidenced in my research. And so it's humbling, but it's a great privilege and something that I'm eager to tackle," Milloy said.