Nextleaf Solutions Ltd.'s (CSE: OILS) (OTCQB: OILFF) cannabis distillate sales are making a comeback, according to its latest earnings report.
On Tuesday, the B.C.-based cannabis extractor and processor released restated third-quarter results for the period ended June 30, after identifying "calculation and input errors which have been corrected in the amended and restated financial statements and management's discussion and analysis."
"[Nextleaf] notes that the restatement has minimal bearing on the historical and ongoing operating performance of the company," continues a statement.
In its third quarter, the company reports revenues of $0.6 million in bulk cannabis distillate sales, a 402.5-per-cent increase from $0.1 million in the previous quarter ended March 31.
Year-to-date sales have exceeded $2 million.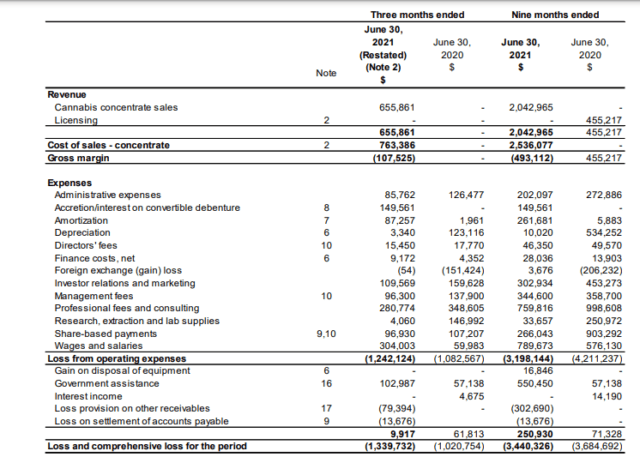 "Over the last six months, we've seen pricing in the bulk concentrate market start to normalize and remain more consistent. We see this as a leading indicator the market is starting to find equilibrium," CFO Charles Ackerman said in a statement.
"As our B2B revenue continues to trend up, we are excited at the prospect that we're really just getting started with our existing client base, of which represents multiple global cannabis companies with leading product SKUs in Canada and existing footholds in the United States."
When Q2 results were released in June, Ackerman noted a "focus on automation" in facilities would provide an opportunity to drive costs down.
Read more: Nextleaf Labs is getting high on its own supply, for research
Cost of sales climbed 32.6 per cent to $0.7 million from $0.5 million in Q2.
Loss from operating expenses came in at $1.2 million, an 18.2-per-cent increase from a $1 million loss, and comprehensive loss increased 12.7 per cent to $1.3 million from last quarter's $1.1 million.
Basic loss per share was $0.01 in Q3 and Q2.
Nextleaf says it's received seven initial SKU listings and a first purchase order from the British Columbia Liquor Distribution Branch for its Glacial Gold THC and CBD vape and ingestible oil products. Revenues from the initial order are expected in the coming quarter.
"With our provincial sales channel coming online in September, we look forward to further diversifying our revenue base, to help drive efficient production and move us toward consistent monthly profitability. With our facility that is heavily automated, with the additional utilization, and revenue potential from B2C sales it should help us reach that goal this year," Ackerman added.
The firm indicates it has working capital of $126,368 as of June 30, "which is considered sufficient to fund future operations and obligations as they come due, and to allow the Company to meet business objectives for at least the next twelve months."
Compared to $543,314 on March 31, it's a 76.7-per-cent drop.
On Tuesday, the company's stock dipped 2.56 per cent to $0.19 on the Canadian Securities Exchange.
Read more: Langara College partners with local producers for $3.7M cannabis research project
Follow Kathryn Tindale on Twitter
kathryn@mugglehead.com