Because cannabis is still classified as an illegal, Schedule 1 drug at the U.S. federal level, banking has been a major barrier for state-licensed marijuana businesses. Big national U.S. banks have turned away cannabis-related firms due to concerns that federal law enforcement could seize assets at any time without reimbursement. But in Connecticut smaller state-charted banks and credit unions have been quietly working with growers and retailers to give them a safer option in storing their millions of dollars.
Medical cannabis has been legal in Connecticut since 2012 and the state's nine dispensaries and four cannabis producers have all been able to link up with bankers since then.
Each producer has their own checking and/or savings account with their respective bank and works closely with them to ensure compliance on all rules and procedures.

As a result, the vast majority of transactions no longer involve cash. Every check, wire or cash payment is immediately deposited. Our seamless banking access is one aspect that has helped make the state's medical marijuana program one of the best, if not the best, in the nation.
Downsides to state banking
Pot companies working with smaller state-chartered banks solves problems that many U.S. marijuana firms face today with excessive cash handling and paying for expensive security services to help hoard the millions of dollars being made.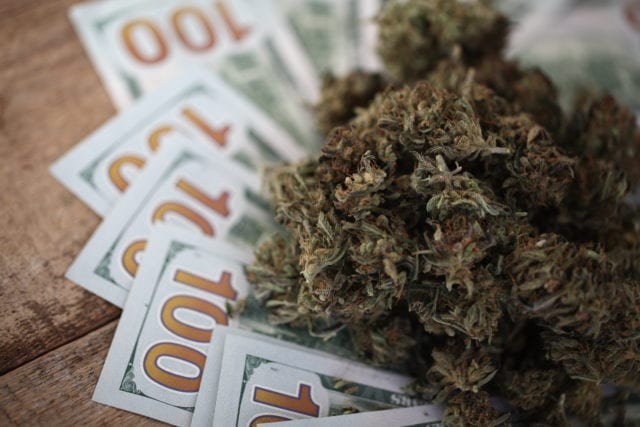 But there are limitations what state financial institutions can do. While the smaller banks can help store the money and help protect a company's most liquid assets, they can't provide financing or other features that companies normally benefit from in a banking relationship.
"It's annoying because we're not getting interest," Ben Zachs, chief operating officer of the Connecticut-based Fine Fettle Dispensary said. "We can't take out a loan. We have to deal in the private-debt market. Is it a perfect situation? Absolutely not."
"It's less-good for the economy, and the cash is not being invested. But we're lucky in Connecticut because we have banks willing to do it. I think that in some places on the West Coast, they're probably still keeping cash in their mattresses."
Judy Britt, vice president of the Credit Union League of Connecticut, said its paramount for public safety to help the cannabis industry store their cash in banks. She added the state's credit unions are helping pot companies stay compliant with federal banking laws, but it still may be years away until banks can issue loans.
I think our credit unions would love to help, but right now we're talking about simple transactions, Making loans is way out in the future. Right now we're just talking paychecks for employees, paying their taxes and taking money off the street.
Financing has become more important for the rapidly growing cannabis space, especially for companies looking to raise capital to expand into the increasing number of U.S. states passing marijuana legislation. The one way companies have been able to raise funds thus far has been through the equity markets in Canada, primarily through the Canadian Securities Exchange.
But in 2019 there has been a slew of proposed U.S. federal bills and measures to help support the nascent cannabis industry, which would could be a solution to open up banking options for pot companies. The most notable one, the Secure and Fair Enforcement (SAFE) Banking Act, a bipartisan bill that would protect banks that service state-legal markets is advancing towards a vote on the House floor.
More banks are accepting pot companies across the U.S.

According to data from the Financial Crimes Enforcement Network (FinCEN), at the end of March there were 493 banks and 140 credit unions that handled transactions relating to the cannabis industry.
FinCEN has previously released expectations for banks working with cannabis businesses, which left the door open for the individual institution to make the assessment of whether to provide services to a pot company:
In general, the decision to open, close, or refuse any particular account or relationship should be made by each financial institution based on a number of factors specific to that institution.

These factors may include its particular business objectives, an evaluation of the risks associated with offering a particular product or service, and its capacity to manage those risks effectively. Thorough customer due diligence is a critical aspect of making this assessment.
While there are some heightened requirements when working with the industry, there is definitely room for U.S. banks to be able to offer at least some services to cannabis companies. But given the risks involved, many of the big national banks have likely turned away from the industry out of an abundance of caution as there's still a lack of solid legal grounding that they can rely on—for now.