Marijuana sales in Nevada have been doing very well. Data from July until October shows the State collecting nearly $32 million in taxes from marijuana sales, which were well ahead of expectations. In just four months, nearly half of The State's expected tax revenue from marijuana for the year had already been collected.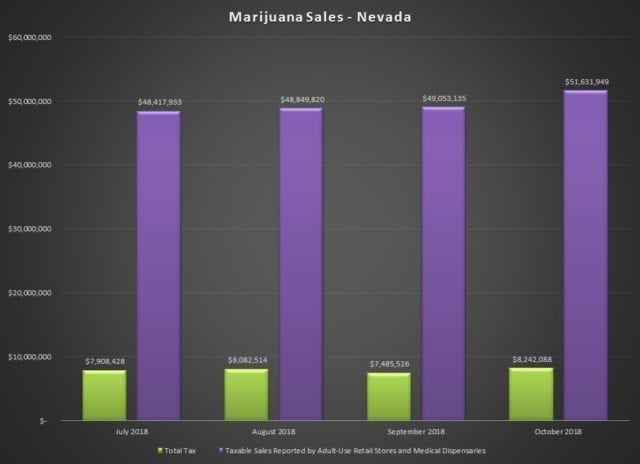 Source: State of Nevada Department of Taxation
It's a great pace that suggests despite marijuana legalization not being new to The State that there's still a lot of excitement when it comes to pot. What it could also mean is that it's become a bit of a tourist destination for people, not unlike what we've seen with Colorado receiving a lot more cannabis tourists looking for legal places to smoke up. And with Las Vegas already having so many attractions, marijuana is an easy way to tip the scales even further for people unsure of where to spend their next vacation.
It'll be interesting to see if the pace continues to grow as October had a noticeable spike up in sales from the prior three months. As cannabis legislation continues to make headlines in the U.S. and around the world, it will definitely be on the minds of more and more people. And without having to go to a local dispensary, it allows people to anonymously try pot while on vacation.
Could these numbers entice other States to follow suit?
Other U.S. States are likely looking to Nevada and other States that have legalized pot as case studies as to whether or not it makes sense to legalize marijuana. One of the factors that is going to grab their attention is undoubtedly taxable sales and the total tax collected. After all, cannabis-related tax revenue would be a whole new stream of income for governments. While there certainly would be costs associated with monitoring the new industry, the numbers above suggest that Nevada could bring in close to $100 million in tax revenue for the fiscal year.
While that might not be typical for every State, it's hard to ignore those numbers. It's also likely why many U.S. States have slowly inched towards legalization. Massachusetts recently opened its doors to cannabis sales, Michigan voted to legalize pot in November and it's on New York's radar as well. The number of States opting to legalize marijuana continues to grow and numbers like Nevada's are only going to continue to encourage that.
If it's illegal federally – does State legalization really matter?
While it's true that what individual States decides ultimately doesn't mean a thing when it comes to the federal government, it's a really good sample of what consumers want. After all, it's voters that are deciding these issues and if it's important to them at the State level, you can be sure that it's going to be an issue that's not going to be ignored at the next federal election in 2020.
Using the platform to win votes is something I'd expect many candidates to do, Democrats in particular. The more that we see numbers like this come in, the more likely it is that we'll see cannabis legalization continue to make progress in other States as well.