This article is over a year old. Some of the information in it may no longer be current.
After smoking some of Canada's new legal weed, Sebastien Vezina said there's no way he is going out of his way to try it again—at least for now—as he puffs on a joint he purchased in the country's still thriving black market.
"It's just too expensive, it's not worth 10 bucks a gram for substandard quality stuff," he said. "The potency of the stuff is so low it feels like you're smoking a cigarette—and it's really inconvenient."
More than six months after Canada became the first industrialized nation in the world to legalize recreational pot, the bold experiment has seen trouble finding its feet. Short supply, low quality, high prices, and long line ups at stores have plagued the legal market pushing almost 80 per cent of cannabis purchases to stay in the black market, according to data collected by Statistics Canada for the last quarter of 2018.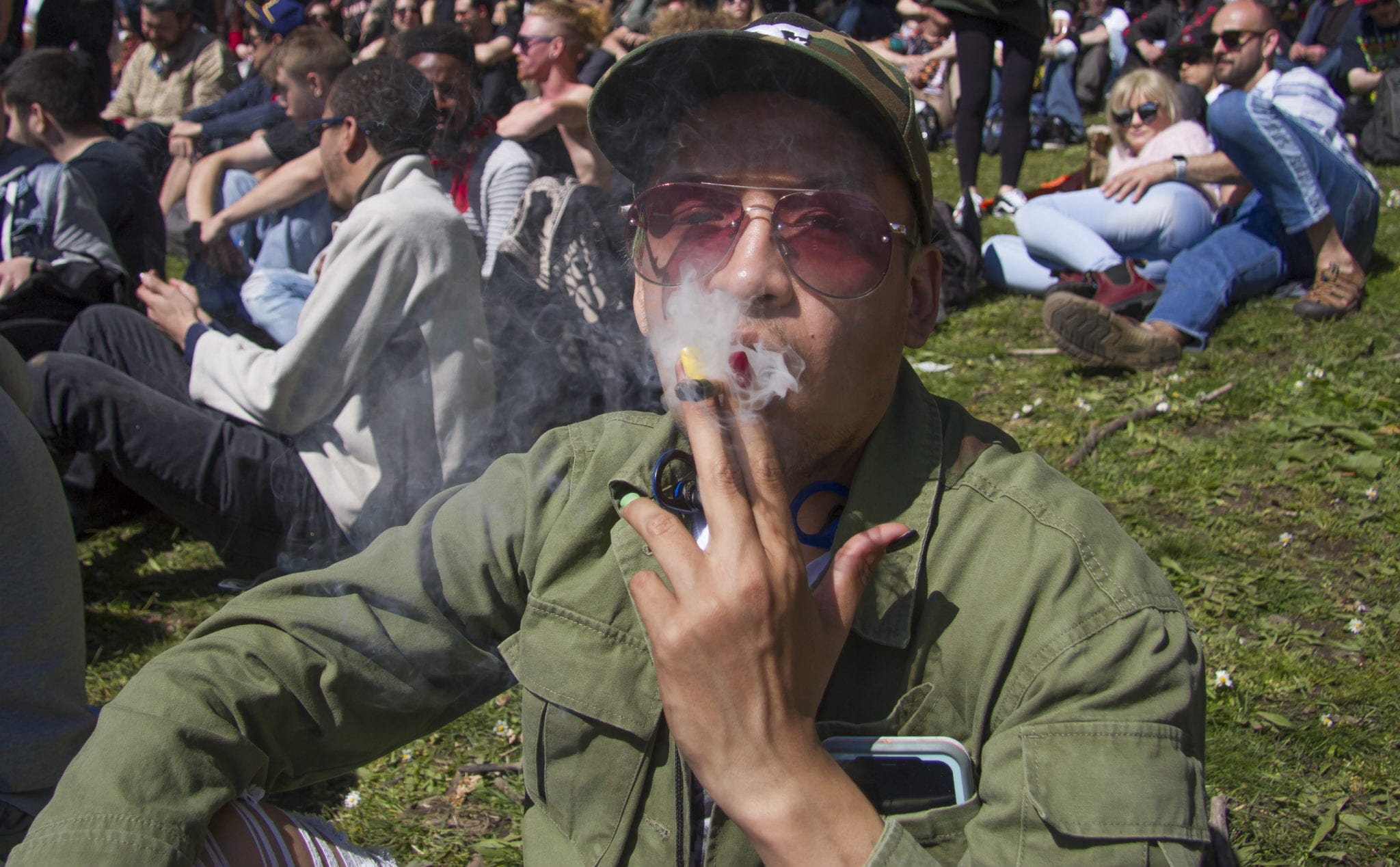 Vezina was among the 60,000 marijuana revellers filling the air with plumes of grey smoke on Vancouver's Sunset Beach at the annual 4/20 event on April 20. Along the city's famous seawall, endless rows of tents were set up where hundreds of vendors sold everything from weed-infused pizza, to THC concentrates, brownies, beverages and endless bags of the famous green flower—all illegal to sell under the Cannabis Act.
"There's definitely a trust issue," Vezina said. "If you look at the stands right over here, they have very good quality and better variety and price than what the government has to offer, even if it's labelled as the black market."
According to a voluntary survey by StatsCan, marijuana consumers buying legal pot are paying around 57 per cent higher than those in the black market. Legal weed is regulated through each province differently, but on average at regulated stores across Canada it costs $9.99 per gram compared to $6.40 in the black market.
Vezina sparked another joint passing it to his friend Gordon McPherson, who works at Grass Roots Medicinal, an illegal, or so-called grey market, dispensary in nearby Squamish, B.C. Both said the federal government is taking a bland approach to legalization and its sending them and thousands of consumers back to their neighbourhood dealers or local dispensaries.
Currently, edibles, extracts and topicals remain illegal, and while Health Canada is drafting regulations to have the products on store shelves by October, most consumers are wary of the strict rules proposed including restrictions on THC content, packaging and ingredients. Consumers like Vezina and McPherson say this will mean an inferior product compared to what the black market offers.
"Legalization isn't taking into account enough of a broad scope," said McPherson. "They're just growing cannabis as basic as they can and they are not encompassing all of its potential correctly because a lot of them are just legislators who don't have experience with it."
McPherson added the high-potency THC edibles that most dispensaries offer are often consumed by cancer patients and people with medicinal needs, and making them illegal is causing more harm than good.
Critics say the federal government's tight regulations has meant licensed producers (LPs) have to jump through too many legal hoops that not only causes a lack in creativity and diversity in products but also a bottleneck in the supply chain of finished dry, smokable cannabis getting to retailers and consumers.
"The actual factory part of the producers seems to be where the bottleneck is, they didn't have that well organized or well prepared," said Michael Armstrong, an associate professor at Brock University in business in Ontario who has been closely following legalization.
Armstrong said the Trudeau government took a corporate pharmaceutical approach to legal cannabis that meant the industry had "to start from scratch" and LPs would have to face strict regulations to apply, grow and sell cannabis. Whereas in the U.S., states like Oregon and Colorado have taken a free enterprise approach to legalization selling licenses to established growers and retailers with only minimal testing required.
"Basically, they said the existing retailers and producers could go legit but that's not what we did in Canada," he said, adding shortages were expected.
Health Canada said there is enough cultivation capacity to produce up to one million kilograms of pot per year, which is enough to meet the total demand across Canada. But it will take time to work out kinks in getting the ample supply turned into packaged products, shipped and sold in stores to consumers.
"Establishing a highly integrated, regulated market takes time," said Tammy Jarbeau, a spokeswoman for Health Canada. "In fact, the experience of U.S. states that have regulated cannabis has demonstrated that displacing the illegal market takes place over a few years rather than a few months."
There are signs that production is already ramping up. Health Canada said finished dried pot in provincial distributors and retailers' inventory went up by more than 19 per cent to 12,110 kilograms in February. The total stock of unfinished product held by licensed producers increased to 120,731 kilograms, up 4.1 per cent from January.
A recent report from the Bank of Nova Scotia suggests that by the end of 2019 the black market pot will represent 71 per cent of recreational pot sales, and should fall to 37 per cent by 2020.
Armstrong added the patchwork of brick-and-mortar private and public stores, along with retail websites that have popped up across the country, have been too slow to meet demand, which also drives up prices and keeps consumers in the illicit market.
In Ontario—the country's largest market for weed—the first 10 stores of the 25 total approved finally opened April 1. Before that, the province only sold from an online portal and only 12 per cent of sales for cannabis has been in the legal market so far, according to Armstrong.
"We didn't even have one legal store in Hamilton for a city of 500,000 people until the first one opened April 20," he said.
Armstrong expects LPs and retailers will adapt over time to Health Canada's regulations and further work out complications. One tricky adaptation, he said, is the fact that there needs to be 13 different sets of excise tax stamps for each province and territory, which complicates inventory.
Another obstacle for LPs to keep prices lower is the government's excise tax model. Armstrong said each province has their own complex tax method on cannabis, but in summary it works out to a $1 per gram minimum—making it harder to compete with the tax-free black market.
"That minimum of $1 is a big chunk and makes it difficult for the legal industry to compete on price," Armstrong said.
He recommends the government switch to a 10 per cent tax maximum, in order to make room for a cheaper "No Name" brand of weed to draw low income consumers into the legal market.
Armstrong said LPs are working hard at cutting costs and outdoor weed cultivation could be a key to further drive down costs and offer competing low-cost options.
Health Canada said it has taken in 172 site applications as of Jan. 31 from LPs to start growing outdoors and turn cannabis into the country's next big agricultural crop. To date, not a single LPs is licensed to grow outdoors, but it is believed 48North Cannabis Corp. has secured the first deal after it promised 1,200 kilograms to Quebec from its farm in Brant County, Ontario by the end of the year.
Most industry experts acknowledge the legal market in Canada is in its infancy and expect improvements are just a matter of time.
"The best we can do is just work with what we have," said Olivia Brown, owner of Professional Cannabis Consulting Inc in Hamilton. "I think that the LPs and the micro producers are doing an amazing job at jumping through hoops that Health Canada is setting—almost crazy and ridiculous hoops—and still coming out with a decent product. I think it's incredible."
Brown said she got flack from the cannabis community for her comments published on CBC News' website comparing legal weed to a $180 bottle of fine wine and black market pot to cheap moonshine.
She admitted the quality and potency of black market cannabis is higher than its legal rival, but wanted to emphasize people are paying a premium for employees, safety tests, chemical lab tests, along with packaging, shipping and brightly lit, secure stores.
Brown said her company is the fastest in the country at getting licenses through Health Canada for LPs, micro producers and retailers and she has seen a surge in interest, investment and marijuana craft growers enter the legal market.
"It's incredible what is happening because these super smart people that love cannabis that didn't know what to do with their love for cannabis and science, but now they have a platform. I'm not worried about the quality staying at the level it's at," she said adding Gage Cannabis is a micro producer to look out for.
Brown expects as more craft producers bring their knowledge and the quality increases so will the number of legal market buyers. StatsCan released new data May 2 reporting 47 per cent of cannabis users, or 2.5 million Canadians, bought weed from legal sources in the first quarter of 2019. This is more than double the number over the same period in 2018 with 23 per cent or 954,000 people buying from legal sources.
"I just feels good following the law and knowing you are getting something that you're not going to get in trouble for," Brown said.
For Brown, however, the legal market for the cannabis flower is just the tip of the iceberg. She said she is currently helping one entrepreneur promote a hockey stick made out of hemp to be used in the NHL and is really excited about the potential of hemp bio-diesel.
"We're talking about an industry that is going to touch on every kind of industry," Brown said. "We're talking about all materials that are made from plastic or wood, anything you can think of—it's unbelievable what can happen."
For now, however, the legal side is focusing on getting a larger slice of what's projected to be a $5.8 billion industry for recreational pot.
Bruce Linton, co-chief executive of Canopy Growth Corp.,told the Toronto Star with more stores opening across Canada the demand will follow. Linton said Canopy has been working out kinks to now process and package 1.3 million units in March compared to just 300,000 units in October.
But while the legal market matures and grows, opponents are still confident there will always be a black market due to the social resistance to the legal side.
"The majority of regular cannabis consumers know about the corporations and the government taking over this industry," said marijuana activist Jodie Emery. "So they don't want to support these large companies from an ethical standpoint."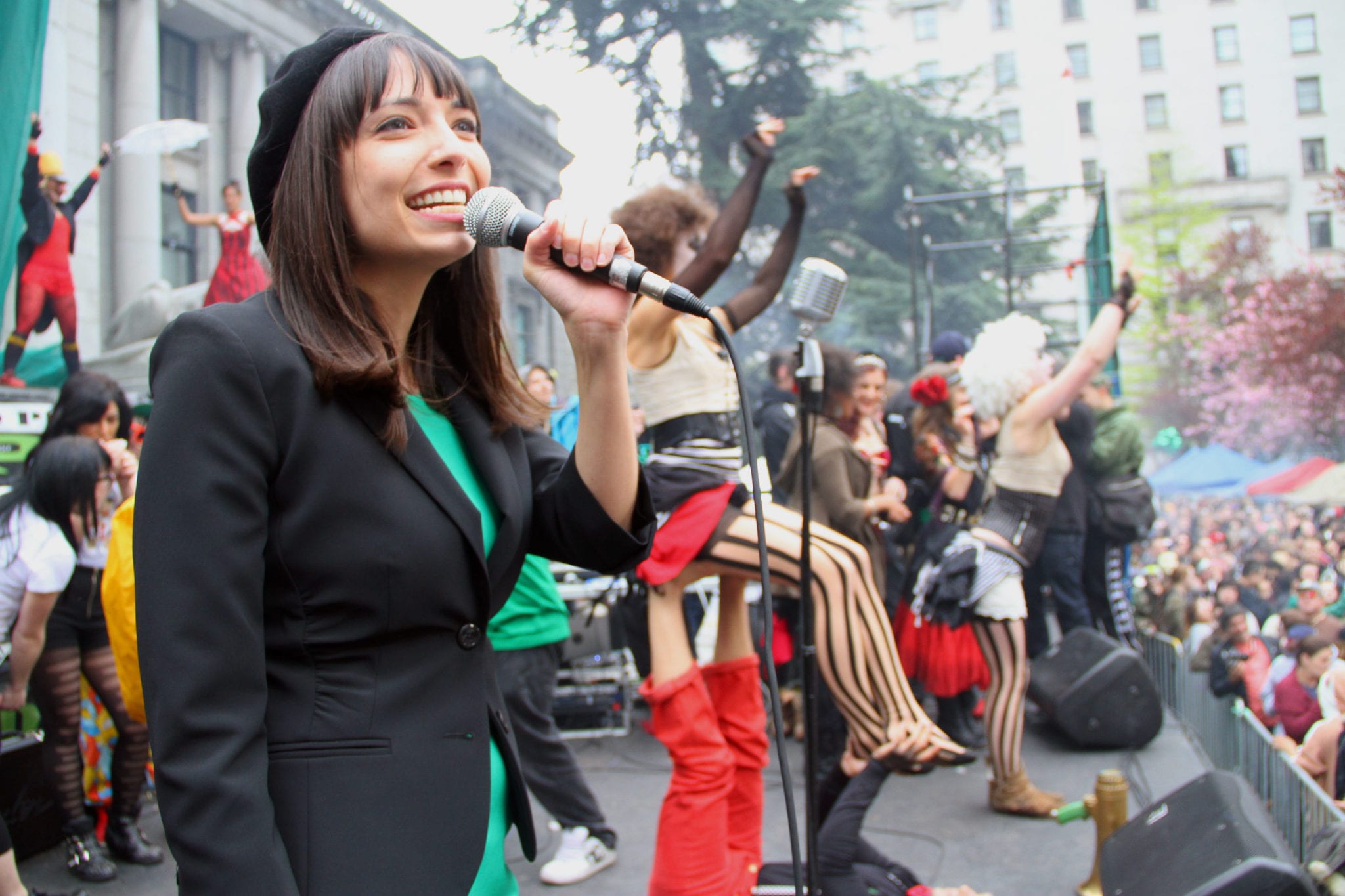 Emery was a key organizer for the 4/20 event in Vancouver, which received criticism from locals for being called a protest even after recreational pot has become legal while the celebration takes up policing budget costs.
But for long time pot advocates the Cannabis Act represents what Emery said is "prohibition 2.0," because buyers and sellers in the black market still face jail time and fines. She highlights the corporate model drawn up by the Trudeau government creates an unfair playing field for small-time, craft growers to enter the market and the legal industry is riddled with conflicts of interest with more than 50 entering who were former politicians or high-ranking police.
"The Liberal Party's chief financial officer Chuck Rifici created a company called Tweed and he and the Liberal Party worked on making regulations that would restrict and limit access and give the opportunities to them and their cronies," she said.
Emery helped create the national Cannabis Amnesty campaign, which is being promoted by actor Seth Rogen and the federal NDP party because the advocates are not satisfied with the Liberal government's promise to pardon 500,000 Canadians with minor cannabis charges and are seeking to fully have the records expunged.
And even if pot consumers are unaware of the social issues surrounding legalization, Emery said, the government's restrictive regulations are stymieing the generational knowledge from the black market, craft growers and consumers will continue to take the risk to buy a superior product at a cheaper price.
"It's like comparing an artisan made leather purse from a generational craftsman in Italy to a fake leather, plastic purse from a factory line in China—there's no comparison," she said.
However, despite the frosty reception from long-time pot enthusiasts, legal industry insiders like Brown say in the years to come more consumers will come into the fold including the many revelers at Vancouver's pot rally.
"Weed becoming legal is so much in its infancy it's hard to know which path it's going to take," said McPherson. "It's so rocky now with 80 per cent still being bought and sold in the black market so the government needs to figure some things out."