When choosing the name for her cannabis retail store, entrepreneur Christina Michael immediately thought of marigolds. 
Marigolds are the official flower of October, she says, which pays homage to when Canada legalized cannabis. They also work as natural pest deterrents when planted next to cannabis crops, and their flowers are rich in symbolism. They represent love, passion and abundance — to name a few — and are used in celebrations around the world, from Indian weddings to Mexico's Day of the Dead. 
Marigolds Cannabis opened its doors in Vancouver, British Columbia, Thursday to slightly smoky skies and a slow trickle of curious customers throughout the day. 
Read more: Vancouver pot shops pay Canada's highest licensing fees. They don't have a straight answer why
The Covid-19 pandemic means the store's grand opening is quieter than it would have been had they opened last year, but Michael is still bouncing on her toes with excitement as she laps the store, greeting customers and fidgeting with the displays. 
It's a business plan that's been six years in the making, she says. After spending her youth in Ontario's Niagara region, Michael has spent the past several years as a Vancouverite working and consulting in Canada's and California's cannabis industries. But she was only really introduced to the medical potential of the plant when her friend was diagnosed with breast cancer. 
Michael says full-spectrum cannabis oil helped her friend with sleep, anxiety, depression, nausea and laughter through the final year of her life. 
"Because you need to laugh too — that's important," she says. 
The store is part of a promise she made to her friend to help teach people about cannabis and how it can benefit them.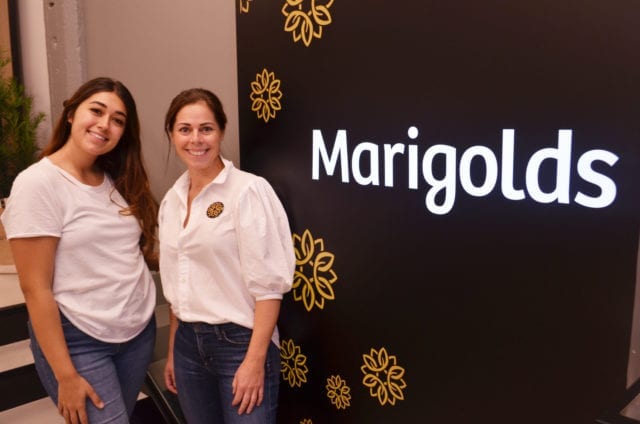 And while Gastown is quiet right now, the historic and touristy neighbourhood is sure to be bustling again soon, she says. The cruise ship port and nearby train station bring in hundreds of thousands of tourists in a normal year and they're sure to be curious about legal weed. Plus, with Vancouver's ban on cannabis retail stores in the neighbouring Downtown Eastside, Marigolds is the only business around, she says. 
Michael is fully aware she's opening a retail store under the looming threat of a second lockdown, but she's staying optimistic. 
The B.C. provincial government deemed cannabis an essential service and introduced curbside click-and-collect during the first lockdown. And Michael's heard rumours that it might allow cannabis delivery in the event of a second lockdown.
Once lockdowns are a thing of the past and tourists flow back into Gastown, she hopes to raise awareness of BC bud and some of the awesome brands grown in the province. The front half of Marigolds clusters Canada's big tuna together. Aurora Cannabis Inc. (TSX and NYSE: ACB), Canopy Growth Corp. (TSX: WEED) and Sundial Growers Inc. (Nasdaq: SNDL) each have their own display, with the back of the store organized by product type and staff favourites. 
Maybe one day there'll be more craft cannabis products to display as regulations evolve and more growers transition their lifetime of skills from the legacy market to the regulated industry, she says. 
The province could help that transition by speeding up its retail approval process, she notes. The application for the Gastown store took 16 months to approve even though it didn't need corrections, she says. Every day legal stores are delayed is another day customers buy from the illicit market, according to Michael.
Read more: 'It's still too slow': Ontario doubles monthly weed retail approvals to 40
Marigolds Cannabis's second Vancouver location is set to open on Davie Street in the spring of 2021. 
Top image of Christina Michael (right) and Marigolds Cannabis manager. Photo by Michelle Gamage
michelle@mugglehead.com
@missmishelle