Fire & Flower Holdings Corp. (TSX: FAF) (OTCQX: FFLWF) says it lost money this quarter because of issuing new licences and pricing pressures in the cannabis retail market.
On Tuesday, the leading Canadian retailer announced its financial statements for the first quarter fiscal 2022 ended April 30 and reported total revenue of $40.9 million, which is a 7-per -cent decrease from $44.1 million in the previous year.
Cash and cash equivalents finished the quarter with a balance of $28.4 million. Consolidated adjusted EBITDA was negative $2.3 million for the quarter. Free cash flow improved by 24 per cent from the previous quarter.
Hifyre cannabis consumer technology platform revenue of $2.9 million, a 3 per cent increase year-over-year.
Gross profit of $12.2 million for Q1 fiscal 2022, representing a decrease of 26 per cent from $16.5 million in the prior year. Adjusted EBITDA decreased to $1.7 million in Q1 fiscal 2022 from $2.5 million year-over-year.
The company had 101 stores in operation by the end of this year compared from 79 in the last fiscal year. However, retail revenue decreased by 12 per cent to $29.6 million from $33.6 million in the prior year.
Company stock went up by 7.22 per cent Wednesday to $2.97 on the Toronto Securities Exchange.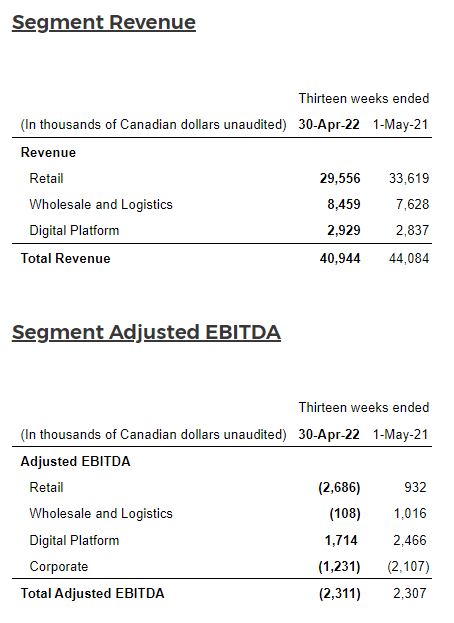 Read more: Fire & Flower CEO Trevor Fencott resigns, replaced by Stéphane Trudel
Read more: Fire & Flower to offer free delivery within the hour
The recently appointed CEO of Fire & Flower Stéphane Trudel said the company has delivered impressive growth in the early stages of its business and now it's moving forward to focus on the next phase of its evolution.
The company aims to deliver positive adjusted earnings before interest, taxes, depreciation and free cash flow.
"These goals will be achieved through a focus on operational excellence in all our business segments, continual growth in our Hifyre cannabis consumer technology platform, and expansion of our Pineapple Express Delivery service, now integrated into our Wholesale and Logistics segment,"  Trudel said.
The company says its deep retail expertise and its close partnership with Alimentation Couche-Tard, combined with its industry-leading cannabis consumer technology platform and competitive pricing strategy, are key drivers of value for the company.
"Competitive pressures, licence expansion outpacing market growth, and a growing value-oriented customer base have created challenging market conditions for the industry as a whole.  With these market conditions, we look to optimize our retail network and have already seen favourable indications on our expanded Spark Perks Member Pricing program," Trudel said.
He explained that as the market continues to grow, novel offerings such as the Firebird Rapid Delivery service, which brings cannabis products to consumers' doors within hours, will become important service differentiators for our customers.
"We remain focused on improving near-term financial performance and remain steadfastly focused on our ultimate goal of financial sustainability through driving towards positive free cash flow."
In May, the company announced the launch of Firebird Delivery which includes a rush delivery service in Ontario and launched the Spark Perks Member Pricing program on the best selling cannabis products.
Fire & Flower also announced an exclusive agreement with Zonetail Inc. (TSXV: ZONE) to offer cannabis delivery to residential high-rise buildings and hotels. It also expanded its Pineapple Express Delivery to offer same-day delivery to Entourage Health Corp. patients (TSXV: ETNG).