Canada and the United States have joined forces to strengthen the supply chains of critical minerals and advance sustainable energy and transportation infrastructure.
In a recent joint announcement, the two countries said they aim to create and develop a critical minerals strategy to diversify supply chains essential to clean energy, electric vehicles and other sustainable technologies.
The US government is offering money to Canadian and American companies to support the processing of critical minerals for electric vehicles and other sustainable technologies. The U.S. has committed USD$250 million of Defense Production Act Title III funding to support U.S. and Canadian companies in mining and processing critical minerals for electric vehicles and stationary storage batteries.
Canada is also making significant investments to support critical mineral production. Additionally, the Canadian Critical Minerals Infrastructure Fund is providing CAD$1.5 billion to support clean energy and transportation infrastructure projects. Meanwhile, the Strategic Innovation Fund will support advanced manufacturing, processing and recycling with an additional CAD$1.5 billion.
The CHIPS and Science Act, recently passed by both nations, will facilitate investment to promote secure semiconductor supply chains. Additionally, the two countries agreed to establish a cross-border packaging corridor.
In this serious time, we're doubling down on our partnership and our friendship with the United States – and we'll keep working with @POTUS Biden to build a better future for Canadians and Americans. More on the results we're delivering together: https://t.co/AovUML3Oib pic.twitter.com/94Ihn4BDYo

— Justin Trudeau (@JustinTrudeau) March 25, 2023
Read more: New Tesla motor could disrupt rare earths sector
Read more: Defense Metals new hydrometallurgical plant aims for rare earth metal production at scale
United States and Canada trying to reduce critical mineral reliance on China
The US is providing USD$50 million in Defense Production Act funding for U.S. and Canadian companies to advance packaging for semiconductors and printed circuit boards. Canada will also provide up to CAD$250 million for semiconductor projects from the strategic innovation fund in the near term.
The two countries are also establishing an advanced technology data and security dialogue and deepening their collaboration on shared priorities in quantum information science and technology.
The demand for critical minerals could increase by 400 to 600 per cent by 2040 depending on how fast governments reduce carbon emissions contributing to climate change, according to the International Energy Agency.
Electric vehicles drive the majority of the demand.  These require six times more mineral inputs than a conventional vehicle.
Beyond EV, though, onshore wind facilities also require nine times more mineral resources than a gas-fired plant. However, issues regarding production have arisen. One issue is the average 16.5-year gap between mineral resource discovery and production, according to the IEA report.
Congo and China accounted for 70 per cent and 60 per cent of global production for global critical mineral and rare earth elements, respectively, in 2019. China's global refining stake is around 35 per cent for nickel, 50-70 per cent for lithium and cobalt, and nearly 90 per cent for rare earth elements, according to the IEA.
Concerns stem from China's dominant position over rare-earth elements and its decision to place restrictions on rare-earth exports. Additionally, the rise in demand is caused by the emergence of new clean-energy and defense-related technologies.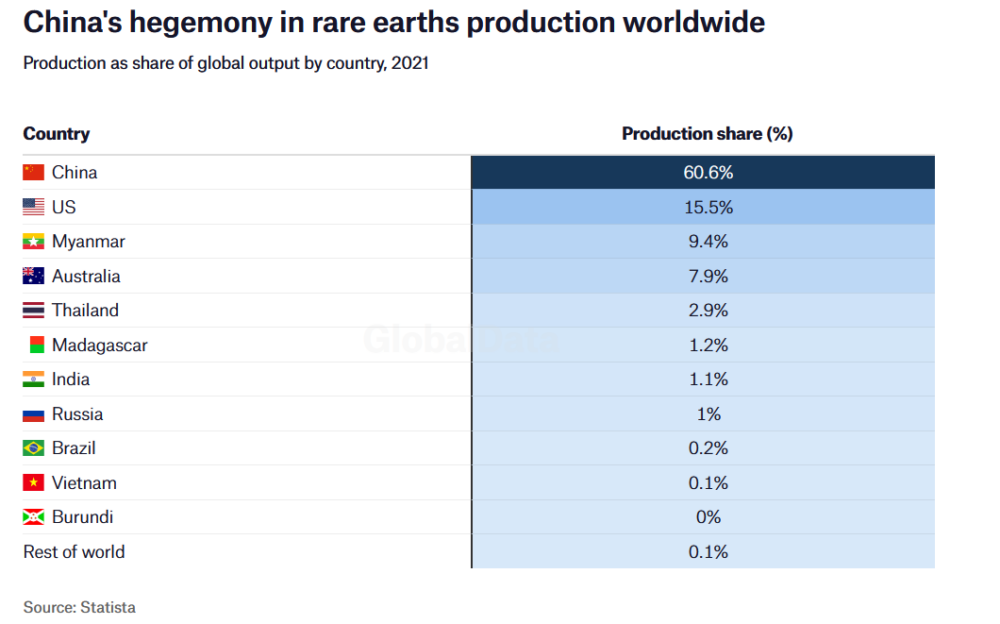 Read more: Minister of Natural Resources announces over $344M investment in critical minerals development
Read more: Canada unveils $3.8B 'Critical Minerals Strategy' for sustainability
Canada represents a significant alternative
Canada is the only Western nation with an abundance of cobalt, graphite, lithium and nickel. These are required for electric vehicles and their batteries. It's also the world's second-largest producer of niobium, which is important to the aerospace industry.
Additionally, it's the fourth largest producer of indium, a key input in semiconductors, according to the Canadian government's Critical Minerals Strategy.
According to U.S. Geological Survey, REEs are essential components in a range of high-tech devices. These include smartphones, computer hard disks, digital cameras, LED and fluorescent lights, flat-screen televisions, electronic displays, and computer monitors. They also play a vital role in the development and growth of modern technology, enabling these devices to perform complex functions and deliver better performance to users. In particular, some REEs are used in large quantities in clean energy and defence technologies, which further highlights their critical importance in the world's technological advancements.
Follow Joseph Morton on Twitter
joseph@mugglehead.com