It was five years ago, back in 2014, that Colorado became the first U.S. State to start selling recreational marijuana. Let's take a quick look to see how the new industry has done in Colorado: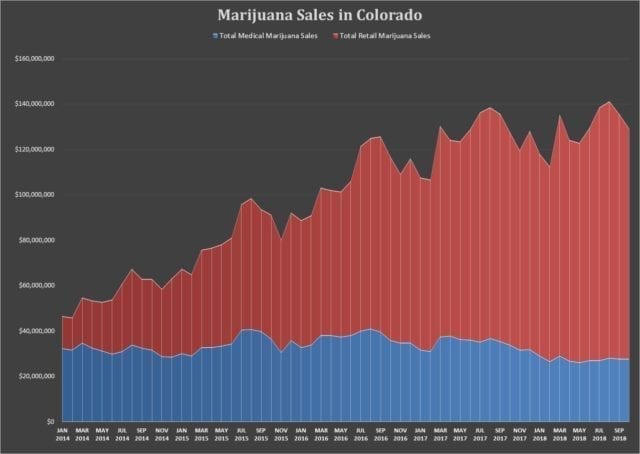 | | | | | |
| --- | --- | --- | --- | --- |
| Year | Medical | Recreational | Total | % Medical |
| 2014 | $380,284,040 | $303,239,699 | $683,523,739 | 56% |
| 2015 | $418,054,912 | $577,536,343 | $995,591,255 | 42% |
| 2016 | $445,616,062 | $861,587,411 | $1,307,203,473 | 34% |
| 2017 | $416,516,782 | $1,091,185,437 | $1,507,702,219 | 28% |
| 2018 (to Oct) | $276,863,930 | $1,010,142,806 | $1,287,006,736 | 22% |
Source: https://www.colorado.gov/pacific/revenue/colorado-marijuana-sales-reports
What's telling right off the bat is the incredible growth that the State has achieved in such little time. From $683k sales in 2014, revenues grew to $1.5 million in 2017, for an increase of more than 120%. However, it hasn't been linear, as the biggest jump that the State got was in 2015 when sales increased by 46%. Then it started to slow down with sales growing by 31% the year after that, and just 15% in 2017. Although the data has not yet been updated to reflect 2018's sales, it looks like it'll show even less growth.
There are a few key observations that stand out to me from this data.
The declining growth rate
What's not surprising is that in the first year post-legalization, Colorado saw the biggest year-over-year increase in sales. Whether this was hype or simply pot tourists buying up cannabis is difficult to determine, but it's more than likely a combination of both factors. Colorado was the first State to go legal and likely attracted a lot of interest from other States and countries around the world.
With more and more States now legalizing marijuana (Michigan being the 10th to do so), there are more options for cannabis users to consume pot. And so naturally, sales would have started to slow down in Colorado. However, 2018's numbers suggest that perhaps revenues are approaching a ceiling at under $2 million.
The shift in sales from medical to recreational
In 2014, more than half of marijuana sales came from the medicinal market. Over the years, however, that percentage has shrunk significantly and in 2018, medicinal marijuana represented a little more than one-fifth of total industry sales.
One reason for that is edibles have taken off in popularity and there's just not the same excitement in the medicinal segment as there is in the recreational market. A big stumbling block is that there is a lack of evidence to suggest medical marijuana is an effective treatment option for patients. Often times it is seen as a last resort for only the most desperate of patients. And without anything more than anecdotes to go on, it's hard to convince patients and doctors that medicinal marijuana is worth trying.
Medical marijuana sales were down in 2017 and could drop again in 2018. Without more research done to prove the effectiveness of pot in treating patients, this trend could continue.
There is some noticeable seasonality
Over the past five years, marijuana sales have typically peaked during the summer months of July to September. Like other adult substances, marijuana is often consumed in social settings and so it might not come as much surprise that it's during the summer when sales are typically at their highest. It'll be interesting to note whether this seasonality is reflected in earnings reports, particularly as the big Canadian cannabis companies report their earnings later this year, with recreational sales finally factoring into those results.