DeepMarkit (TSXV: MKT) (OTC: MKTDF) subsidiary First Carbon (FCC) has engaged Quantstamp through a statement of work to enhance codebase security and provide security assessment services related to FCC's MintCarbon.io platform.
Quantstamp will provide the resources required to perform a security sweep of the platform's codebase over the next three months. If they discover anything, Quantstamp will inform the company of their findings and provide options for DeepMarkit and FCC to consider when rewriting the code.
"We are excited to announce our engagement of Quantstamp to review and ultimately enhance the MintCarbon.io platform's codebase security. It's a wise investment in our technology and in our competitive strategy to ensure that our products and ideas are well designed and protected. We continue to develop the MintCarbon.io platform and are also considering other new innovations to enhance the global carbon offset credit and renewable energy certificate markets," said Ranjeet Sundher, chief executive officer of DeepMarkit.
DeepMarkit provides access to the carbon offset market by minting credits into non-fungible tokens. FCC is a software infrastructure company involved in the tokenization blockchain vertical. FCC's primary asset is called MintCarbon.io, and it's a web-based software-as-a-service platform that actually does the minting of carbon credits into NFT's (using the ERC-1155 standard) or other tokens (like ERC-20). At present, MintCarbon.io is undergoing testing and FCC expects to launch the platform sometime in the near future.
The curious bit about this is that there's some serious money to be made in carbon offsets. Millions of credits for greenhouse-gas emissions are now connected to cryptocurrencies, having attracted companies like DeepMarkit and others in the DeFi space, as well as big name investors like Mark Cuban.
In theory it could bring more transparency to carbon credits as every transaction on a blockchain is perfectly visible and traceable, and companies buy them to compensate for their own emissions, even if they're only traded on regulated markets, at least for now.
But contrary to what you might have heard from unnecessarily utopian enthusiasts, DeFi isn't hacker proof. Quite the opposite, in fact. As of 2022, crypto assets worth approximately USD$120 billion are locked in DeFi applications and that makes it a fairly big target for folks who are savvy enough to hack their way into such applications. What DeFi does is remove middlemen from traditional financial services, but sometimes those middlemen are required for security purposes. In 2021, a total of $1.3 billion was lost to DeFi scams.
Quantstamp has made it their business to secure the decentralized internet. So far it's track record includes protecting $200 billion in digital asset risk from hackers. Startups, foundations and other enterprises regularly bring Quantstamp on to protect their work, and they include Layer 1 blockchains, securing smart contract powered non-fungible tokens and decentralized finance (DeFi) applications and platforms, as well as developing financial primitives for layer 1 blockchain ecosystems.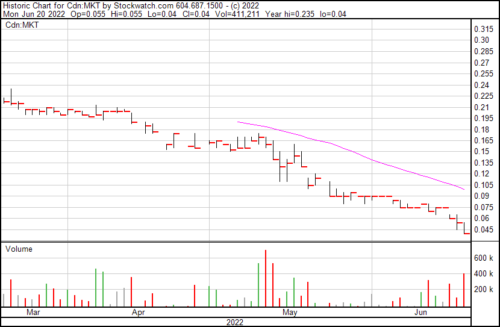 Deepmarkit is down a penny today and closed at $0.04.