On Oct. 25, 2016, Earl Oliver wrote a cheque to Vodis Pharmaceuticals Inc. for $199,940, following a conversation at a Gastown café where he was told by Arni Johannson that the company's facility in Delta, British Columbia was "mothballed pending a Health Canada inspection."
Also present at the meeting was current CEO Mark Lotz, co-founder Derek Good and former CEO Ivan Miliovski, the latter who — unbeknownst to Oliver — was actively using the facility as a multi-licence MMAR grow.
It was late February, 2018, when Oliver says he was at the facility working on a re-application for an ACMPR licence, that he learned how badly he'd been lied to. But as Johannson had no legal ties to the firm, Oliver had no legal recourse.
It was this deception around the facility that Oliver says poisoned his relationship with the company. It's also tied to pains felt by long-term investors and staff, who endured a six-year saga to secure a commercial cannabis licence after the firm's inception in 2014.
Oliver's resignation accepted
As Earl Oliver tweeted last Friday that he holds no bitterness toward his former company Gnomestar Craft Inc. (CSE: GNOM), his exit follows an ongoing rift surrounding his role at the business and compensation for his work there.
While many in the cannabis industry became aware of the struggling company via Oliver's social media presence, Gnomestar CEO and CFO Mark Lotz says Oliver cared about his personal brand over Gnomestar, exaggerated his cannabis qualifications and overestimated his contributions to the business.
Online conversations between company investors reveal a clear divide among shareholders, with some crediting him for saving the company, and others criticizing him for hogging the spotlight from master grower Mike Picken.
Read more: The best and worst of Canadian legal cannabis in 2020
Oliver — who to anyone on Canada's vibrant cannabis Twitter had become inseparable with the Delta, B.C.-based producer — said he was resigning last week, after requesting repayment of an $18,000 loan made in 2018. The request was made to Lotz in February. Oliver said the loan would have to be repaid or he would resign.
Oliver says he was paid a $5,501.61 instalment after the company got enough funds to easily repay the loan, via a receipt from medical seller Shelter Market.
In a statement Thursday, Gnomestar said it accepted his resignation.
The news was met with an outpouring of support for Oliver on Twitter, with industry influencers praising him for his unparalleled transparency, commenting that Gnomestar wouldn't be where it is without him and blasting the apparent shady corporate decision-making.
As a result, several said they would drop their support for the rising small-batch producer. However, Oliver urged them not to, saying it would hurt grower Picken, whom Oliver said he'll miss working with and who will continue to cultivate high-quality weed.
I don't have any bitterness or anger towards the company. They freed me to move on to bigger and better things. Boycotts unfairly punish Mike, which is the last thing I want to see. He grows 🔥 and still needs to support his family.

— Dr. Earl Oliver (@eaoliver) March 26, 2021
How much of Gnomestar's licence is thanks to Oliver?
In contrast to the reaction on social media, comments from CEO Lotz indicate he wasn't sad to see Oliver go.
"First of all, let there be no doubt the company is appreciative of the efforts that Earl brought to bear on this stock," Lotz began a phone interview, explaining that after Oliver made an initial investment, he went on to take an active role with the company for compensation.
"In a team effort to get the licence with Health Canada, the licence that we achieved is not attributable to him," Lotz told Mugglehead in an initial interview.
After investing over $300,000 in the firm, which was called Vodis Pharmaceuticals at the time, Oliver moved to B.C. from Ontario and was appointed in 2017 to direct the application process for licensing with Health Canada.
The company filed its confirmation and readiness package in November 2018, but by March 2019 there was still no licence. At that time, former CEO Ivan Miliovski resigned and Oliver was slated to takeover as CEO, according to a statement. CFO Lotz would act as interim CEO, as Vodis sought guidance if adding another executive would delay its application.
It was also becoming clear around then that the firm's cannabis investments in Washington, the initial focus of the business, were going down the drain.
After years of accumulating debt, in February, 2020, staff and bagholders were excited to learn that Vodis was issued standard processing and cultivation licences.
But Lotz claimed it was him, not Oliver, that secured the credentials.
"I actually forced the issue with Health Canada, and had to give several undertakings in order to achieve the licence," Lotz says.
Saying the licence isn't attributable to him is a lie, Oliver responds.
"All of the licensing work, every single response to Health Canada, every single one was was prepared by me," Oliver says. "Every single line of response was prepared by me, sent by me and I was responsible for it."
Oliver shared a series of emails with Mugglehead that show him taking the lead on the licensing process. Several show him submitting documentation to Health Canada on behalf of Mark Lotz, who was deemed the responsible person in charge at the time.
He also sent emails to local politicians, pleading for support. One was to Carla Qualtrough, member of parliament for Delta, B.C. According to Oliver, her office sent a parliamentary information request on his behalf and two weeks later the company got a massive request for more information from Health Canada.
Oliver says he has no evidence Qualtrough's request escalated the issue, but the timing suggested it did.
In a follow-up email, Lotz says there may have been a misunderstanding about the emphasis of his first comments.
"The point is that Earl was a component, and the attainment of the licence was not as he would have one believe — attributable to his efforts alone," he says. "He was hired to complete the presentation of the work done earlier by others in different forms and assist in identifying deficiencies."
During an inspection in September, 2020, Oliver says his months of efforts with Health Canada were validated when he was deemed the responsible person in charge by agents on the second day. Before that, he had been submitting documents on behalf of Lotz, who Oliver says was only on site five times that year.
Social media: building the brand or the man?
Regardless of how it was secured, as soon as Vodis got licensed, Oliver immediately started generating hype on Twitter.
As a well-connected figure with an established following, he began offering an ongoing, inside look into what appeared to be some seriously good grows — access that's rare for a licensed producer and rarer for a publicly traded company.
While others are cracking seeds, we're bootstrapping our licensed operation with tried and tested winners. Time to revenue is critical to the successs of a small craft cannabis company.

These moms are incredibly happy and healthy. @VodisCanada $VP pic.twitter.com/enwpliBzio

— Dr. Earl Oliver (@eaoliver) February 29, 2020
As products rolled out, Oliver constantly engaged with consumers and other industry personalities posting about Gnomestar.
But according to Lotz, Oliver cared more about building his personal brand than the company's.
"There came a point where Mr. Oliver decided that his own brand was superior to the Gnomestar brand," he said. "The efforts of his activity on Twitter and social media was geared towards aggrandizing himself."
"Unfortunately, he's quite narcissistic, and I'll use that word to an extreme," Lotz continues. "He has a lens and a filter that entitles him to see things his way. He wasn't alone in these efforts. There's no 'I' in team. He represented to the social media following that he was largely responsible for the efforts."
It would have been bankrupt in 2019. Not on person involved with the company had the work ethic, skill, or duty to shareholders to get the company a licence or do the work necessary to get the facility ready. They all made sure to extract fat salaries though while I did the work. pic.twitter.com/T3viNl7GNE

— Dr. Earl Oliver (@eaoliver) October 15, 2020
Oliver rejects the claim of narcissism.
"[Before the launch of Gnomestar] yeah, I had gone out there and got to know people as myself," he explains. "He says it's narcissistic because he's a bean counter. I just consider it normal."
Oliver notes several heads of Canadian weed firms with strong Twitter presences: John Fowler of Supreme Cannabis, Kieley Beaudry of Parkland Flower, Norton Singhavon of GTEC, Dan Sutton of Tantalus Labs. Are they all narcissistic? he asks.
He adds that a lot of these people have become public faces of their businesses because the Cannabis Act heavily restricts marketing.
Read more: Listen to consumers and budtenders, not shareholders, says GTEC CEO
Chats on investor forum website ceo.ca show some shareholders appreciating the value that Oliver brought to the company, mentioning promotion as well as the deal to sell Gnomestar products with medical vendor Shelter Market — an arrangement Oliver says was given to him personally.
Voices on Oliver's side credit him with saving the firm, and call for him to be paid accordingly.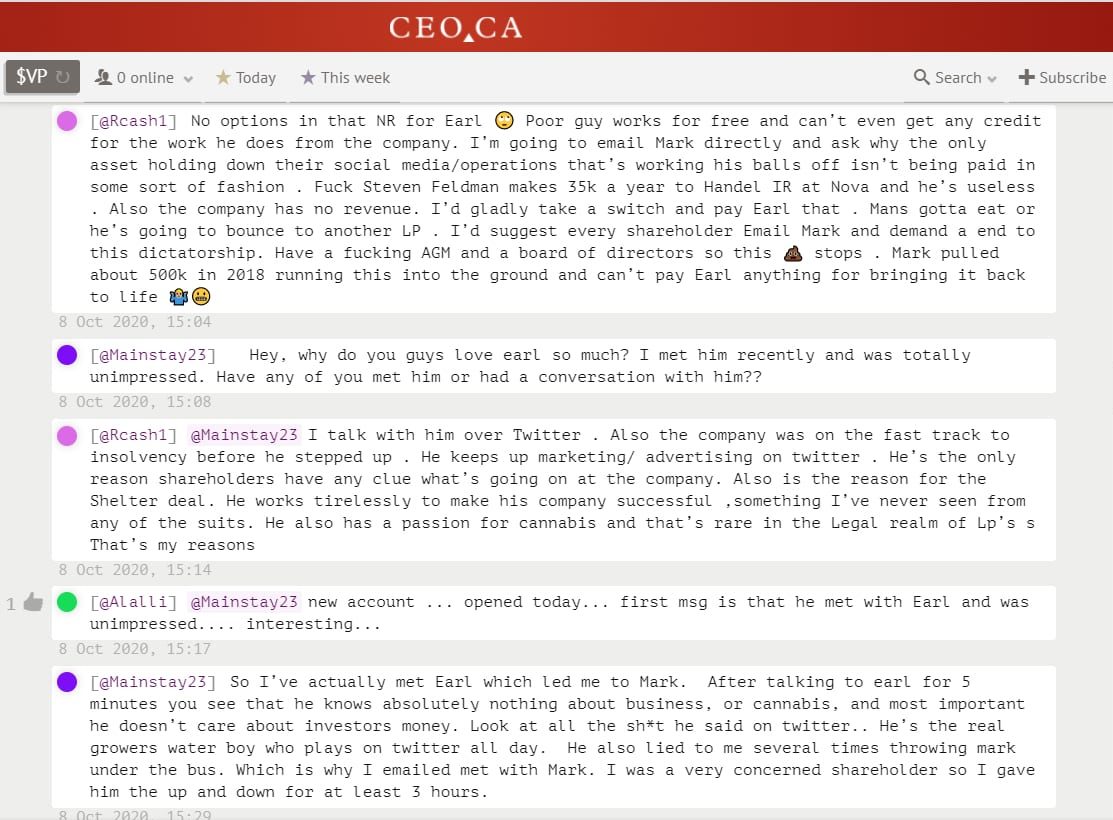 Other shareholders disparage Oliver's tweeting habits, say he has no knowledge of cannabis and criticize him for stealing thunder from Gnomestar's master grower, who they say is the real hero of the brand.
"The reason there's never been any photos of Mike anywhere is because Mike wants to be private," Oliver says. "He doesn't want his name out there."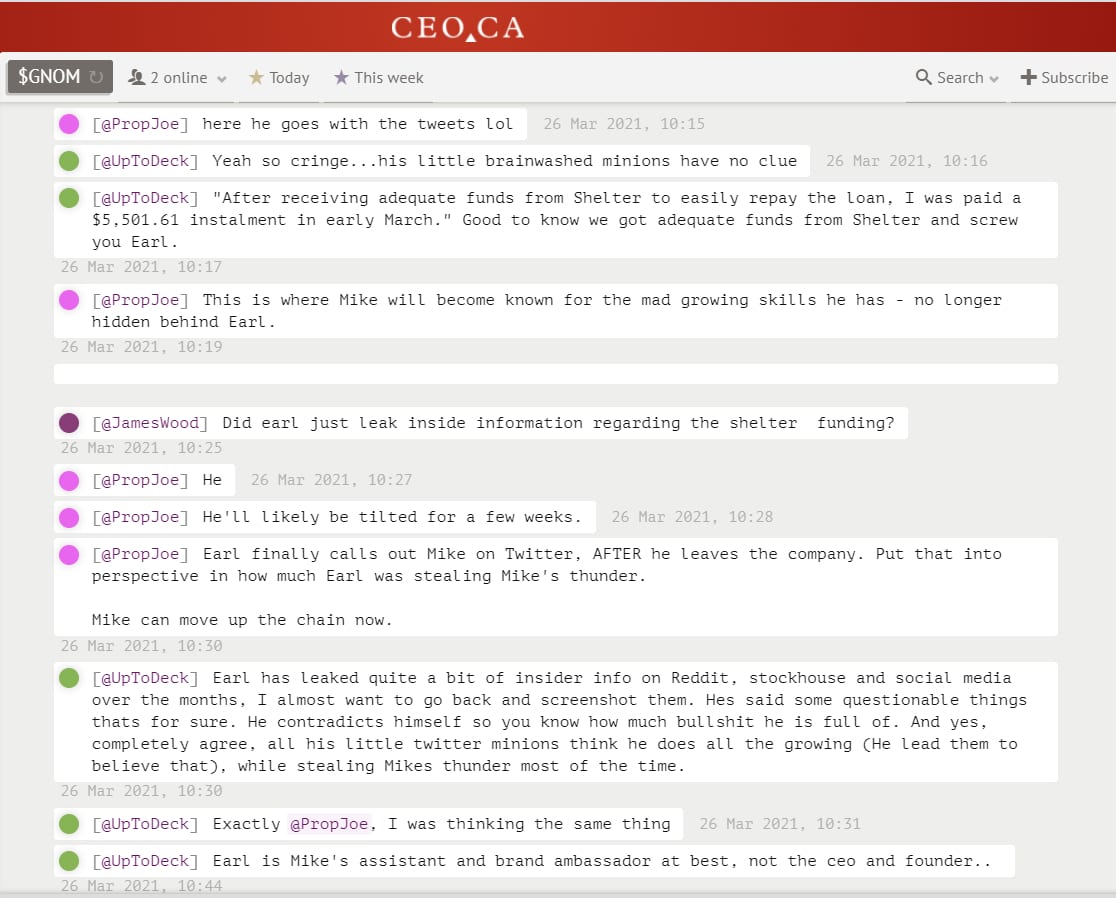 In another twist to the Gnomestar tale, Picken joined Twitter this week, introduced by company founder Good.
In contrast to the feud, the platform's cannabis community gave him a warm welcome.
"Will the real master grower please stand up," reads his bio.
I dont care about titles dont even know if thats accurate. Im here as a check valve and source of information pertaining to the flower that im growing inside the walls my man. Meat breath pic.twitter.com/YuXCp636KJ

— @mikegnomestar (@mikegnomestar) March 31, 2021
Debts owed and the future of Gnomestar
Although on Sunday Oliver said he was flatly done with Gnomestar — other than getting back the nearly $600,000 he says is owed to him — he changed his tune this week, offering to go on a planned retail tour at his expense if Lotz agrees to a few terms of payment.
Conditional on the following happening by Friday, April 2, 2021:

* Email commitment to pay me out till the end of March. I will be invoicing it nonetheless, but I'd prefer one less thing to fight over. Mike also needs training, so you're really only hurting him.

— Dr. Earl Oliver (@eaoliver) March 30, 2021
On the broader topic of payment, the CEO says the company agrees Earl is owed money — the exact quantity of which is in dispute.
"To the extent he is owed money, he will be treated equally as all others who have advanced the company monies or who have accrued fees or salaries," Lotz says. "It's unfortunate that he has taken to this forum to expedite his payment — hardly constructive to his interests or to the many stakeholders."
The executive explains that a number of core players at the company have essentially been keeping it afloat out of their own pockets. Lotz says he's put in over $200,000 in the past 24 months.
On the other hand, this is where Oliver points to a big difference between him and the other executives: They are suits and he isn't.
"[Lotz has] got multiple other jobs," Oliver says. "I do not have multiple other jobs. I have only one job: I am running a craft cannabis company." Oliver adds that by sitting on several other boards and running a tax practice, Lotz is triple or quadruple dipping.
The outgoing face of Gnomestar's relationship with the brand's other core stakeholders has been adversarial since day one, and Oliver now expects he has to fight for everything he's owed.
"I'm hoping to avoid lawyers. There are lawyers who are willing to take it on contingency," he says. "But I don't want to go that route, and the main reason is because of Mike — he's got a family to support. He grows great weed and it really isn't fair to him."
In spite of it all, Oliver isn't dropping his stock. He says he hopes Gnomestar lasts forever.
Lotz is optimistic about the firm's prospects as well, saying that shareholders can expect a suite of new cultivars with higher THC and a more cost-effective business.
The reason he put everything on Twitter, Oliver says, is because he became the brand and doesn't want the company falsely associating him with Gnomestar anymore.
"They would obviously, because I sell weed. So, I wanted to make sure the industry really knew that I had moved on. I wish them the best. Mike is great grower, and I hope they live happily ever after."
nick@mugglehead.com